Good news for the modern man. The future is bright
If you need any convincing to pop over to the pretty city of Groningen in Holland, the David LaChapelle exhibition should sway you in the right direction. Not the most obvious place to showcase the photographer's raunchy images (after all, he has a history photographing Beyonce, Miley Cyrus and Lady Gaga), but this latest anthology returns to his artistic roots, and complement Groningen's old town juxtaposed with modern buildings, which nestle on the canal in the north of the Netherlands.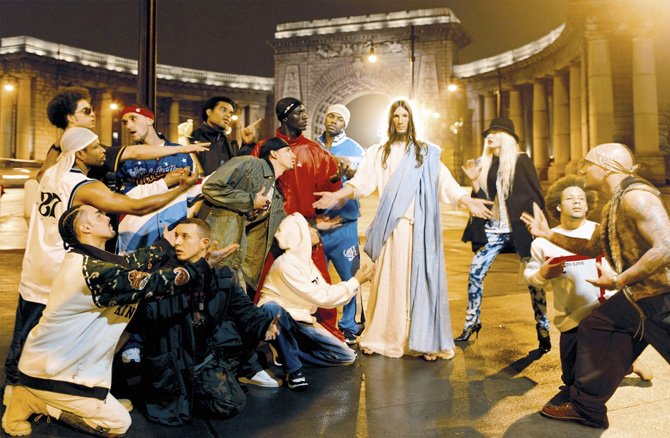 Known for producing experimental fashion editorials, commercials and music videos for high profile clients, LaChapelle has worked with every big name in the industry, and is one of the most respected and in demand photographers around the world; So it is interesting to find that the Gronginger Museum, already owns one of his controversial, hyper stylised works, and is the place he chose for his first solo exhibition in the Netherlands.
To the broad minded Dutch nation- naked bodies, interracial relationships and liberal religious views are widely acceptable, and a show that comments on sexuality, birth, death and nature in an idyllic, utopian world would appear to be the perfect partnership. Taking over the modernistic Museum (which was redesigned by Philippe Starck and Alessandro Mendini) adds a unique, modern focus to the university town. Situated in a central location on the canal, and directly opposite the ancient architecture of the train station it offers a juxtaposition of eras, but this is something that works so well in Holland.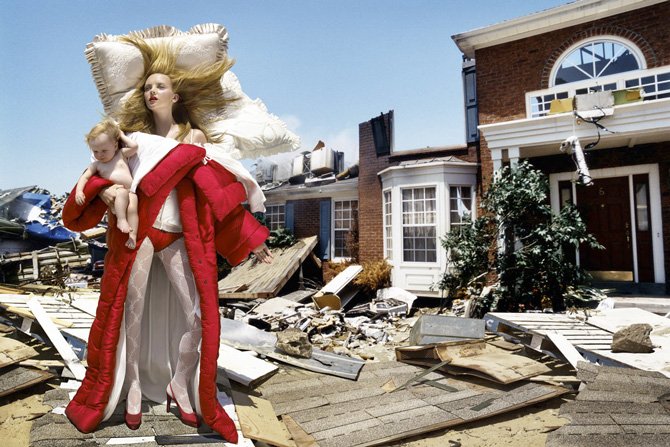 A bit of a rebel himself, LaChapelle ran away to New York aged 15, and worked as a busboy in Studio 54. Immersing himself in glamorous New York disco scene, he got to know the "It" crowd and partied with the movers and shakers of the eighties pop art scene including Keith Haring and Jean-Michel Basquiat. It is also where he was introduced to Andy Warhol and his infamous Factory.
Already photographing people, LaChapelle soon gained recognition for his uniquely raw images. Snapped up by Warhol, he became the photographer for Interview magazine and exhibited alongside other 80s pioneers Doug Aitken and Karen Kilimnik.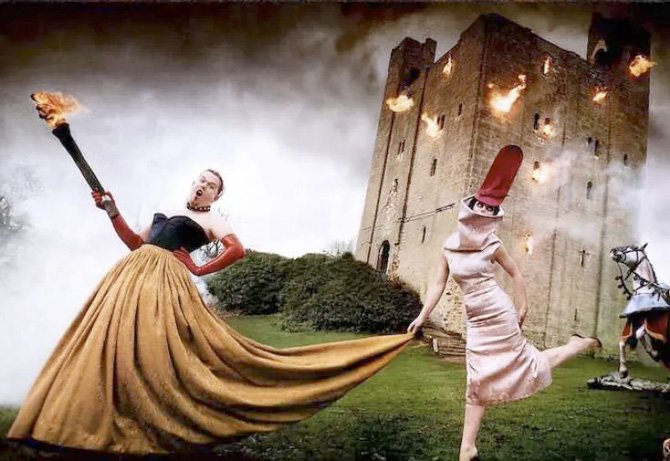 His style emphasising lewd, larger than life subjects became him trademark, and he embraced the flamboyant characters of the nineties and noughties. Celebrities, high fashion magazines and advertising clients were queuing up to get immersed in LaChapelle's irreverent gaze- where anti-perfection was approved and surrealism encouraged.
However, the celebrity bubble seems to have peaked for LaChapelle, as his more recent work is a much more personal representation of transfiguration, regaining paradise, and the notion of life after death.
Breaking boundaries, LaChapelle uses fine art as a basis for his work and is the first to admit he explores the darker side of reality. Often using props, he is the master of creating make believe worlds where anything is possible.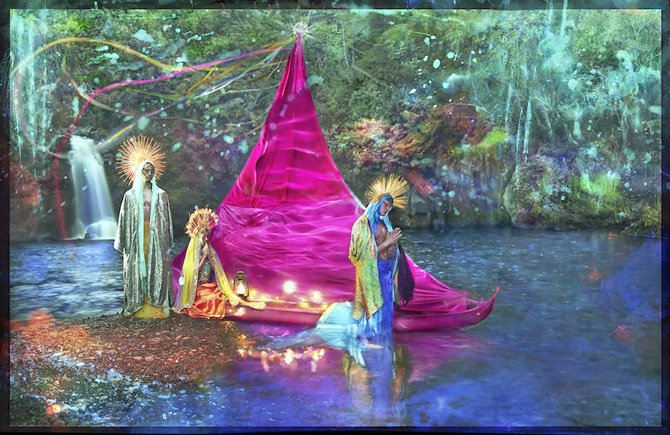 The hyper-real landscapes blend urban and suburban environments to create a make believe setting which is also super real and accessible. This form of art is contrary to what other commercial photographers were presenting, and opened up a niche market for emotions.
In fact, after shooting every celebrity (and their dog) in 2006, he stepped away from commercial work, retreating to an isolated former nudist colony in Maui, Hawaii to focus on fine-art photography and farming.
Whether this break was a rejection of the fast moving lifestyle where celebrity photography comes with its own celebrity or it was a time to reflect as he openly talks about his friends who died of AIDS, his consequential work has a more personal influence.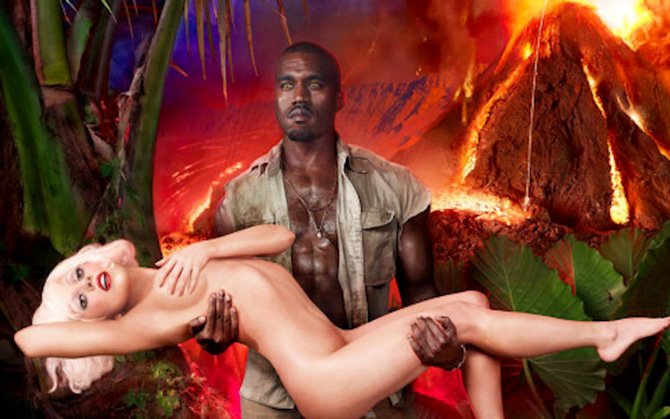 Good News for Modern Man is filled with sins and redemption is a deeply personal insight into LaChapelle's life. With over 70 pieces, the narrative is as jerky as it is unanticipated, yet it seems to flow.
Clearly inspired by fine artists Edward Hopper, William Blake and the Old Masters, LaChapelle has a knack of combining the two disciplines -fusing photography with art; Resulting in large scale representations of joy, lust, and paradise which are symbolic and timeless.
Mostly, these works reject the material world and are deeply spiritual or religious, with obvious reference to the greats. In particular, you can recognise Michelangelo's Renaissance in The Deluge series. An immersive piece of art which engulfs the viewer in the ginormous seven metres wide span. On closer inspection you can see the sitters are big names from celebritydom, with Kanye West as Jesus, Lil' Kim as the Virgin Mary and Naomi Campbell as Venus, which might be highly irreverent for some.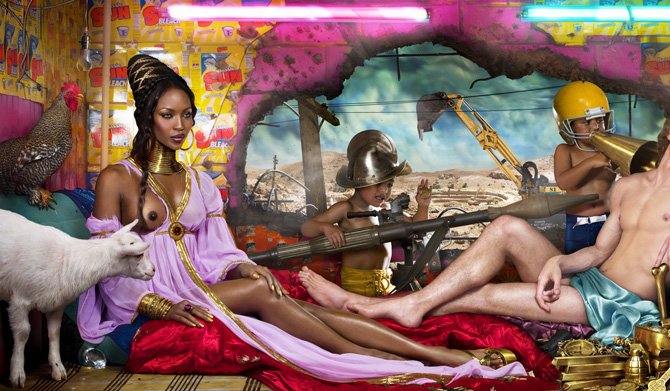 Part of LaChapelle's work is tongue in cheek. Courting exploitation, he chooses religion to express popularity; Nothing is sacred or forbidden and his modern day representation of religious icons brings a new dimension to opinions of life after death and questions the metaphysical side of life.
With a clear shift in focus from commercial commissions, this exhibition displays LaChapelle's personal and intuitive concepts. Split into categories. New World shares his personal search for Eden using thinly disguised biblical references which have the background of his sanctuary in Hawaii. However these pieces are seen more as art than photography as the two disciplines are fused to produce hyper-surreal images which burst into thousands of colours in front of you.

The exhibition, will no doubt question the viewers spiritual beliefs, and LaChapelle even questions himself, on how long modern art actually lasts. It is a must see for anyone with an inquisitive nature as the show is not just about the artworks, but is an important slice of history which makes a profound commentary on the contemporary world.
Head to Groningen for the exhibition and stay the weekend. This up and coming city is well worth a visit and only two hours from Amsterdam, you can have the perfect weekend away!

FACTBOX
Gronginger Museum

Hotel
A pretty, listed 4star hotel,  dating back to the 15th century.
NH Groningen Hotel de Ville
Oude Boteringestraat 43-45,
9712 GD Groningen

Canal Trip
The perfect way to see the city without walking across the cobbles.
Rondvaartbedrijf Kool
Stationsweg 1012,
9726 AZ Groningen

Restaurant
Delicious, healthy modern cuisine. Open late, but must book.
Brasserie Midi
Folkingestraat 42,
Groningen