Heesen Yachts reveal their most challenging project to date
Heesen Yachts shipyard became known for its gamble on the fastest superyacht Octopussy over 30 years ago and now they've taken on another challenge, their biggest one yet.
Meet Cosmos: 80 metres of light-weight aluminium with three decks, four engines and more than 19,000 horsepower reaching a top speed of almost 30 knots. It's set to be Heesen's largest vessel to date and also the fastest full-aluminium superyacht in the world.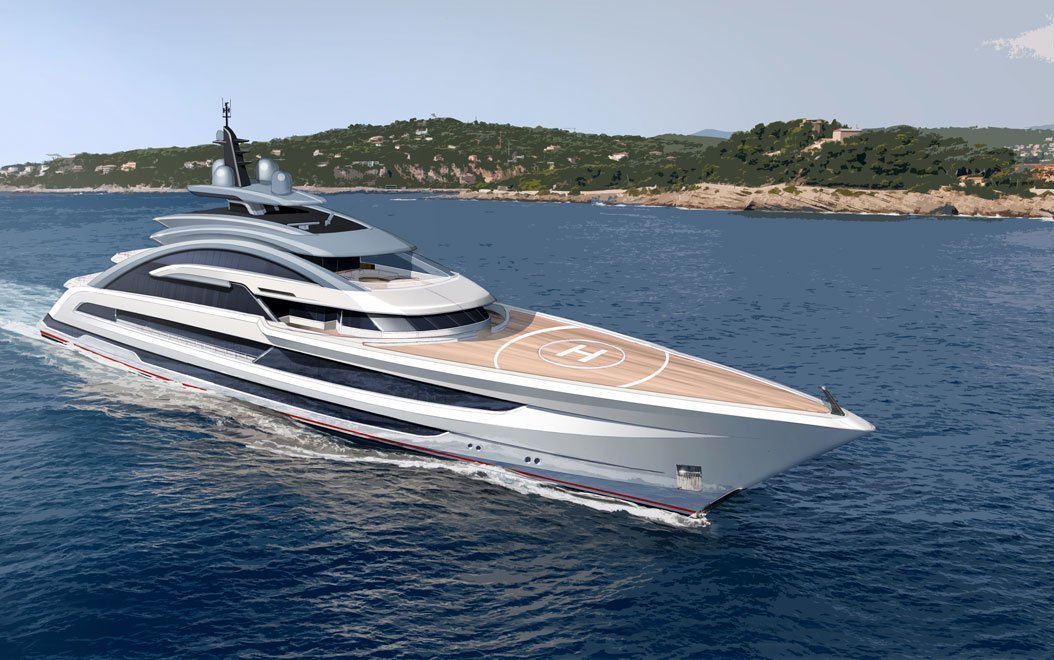 A true masterpiece of seamless collaboration between Heesen's in-house design team and engineering department, Van Oossanen Naval Architects and propulsion specialists at Rolls-Royce.
Production is only at the beginning: the proof-of-concept and testing process has taken several stages, starting with the base naval architecture of the vessel and its hull form, progressing through computational fluid dynamics (CFD) and tank testing on the prototype, followed by the design of the propellers and rudder system.
"CFD is great for analysing and optimising a hull shape for limited number of conditions. It allows for rapid changing of the geometry without having to build a physical model. When the geometry is fixed, and you want to test it in different conditions, it's easier to build a model and test it in the tank," explains Perry van Oossanen, managing director of Van Oossanen, about the benefits of using CFD analysis in the early stages.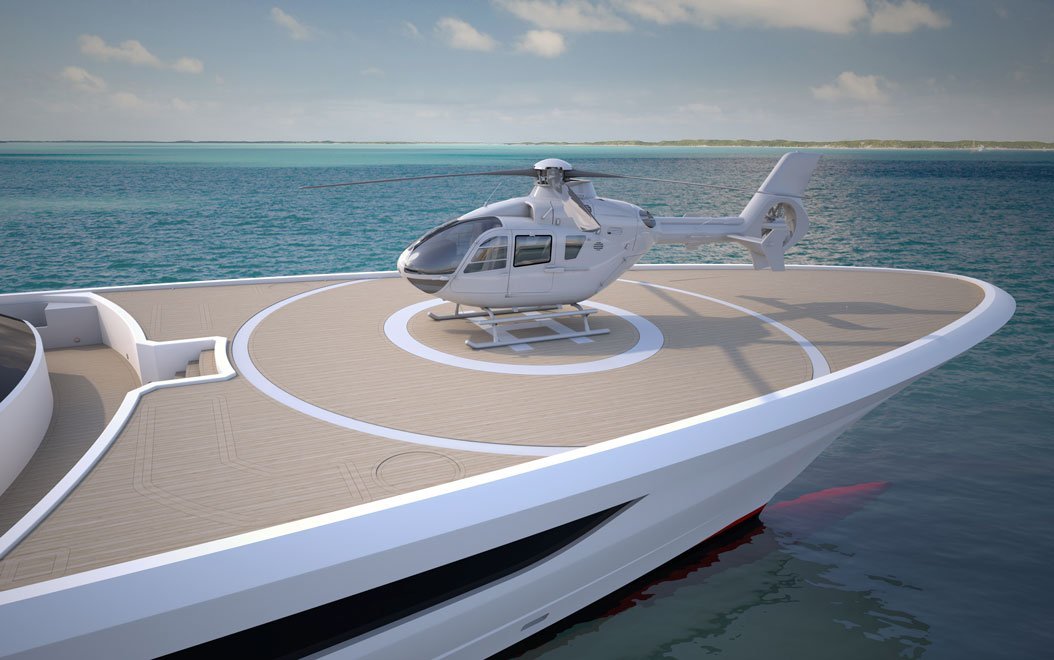 Every superyacht builder aims to better their last project, Cosmos is no different. Ground-breaking Van Oosanen fast displacement hull form (FDHF) was first developed for 65-meter Galactica Star, 70-metre Galactica Super Nova and now for Cosmos to make sure the design is offering the maximum efficiency and speed, without compromising the essential strength and stiffness, which can be somewhat challenging due to the aluminium structure.
The Dutch shipyard have developed new methods and pushed the boundaries further than ever before with their new patented 'The Backbone' I bar, which is much stronger than a flat metal bar and doesn't bend. The single massive beam is streamlined, much lighter and stronger than anything used before.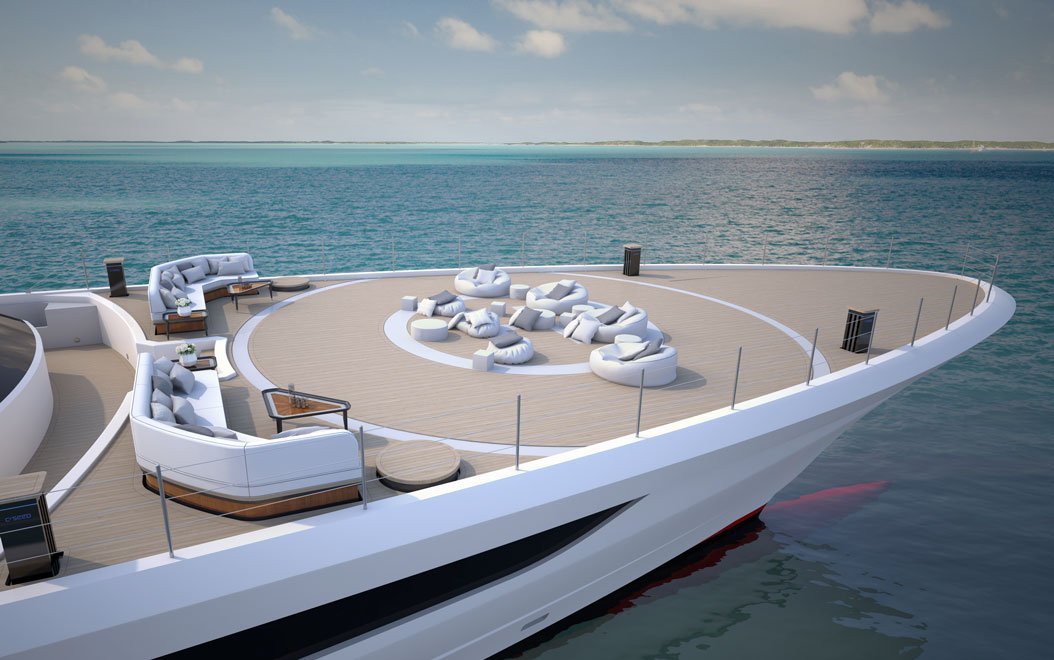 Four 400-series engines, two shafts and variable-pitch propellers will interact with new-style rudders and Van Oosanen's latest low-drag, fast-displacement hull. This kind of power sharing of two engines per one propeller shaft have only been seen in high speed performance naval vessels. Long-range cruising is also somewhat quiet and offers economic benefits even at fast cruise speed of 22.
"Cosmos is as exciting for us as it is for Heesen – she's the fastest and most technologically advanced yacht we've worked on together. We have created a dynamic exterior profile which we believe will look as good as in 20 years as it does at launch," says Andrew Winch, yacht designer and founder of London based Winch Design.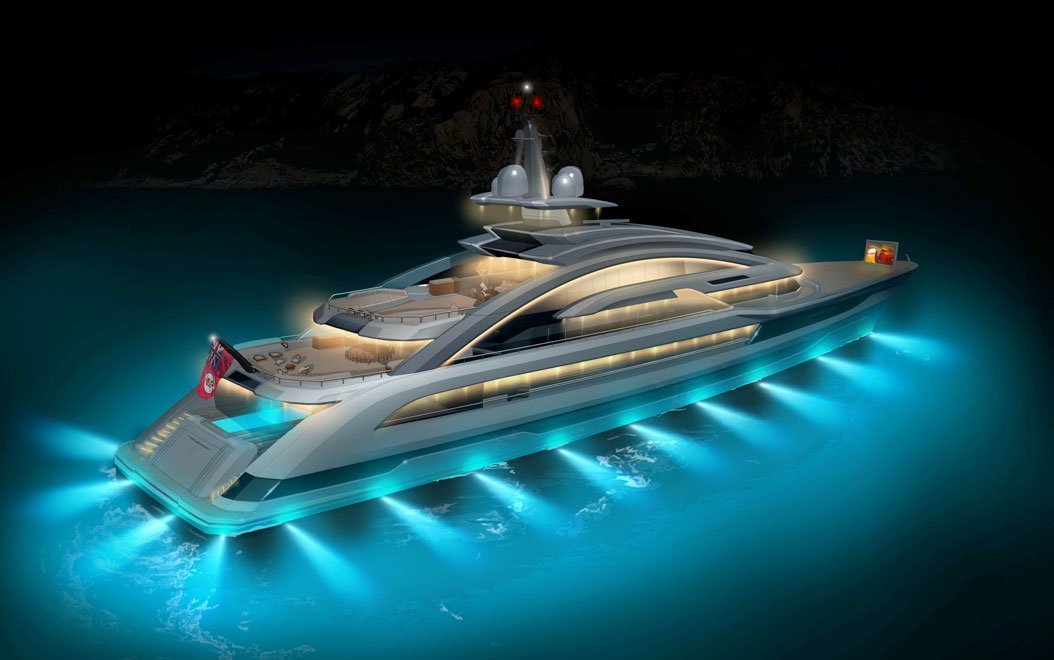 Everything has been carefully streamlined and contrasting stripes strategically placed to give an illusion of less height. Her long flat foredeck, large curving superstructure arch and even the wing shaped masts expound speed. She looks fast even just standing still in all of her muscular sportiness.
The deck design will be made to client's specific requirements including an enormous 270 square metre sundeck, a front deck that multi-tasks as a helipad and an outdoor cinema and glass-bottomed 7-metre pool, a beach club style seating area and a sunken walk-around bar adorned with illuminated onyx panels.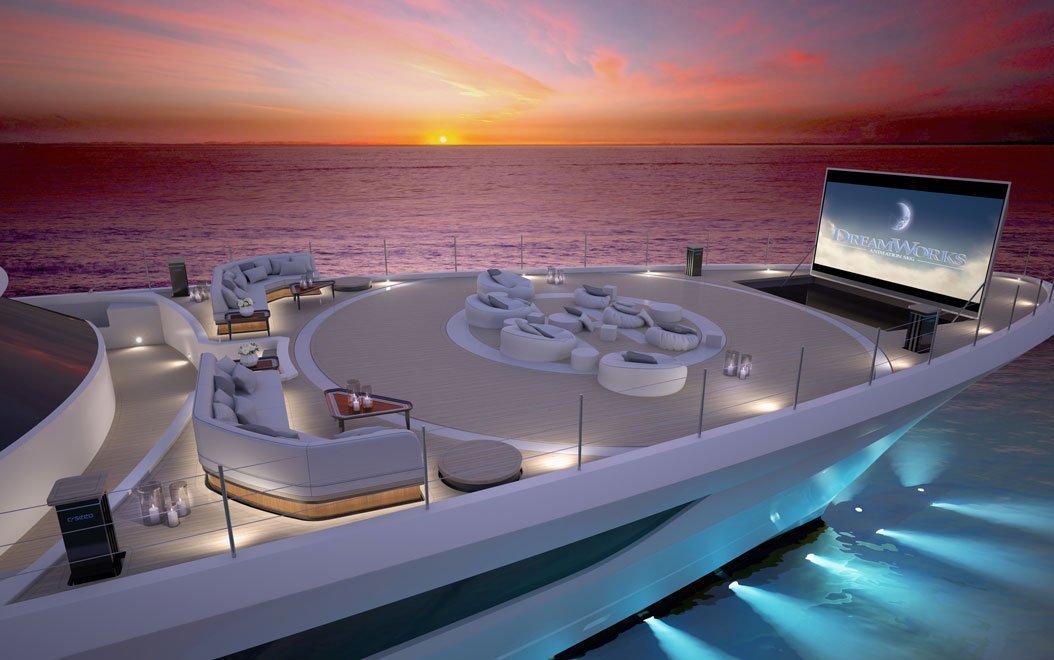 There are six suites to accommodate 12 guests, including a bridge-deck VIP suite with an adjacent private studio and a stunning master bedroom. The crew quarters are suitable for up to 19 staff.
Award-winning Dutch studio Sinot Yacht Architecture & Design have created an interior inspired by the nature and Fibonacci's mathematical sequence with plentiful of natural light, crystal glass panels, hard wood flooring, silk carpets, leather panels on the walls and stainless-steel hardware.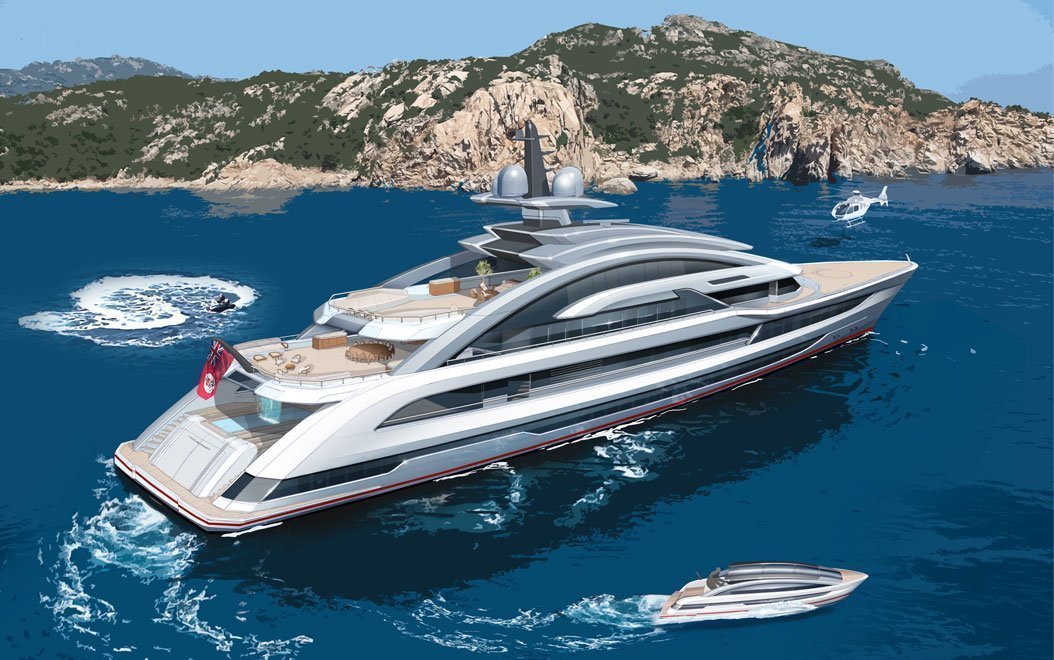 The piece de resistance is an impressive stainless-steel staircase that spirals around the all-glass elevator inspired by the regularity of Fibonacci numbers, like a nautilus shell. "It's not minimalist – it will be modest and subtle, but it's highly detailed. In the detail there's always more to discover," says Paul Costerus, lead designer and partner at Sinot.
The design team have used natural materials like woods, natural stone and metals with light natural hues and accents of vibrant blue and black onyx. "The base structure – such as the wall panels, door frames and floorboards – are always consistent, so that whenever you're on board you will always know you're on this yacht."
Length: 80m
Engine: 4 x MTU 4000 M73
Power: 19,000 hp
Top speed: 30 knots
Delivery: April 2022