Juana Martín and her spring rebirth
Like the Phoenix. This is how Juana Martín returns. Along with her comes a collection fit to turn the upcoming months into a true tribute to a much needed rebirth in which fashion will have its say.
Who hasn't felt like hibernating during the pandemic? Who hasn't seen the days go by on the calendar and thought about all that we were missing out on in life? Who hasn't dreamed of enjoying those small details that went unnoticed only two years ago?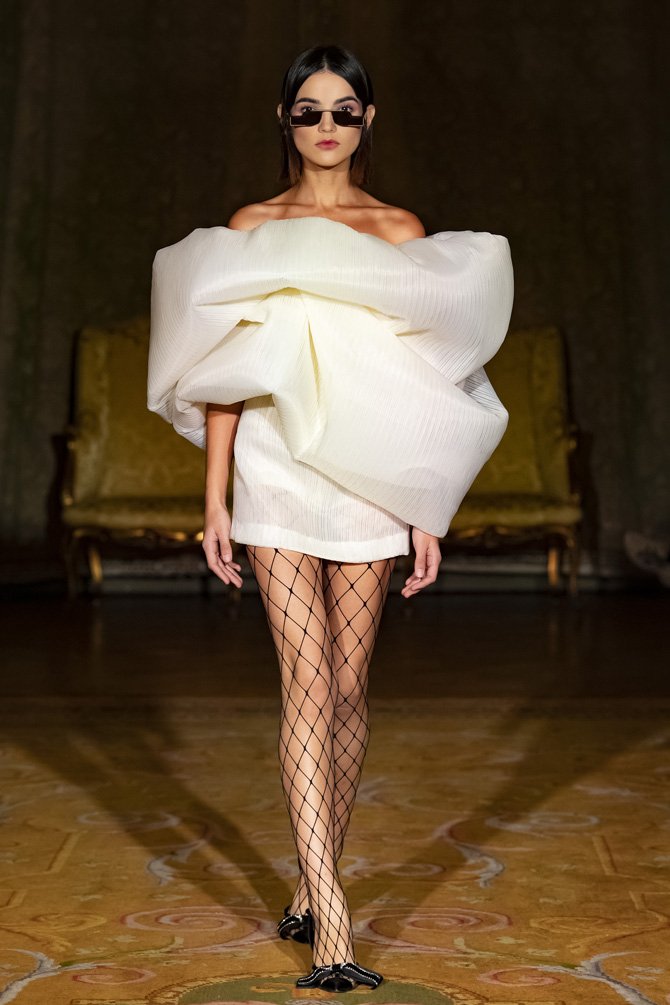 It's time to be reborn! And Juana Martín is ready to accompany women in that resurgence. A resurgence without fear, full of hope, and embracing the modernity and elegance to which the designer from Córdoba has accustomed us, that will leave no one indifferent.
All in all, Juana Martín dreams of giving shape to a spring loaded with renewed hopes. This spring, those women who choose her designs to adorn their most special moments will find themselves with a colour palette in which black and white are the only stars.
Something that doesn't necessarily lead to weariness or boredom. Juana Martin is willing to fill up our days with tones of black and white, all imbued with an irresistible sophistication. Every stitch gives shape to pure lines, ready to wrap around women who fear nothing.
The designer thus creates a collection filled with volumes in which transparency becomes essential. Shapes are wrapped in the most delicate organza, the most elegant satin, and the most impressive silk. Tulles and draped garments are intertwined in a masterful way to give shape to an almost perfect pairing, in which feathers, glitter, and sequins will also claim the attention of passers-by.
If there's anyone who knows the woman's body, it's Juana Martín. And if there's anyone who doesn't forget her roots, it's also her. That's why the designer didn't want to miss the opportunity to present a collection that exudes her Andalusian roots through and through. She doesn't hide, though, a few rock & roll touches that seem determined to make us understand that the show must go on.