Marc Chagall, a Russian soul in Paris
After last year major shows in museums in Montreal and Los Angeles, the jewish master returns to Europe. Two new major exhibitions at Swiss Kunstmuseum (Bern) and Centre Pompidou (Paris) features youth works, when the Russian-French artist explored his memories in Paris and rural Russia.
His works allude to an oneiric fantasy universe, transmitting hopeful airs through vivid and intense chromatic treatment. His image is recurrent, often depicting a woman, as an observer of his very personal world.
He belonged to Parisian avant-garde. His work appears within the limits of Surrealist, Fauvist and Cubist movements. Genius and a naive touch, characterized by naivety and spontaneity, is the essence of Chagall's painting. It brings us closer to an almost childish art, alien to academic learning. Imagination, vivacity and a great load of emotion breath from his master pieces.
Marc Chagall (1887-1985) lived in Paris from 1911, creating paintings that combined his recollections of Russian provincial life with iconic fragments of the metropolis. Reminiscences of Russian folk art as well as stylistic experiments showed that he was exposed to Parisian artistic avant-garde.
He met most progressive artists, including Modigliani, Picasso, Robert and Sonia Delaunay…
Overtaken by the outbreak of I World War during a home visit, Chagall was forced to spend the next nine years in Moscow. He could finally return to Paris in 1922 and in 1941 escaped from Nazism to New York.
After periods of greater hardship, his name became known throughout the world. His endless love story with Bella, his Russian muse and wife, brought him enormous inspiration. When she died, his life was devastated. His union with his jewish roots was gone.
"I've lost my vital link with Russia. She was everything to me: my eyes and my soul."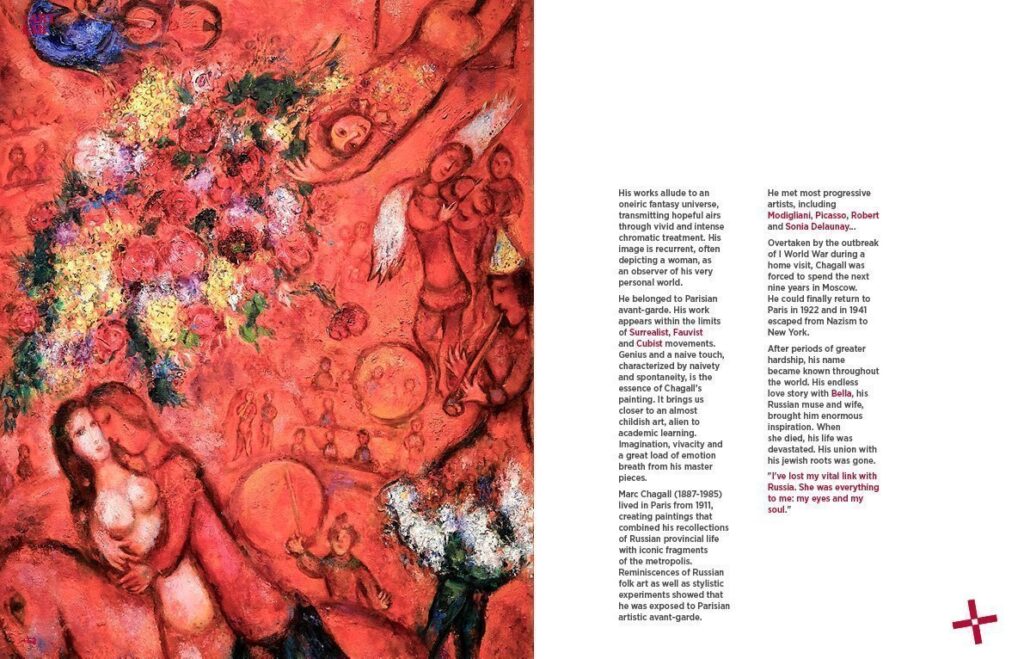 ---
María de Juan