Talking about Quique Dacosta is talking about culinary art.
From the region of Extremadura but based in Valencia, he made his debut in cookery in 1986, at only fourteen years old, and worked four years later in what is today his restaurant, El Poblet, renamed as, Quique Dacosta in 2008.
Dacosta himself recognises that he started out looking for a way to make a living and pay his tuition fees in Denia. But cooking won him over and the rest is a familiar story, still being written…
This chef, who defines himself as a "working man of the kitchen", is one of the leaders of our gastronomy.
His cooking has now reached maturity leading to dishes like the Cubalibre de Foie.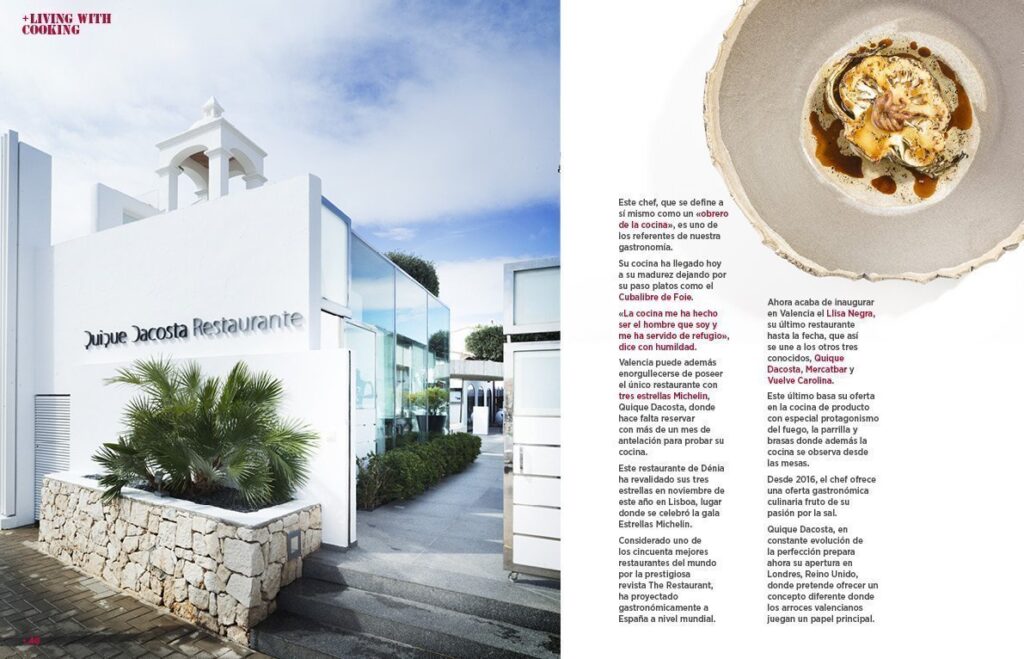 "The kitchen has made me be the man I am and it has been a refuge for me", he says, humbly.
Valencia also can be proud to have the only Michelin 3-star restaurant, Quique Dacosta, where booking more than a month in advance is needed to try his cooking.
This restaurant in Denia has retained its three stars in November of this year in Lisbon, the place where the Michelin Star gala was held.
Considered one of the fifty best restaurants in the world by the prestigious The Restaurant magazine, it has projected the gastronomy of Spain worldwide.
He has now opened Llisa Negra in Valencia, his latest restaurant so far, that thereby joins his other three well-known establishments, Quique Dacosta, Mercatbar and Vuelve Carolina.
The latter focuses its offer on product-based cuisine with a special spotlight on fire and the grill, where cooking can be also observed from the table.
From 2016, the chef offers a gourmet suggestion as a result of his passion for salt.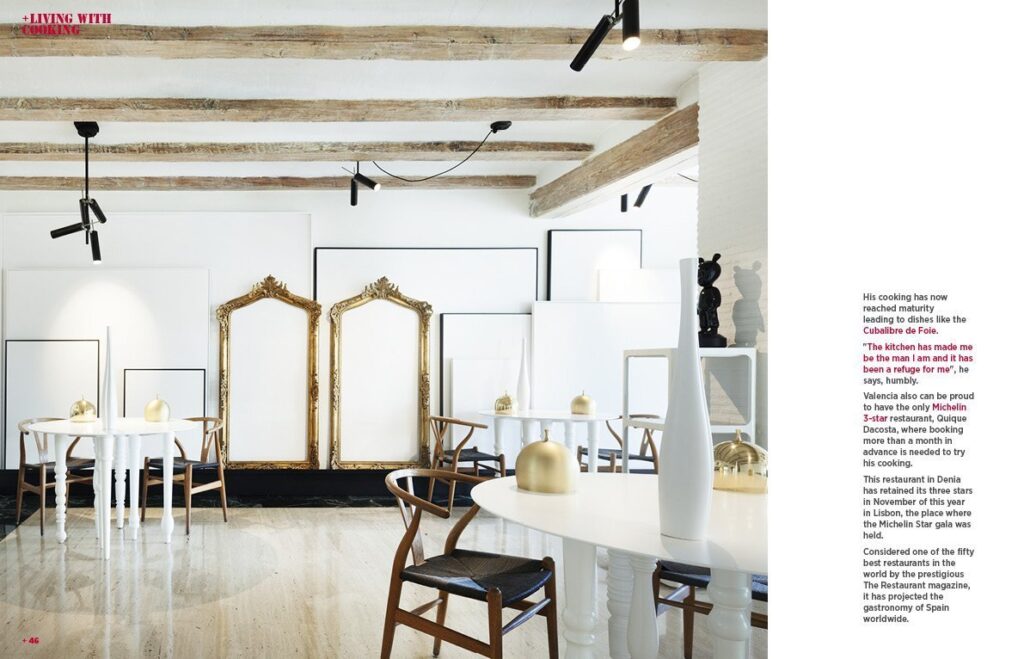 Quique Dacosta, in constant evolution of perfection is now preparing his next opening in London, where he plans to offer a different concept where Valencian rice dishes will play a main role.
According to his famous saying, "we have a duty to freedom and credibility", since he considers his art as a vocation that should never disappoint.
As well as creating and offering his cuisine, Quique Dacosta shares his knowledge through several books. They are five so far:
Más allá de los sabores (beyond flavors),
Arroces contemporáneos (contemporary rice),
Quique Dacosta 2000-2006,
3 Quique Dacosta and
De Tapas con Quique Dacosta (going out for tapas with Quique Dacosta).
Considered one of the best chefs in the world by Chef Days 2018 in Austria, we are convinced that this universal Spaniard will get people talking.
Bon appétit!