Schiaparelli invites women to immerse themselves in a universe of colour, fantasy, and fun to enjoy life free from fear or taboos.
For next spring-summer 2019, Bertrand Guyo, the French designer who currently holds the reins of Schiaparelli, is able to recreate a real factory of dreams in which women obtain whatever it takes to fly far away from the worldly noise, to go to unexplored places that have little or nothing to do with the boring asphalt she is used to, where she walks every day.
It is a fact that the French haute couture master has known how to impregnate himself like no one else with the spirit of Elsa Schiaparelli, who, back in 1927, opened the doors of the legendary fashion house that carries her name. An educated and superstitious woman since her childhood, she was in her element among outstanding surrealist artists like Salvador Dalí, who inspired some of the patterns created by the virtuoso of fashion.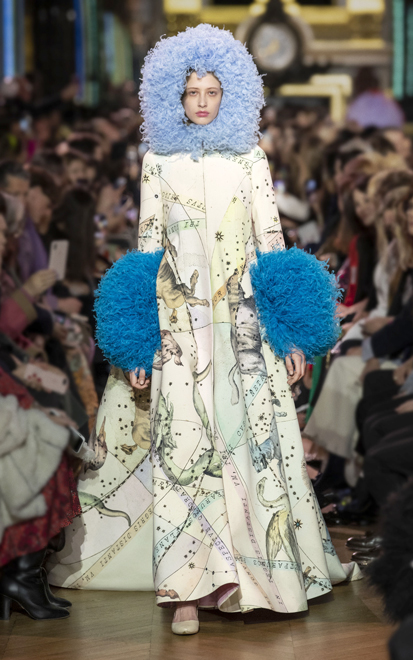 Some years after the fashion house's birth, Guyo once again uses the signs of the zodiac, stars, and other celestial bodies, which become the undisputed protagonists of the collection and of the most daring and entertaining soirees. Especially given that, in the coming months, women will be determined more than ever to triumph wherever they go.
These women will appear with a style that's more rock n' roll, letting themselves be surrounded by embroidered stars and sequins that will transform them into real queens of the dance floor.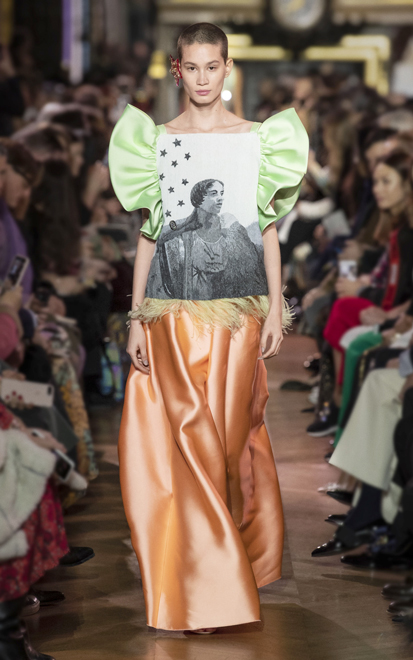 Schiaparelli searches sensual women free from hidden fears, women capable of letting themselves be wrapped in the craziest, most casual creations with the sole purpose of enjoying life.
In this reality, feminine curves are seduced by shorts that carve a sculptural silhouette where their hips' volume is wrapped in an excessive eroticism; this existence goes hand in hand with trapezoid skirts full of volume on top of naive pink tutus: Schiaparelli favourites.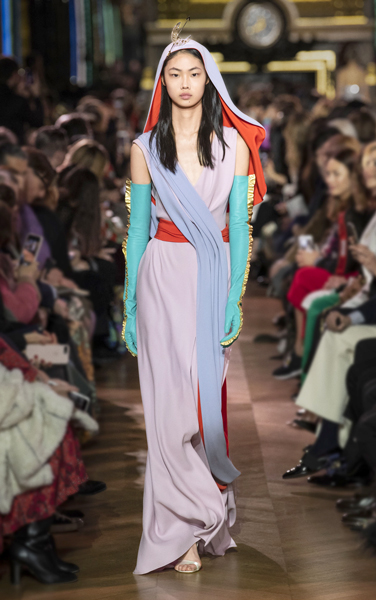 Stars, constellations, and cosmology. The aforementioned trident will sneak into the feminine wardrobe during the warmer months of the year, giving shape to spectacular prints that will become the perfect travelling companions as true works of art. During this voyage, Schiaparelli invites us to wrap ourselves in beautiful combinations made from tulle, satin, lamés, and organza; noble and varied materials manage to create an excessive and fun movement through daring volumes and prints.
Multicoloured fabrics, feathers, sequins, pleated muslins, embroidered tulles, brocades — anything goes in order to achieve that magical effect so characteristic of Schiaparelli through which everything flows and fits the female figure.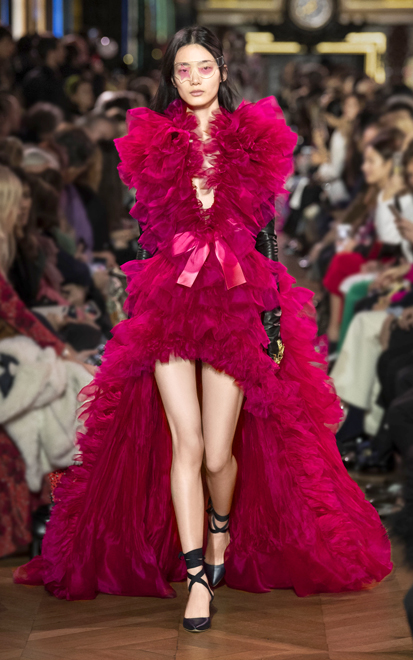 We will find embroidered jackets, maxi and midi lengths, gathered skirts highlighting the feminine waist, tight and suggestive bodies revealing an at times arrogant sensuality; structured suits with curved silhouettes; and finally, dresses that fit like a glove on a universe, the feminine one, about which Schiaparelli still has a lot to say.
Its universe is dyed with roses, greens, purples, burgundies, blacks, and whites to fill with light the hundred and one adventures that Schiaparelli makes us imagine through its masterful and magical stitches.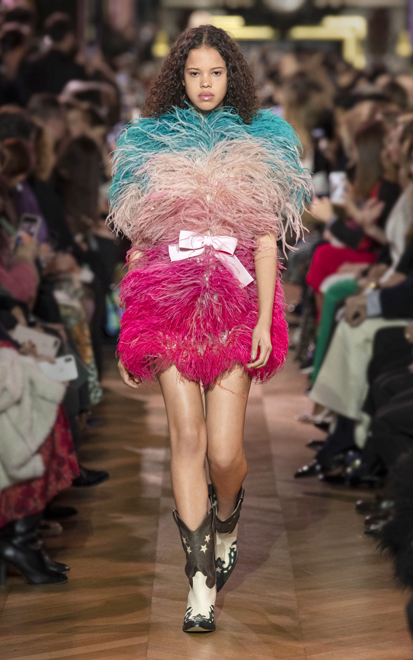 Without a shadow of a doubt, if there is anyone who invites us next season to dream of a colourful universe, it is Schiaparelli, a symbol of the most transgressive haute couture. Through the purest mysticism and the most radiant constellations, the fashion house wants women to find their place in a universe of fun where fashion and art become the perfect symbiosis.