Azzaro Haute Couture SS2019
Who could imagine spring evenings without the elegance of a grey and black palette that will leave no one indifferent? Azzaro knows this well.
Although the pages of the calendar announce the arrival of months ready to fill our days with colours and joy, every evening demands a palette made up of elegant and sober tonalities typical of the most captivating and incandescent Azzaro.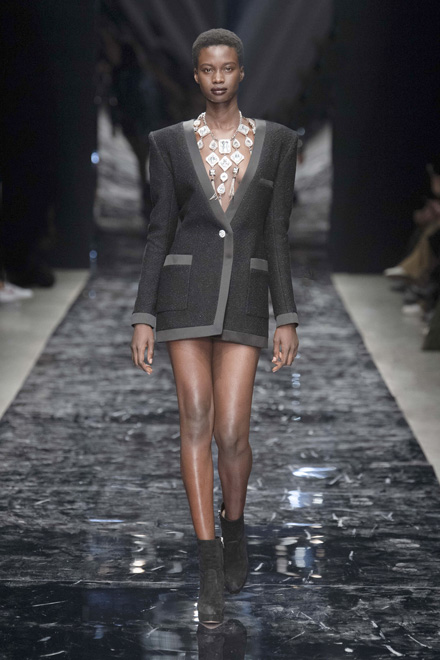 If there is one thing Azzaro knows well, it is how to create spectacular combinations worthy of the most exclusive and glamorous parties thanks to dresses and suits that find their best allies in dark blue and black.
Bright and festive creations that have little or no reason to be envious of those that used to fill the dance floor of the legendary New York nightclub Studio 54 for hours on end.
Skirts, dresses, blazers, and trousers sculpt the silhouette of women who will be ready to become the centre of attention without hesitation, opting for festive creations with which they feel safe and fearless.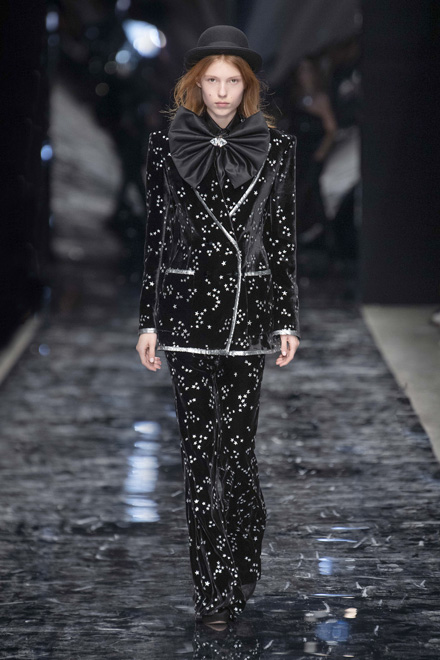 These women will choose the most 60s pieces for wild, fantasy evenings.
Dresses of infinite sinuousity or pleats drop on feminine curves, while transparencies leave nothing to the imagination and diamonds, many diamonds bring that chic touch that Azzaro searches for so desperately in his new collections and is able to recreate.
Lamé, sequins, rhinestones, and glitter turn the most classic patterns into real works of art, typical of wild, heart-stopping bodies.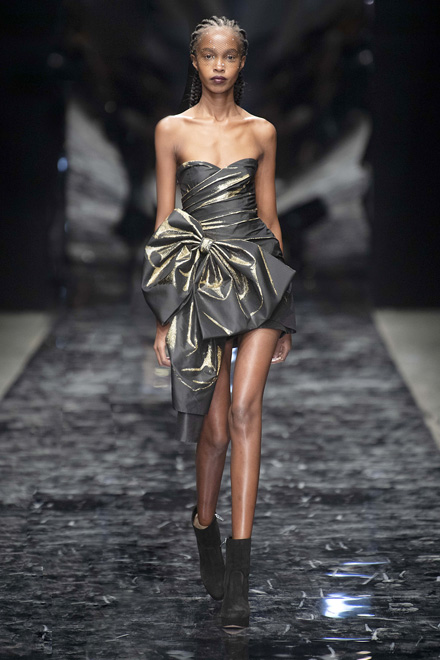 Jewellery inlaid in designs with fringes, sleeveless pieces or suggestive openings amaze those who witness this spectacle and outpouring of sophistication.
Blacks, greys, silvers, and whites also extend their hand to metallised greens, sparkling purples, incandescent golds, and heart-stopping reds in order to cover feminine bodies looking to feel safe. They will find it with sober shades, without having to relinquish touches of a palette that evokes parties and fun.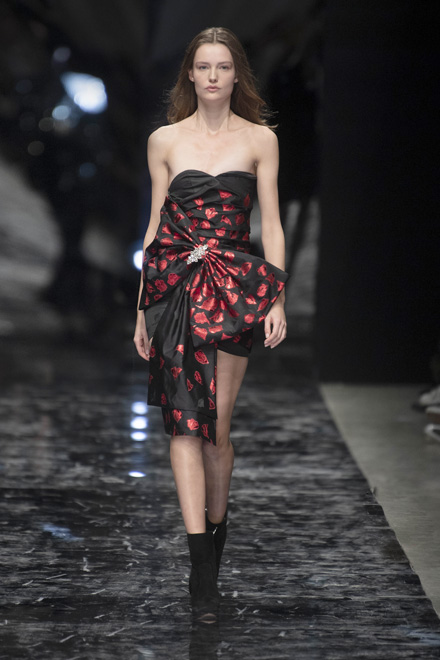 For next season, Azzaro searches determined women who are not afraid to choose between a classic trouser suit with flared trousers, and an elegant yet daring V-neckline blouse. Throw in a mini-cut skirt with ornaments will bring volume and distinction thanks to heart-stopping legs, walking with determination on an asphalt that offers no resistance.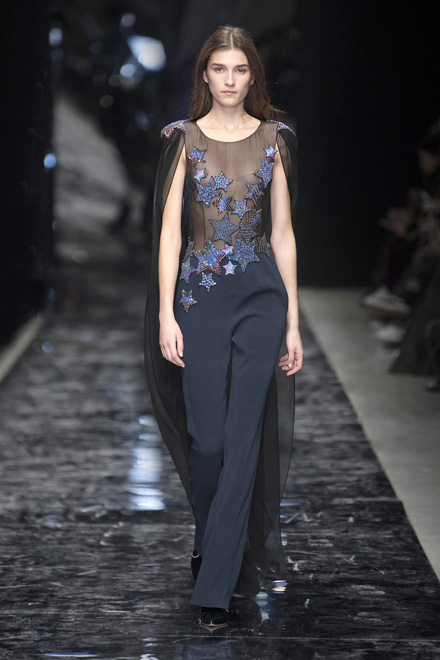 Thin braces, long sleeves tight around the wrists, strapless necklines, stylised overalls, suggestive transparencies, the purest Tunisian style tunics, gauzy and fluid cuts, puffed sleeves… anything goes for an Azzaro who wants women to back the right horse and manage not to go unnoticed without losing that warrior touch. In order to create these casual, less serious looks, he proposes stunning high heeled ankle boots, quite far from the rigid parties where etiquette and conventions prevail.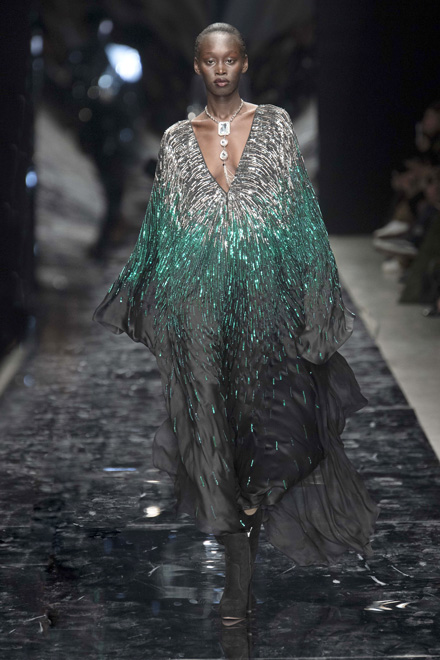 And what about accessories? Azzaro outlines women who only need their bodies for dazzling, away from artifices and opting for spontaneity. His creations speak for themselves – there is nothing that could overshadow them.
Finally, the makeup. Every design needs a good makeup to feel reinforced. For the next months, Azzaro mainly proposes natural finishes and loose hairstyles that give that touch of freedom to women who look and feel safe.