Forest City, a metropolis of the future rises in China
Fed up of virus news and wearing masks?
Neomania brings you one of the latest and smartest solutions that will change the world: a new way to fight for fresh and pure air. China's magical smog-eating "Forest City" with almost a million plants.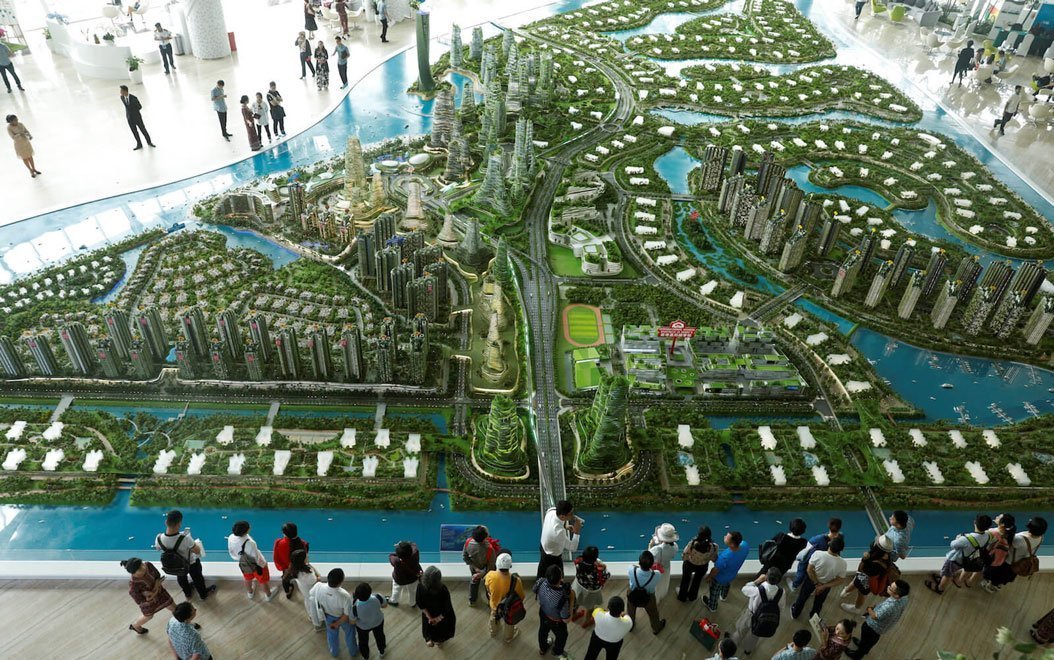 If successful, Forest City will become an example for the projection of new green cities around the world and will be especially important for China. In this country air pollution is a serious problem and masks are part of daily life in many cities in the country. Unfortunately, this scene has recently become protagonist around the glove.
Most of our cities have become unsustainable places, but experts are looking for alternatives, such as the development of urban population centers, where people live better and take care of the nature of the environment as much as possible. Forest City is the best example, a city of trees where all the buildings are covered by millions of plants to fight pollution and climate change.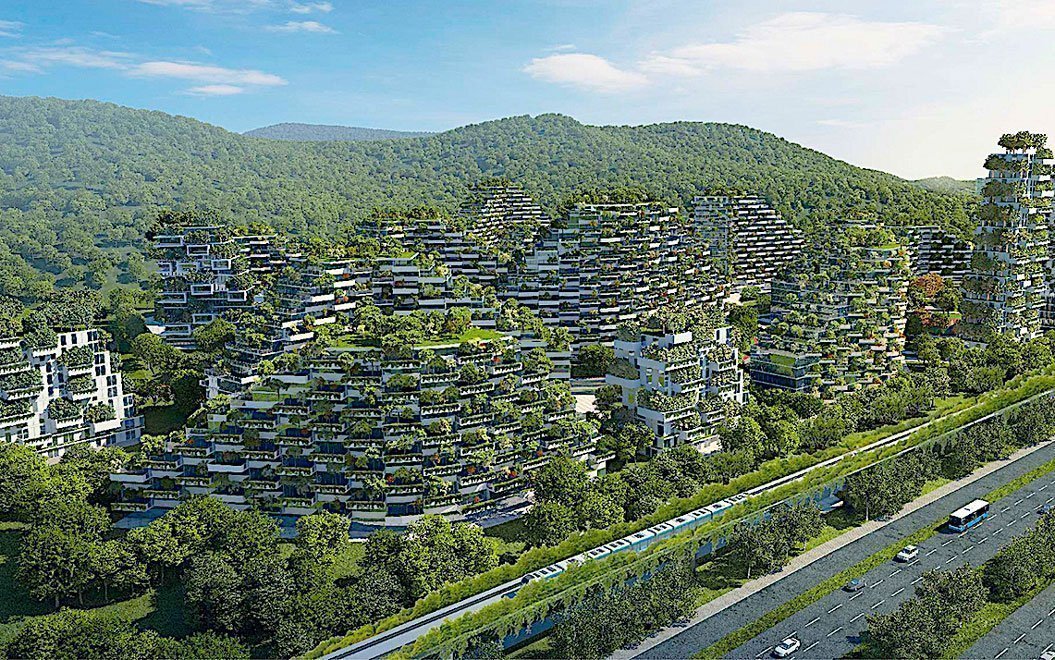 Construction is expected to finish in the next few years north of the Chinese city of Liuzhou. At this time, the project is delivered and the municipality is studying its technical and economic feasibility. The Forest City project is the brainchild of Stefano Boeri Architetti, an Italian architecture studio known for environmentally focused urban designs. Its premise is that the vegetation will lower the air temperature, create noise barriers and improve biodiversity by providing homes for birds, insects and small animals.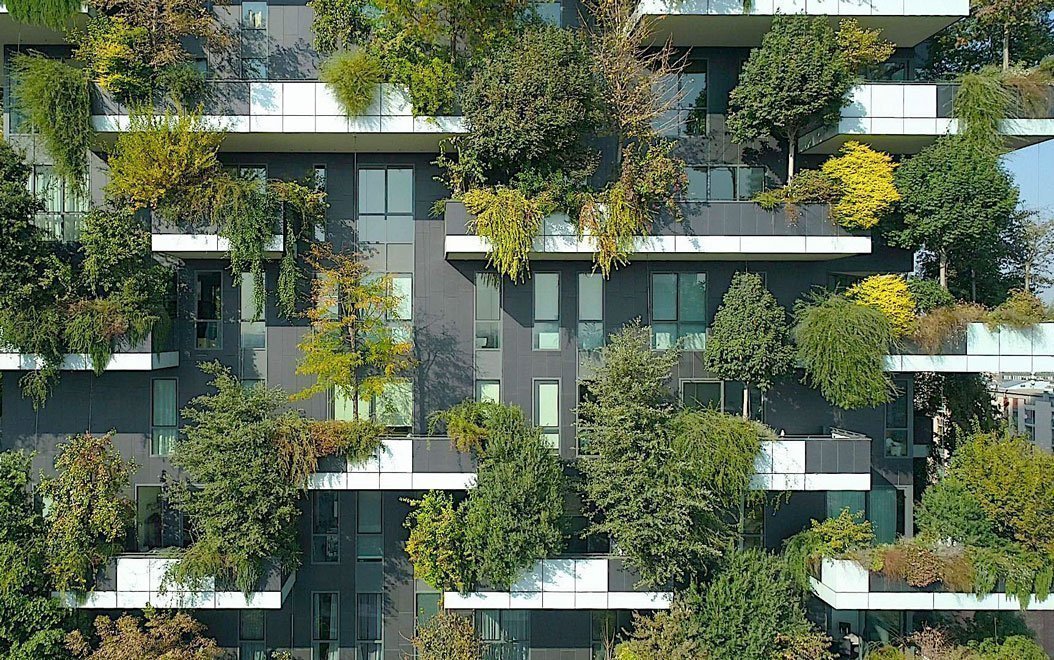 As Boeri says, one way to reverse this trend is to "integrate nature in the urban context." Trees and plants, by absorbing fine dust and tons of CO2, can play a big role in fighting the effects of climate change and improving air quality worldwide, from London to Peking, from Moscow to Sao Paulo. In this way, we can contribute to making our cities "greener, healthier and happier".
Building cities from scratch is not possible everywhere, however. Boeri says the urbanization process in China is massive, with millions of farmers leaving the country each year to move to the megapolis. This makes it necessary to build entire cities, rather than overly extending their peripheral surroundings with "sleeping quarters".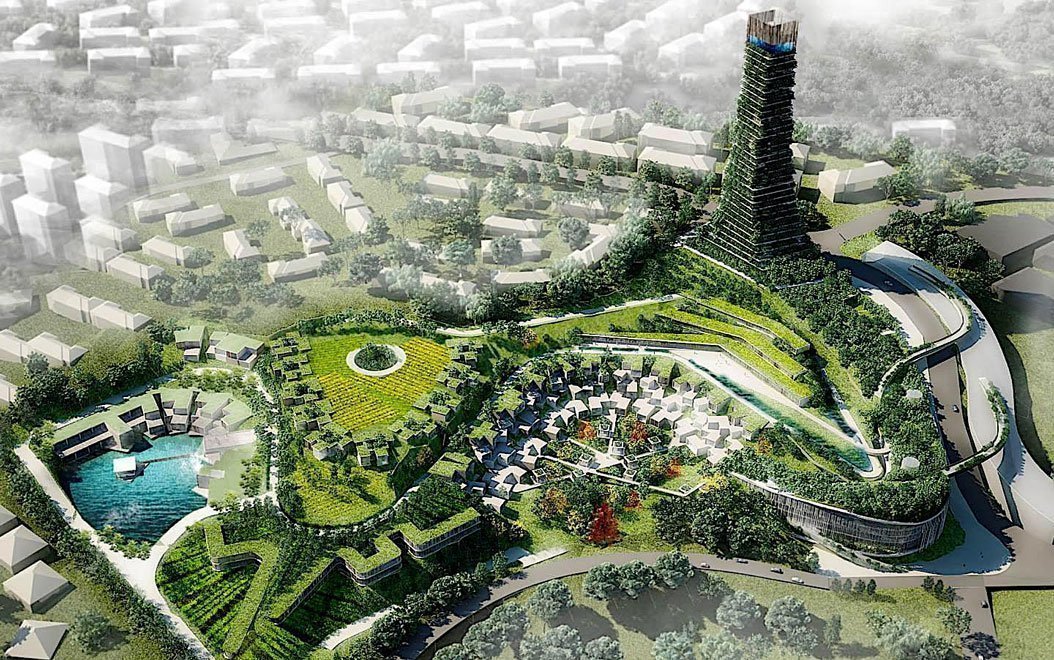 Forest City will be built in the Guangxi Mountainous Area, an area covering 175 hectares near the Liujiang River. As part of the project, several residential, commercial and recreational areas, two schools and a hospital will be created. Some 30,000 people will live in this city. The city will house 40,000 trees and almost a million plants of more than 100 species distributed in parks, gardens, streets and the facades of buildings as part of the structure. With all this vegetation, it is expected that almost 10,000 tons of CO2 and 57 tons of pollutants will be absorbed per year, in addition to producing around 900 tons of oxygen.
Plants will cover the buildings' surfaces to purify the air, lower indoor temperature, and reduce outdoor noise. There will be rainwater harvesting facilities, as well.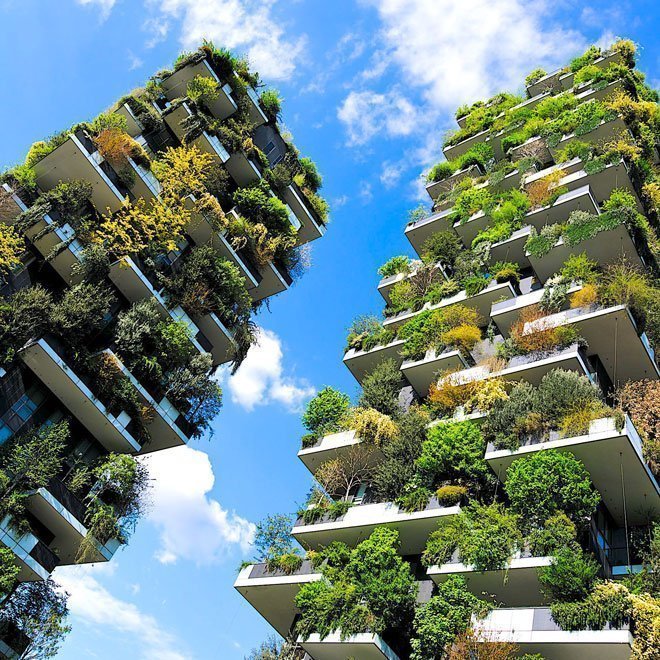 In this ideal city, everything will be sustainable: solar panels will be used on the roofs to use renewable energy and air conditioning that will use geothermal energy. It will be connected by a train track and the roads will be prepared to use electric cars. Boeri says the inspiration for this project came when he was developing the work of the Bosco Verticale (Vertical Forest) in Milan and later in other cities, a first prototype of a building completely covered with more than 800 trees and 20,000 plants. When he first launched this project in 2007, he was met with many doubts and skepticism, but now Vertical Forest is one of Milan's main landmarks and both tenants and citizens can perceive its positive effects.
At the moment, Boeri is working on exporting the model of the Bosco Verticale worldwide, always starting from the local environment and analyzing each place as a preliminary basis. Vertical Forest projects are different from each other, in terms of architectural features, costs, size and program, but he explains that they share the same approach of integration between trees and humans, between natural and artificial, between design and the unexpected. This is what led him to think further, on an urban and regional scale, creating Forest City.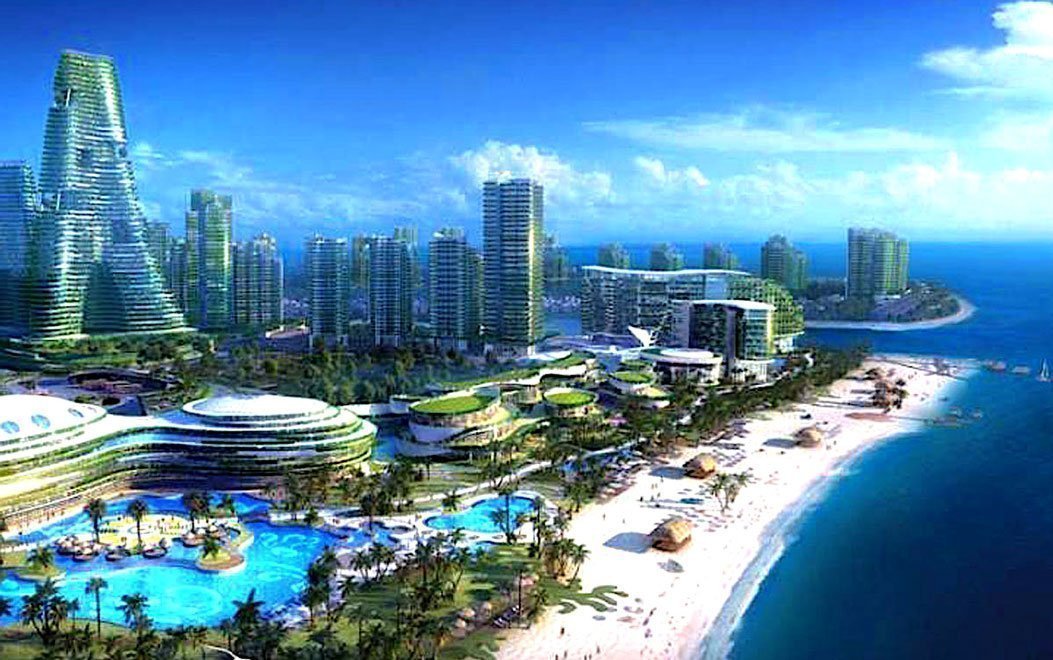 According to the architect, the most difficult thing when designing Forest City was to unite the need for new cities with the cities of historical tradition that have been built for centuries. They are cities where each element is the result of a deep study on the mix of people, cultures and needs. In a city that is created from its foundations, it is difficult to foresee how people interact, how they will feel the space around them, how they will use the facilities and what their expectations will be.
"As architects and urban planners, it is a challenge we should be used to, but building a city from the desert – as it is doing in places like North Africa – makes the responsibility for your choices even greater," says Boeri.
For the Chinese developer Country Garden Pacific view, the city of the future would have residents from different parts of the world, plants covering the surfaces of buildings and a multi-layer mobility system where pedestrians and cyclists own the main roads, and cars are relegated to underground.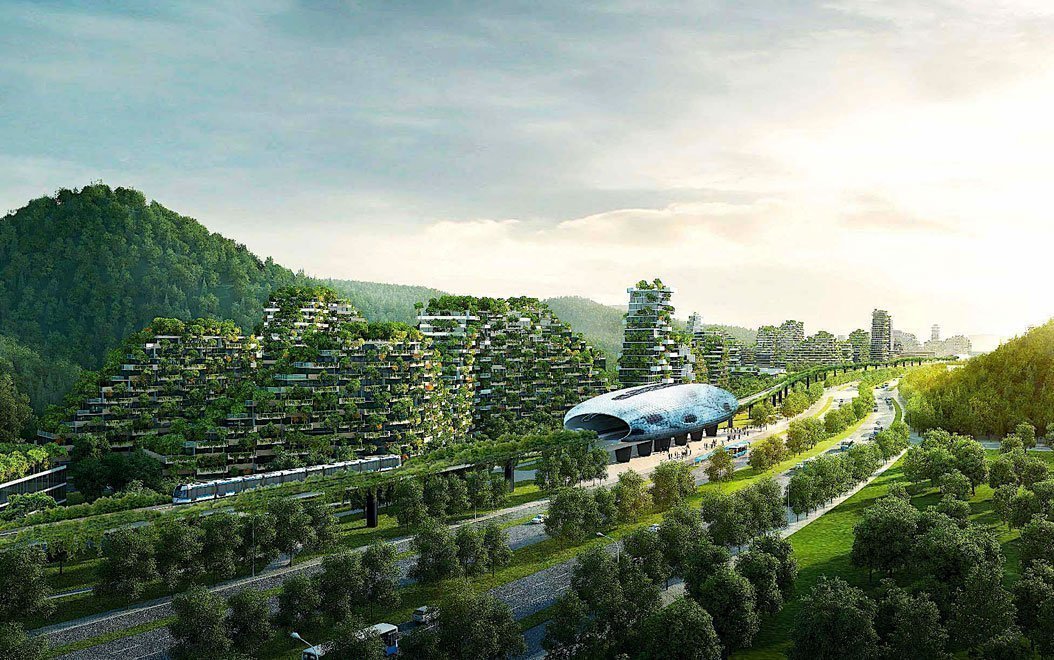 "Everybody is talking about smart cities, but they don't have a concrete example," says Yu, who leads regional strategy and business development for Forest City. "We studied every part of the world for smart cities. And the conclusion is, it's always public sector-driven. We never saw a single successful case led by the private sector. So we want to be the first to try."
Residents can look forward to living in a forest-like environment, with rooftop gardens, sky gardens, and coastal mangrove parks. "They will be ready for the future climate change and sea level rise. Also, there's a public space for the citizens in Forest City. So it's very beautifully done." He also assures that the reclaimed area is "safe and geologically stable."
Houses will have smart electric and water meters, smart lighting and locks, automatic plant watering, an interconnected video intercom system, and a smart identification system along with the rest of the community for security.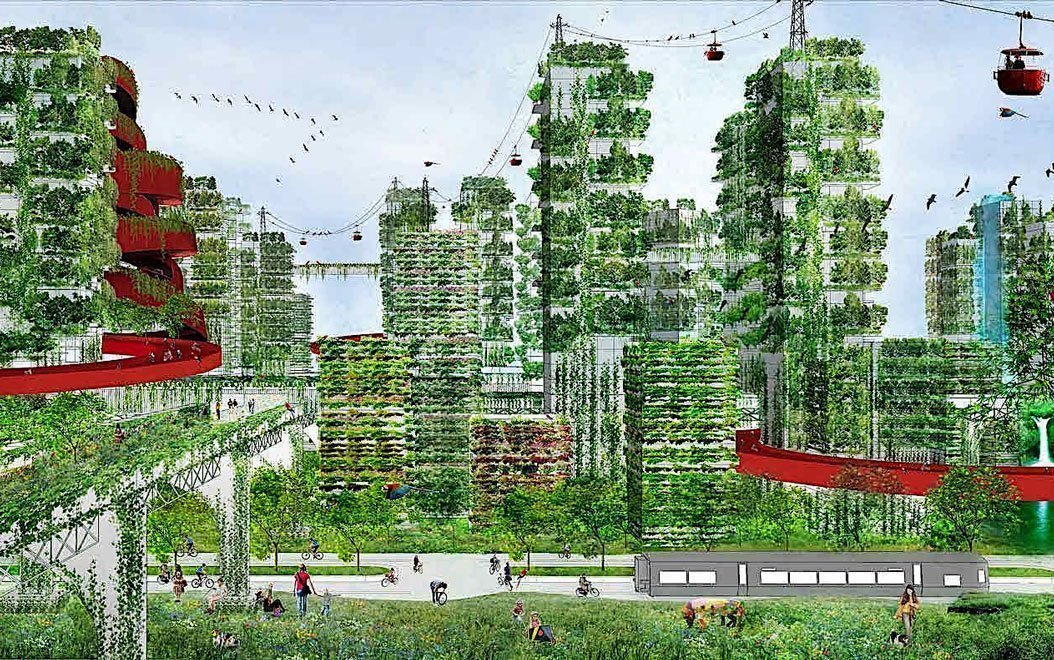 As for its multi-layer mobility system, all roads, interchanges, and car parks will be underground. Pedestrians and bicycles will occupy the surface, and they will be only a few moments away from public transportation. There will be a light rail transit system, as well. The whole idea is to separate non-motorized transportation from the cars.
Forest City will be a prime model of more green and smart futuristic cities around the world. The developer aims to attract eight industries: Tourism and MICE (Meetings, Incentives, Conferences, and Exhibitions); healthcare; education and training; regional headquarters; near-shore finance: e- commerce; emerging technology; and green and smart technology.
In 1917, Yu targeted the tourism sector, in particular, given that Forest City's duty-free center will be fully operational and a jetty is being built in front of the Phoenix Hotel. The "residential part" of the project is going smoothly. Even before actual homeowners are moving in, tourists should have something to do here. Young entrepreneurs will find a home in Forest City to build their businesses and enjoy cheaper living expenses compared to large metropolis.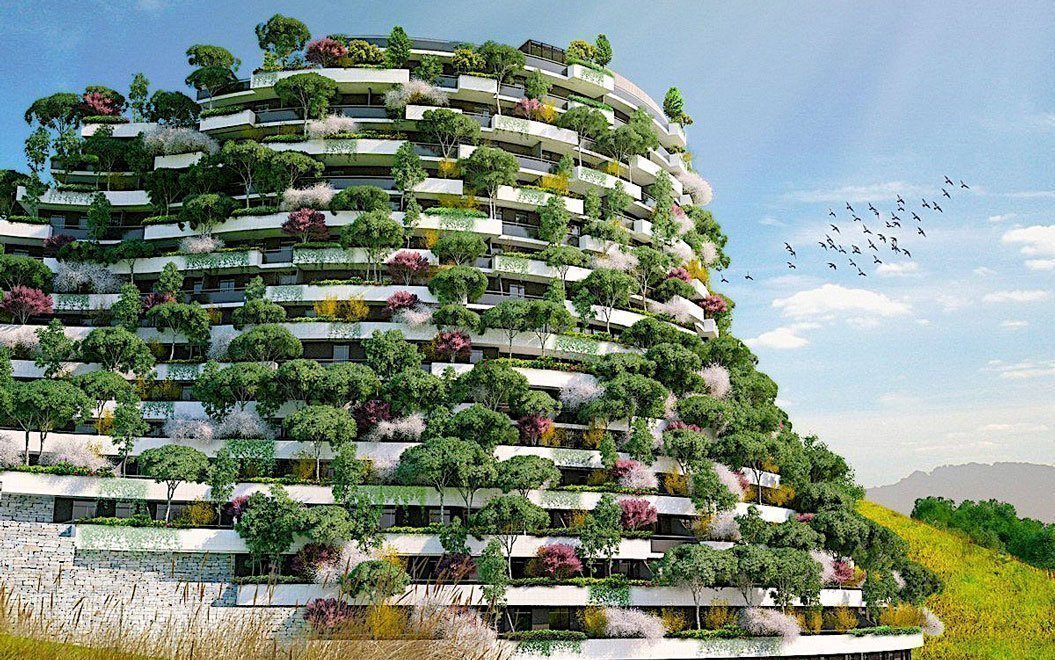 They also want to lure nurses, doctors, hospital managers and other professionals for a medical care hub and wellness center. Nearly every city in the world struggles with air pollution, but one province in China has taken a major step towards drastically reducing air pollution by planning the world's first "forest city."
The community of around 30,000 people in Liuzhou, Guangxi Province, China will live up to its title by integrating nearly one million plants of more than 100 different species into its urban landscape, with an additional 40,000 trees. These plants will appear along roadways and in parks as well as on the outer walls of buildings and other structures. From top to bottom, the city will be blanketed in greenery.
The World Health Organization estimates that air pollution causes around 7 million premature deaths each year. Polluted air can contain high concentrations of CO2, which contributes to the buildup of greenhouse gasses in earth's atmosphere, leading to further climate change. According to the Numbeo Pollution Index, China is the sixth most polluted country in the world, with a pollution index of 88.96. As one might imagine, this pollution is most apparent in China's urban areas.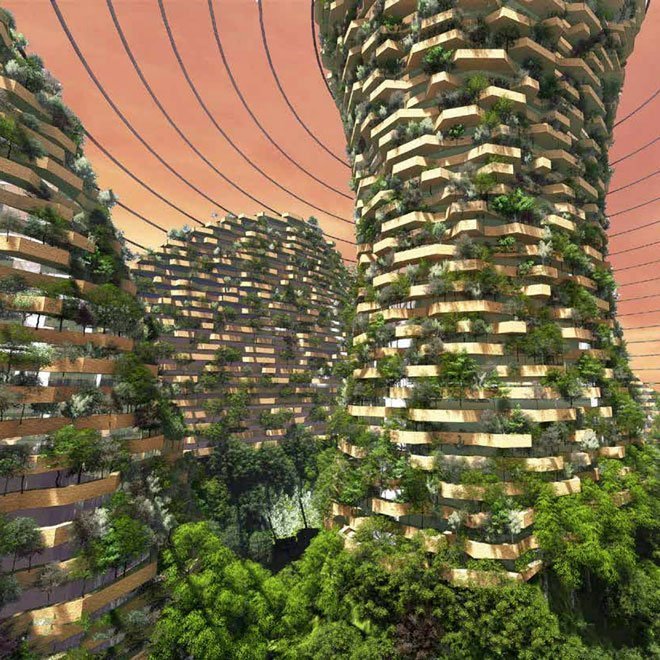 It's estimated that the forest city will pack enough air-cleaning power to absorb around 10,000 tons of carbon dioxide from the air, along with 57 tons of pollutants every year. On top of that, around 900 tons of oxygen will be produced each year, and shade from the trees and other plants will help keep city air cool. Plant life will also serve as an effective barrier against urban noise which can cause hearing loss and stress.
Although blueprints for similar architectural concepts have been seen in the last few years, the forest city will be the world's first true green city. Like the "Bosco Verticale" buildings in Milan, the project will likely produce results that have never been seen before. It's easy to imagine that the forest city's success will inspire other, similar projects around the world, by demonstrating that such cities are not only possible to build, but possible to maintain long term–and well worth the effort.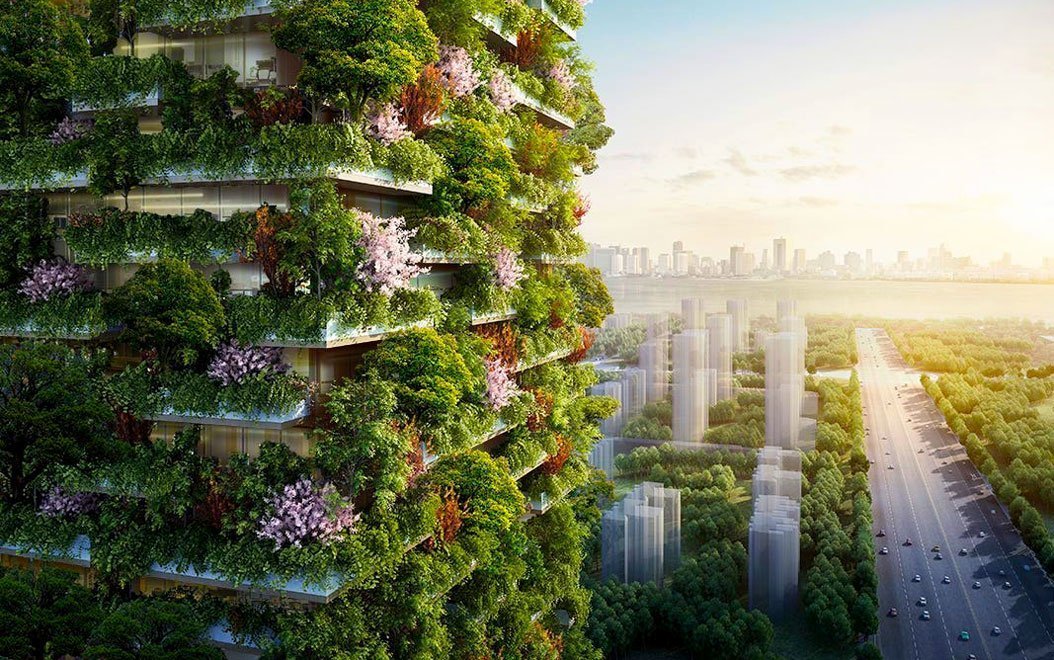 Two vertical forests near Shanghai
China is dedicating significant resources in order to meet ambitious sustainability goals. China's Shenzhen region is one of three "sustainable development zones" that the Chinese government has designated for development by 2030. Shijiazhuang, a northern industrial hub in Shenzhen, is where one ambitious "Forest City" project is being planned. The Shijiazhuang Forest City is the most ambitious project of its sort underway in China, but it isn't the first. In Liuzhou, in China's mountainous southern region of Guangxi, another "Forest City" is being imagined.
In Nanjing, about an hour from Shanghai, two "Vertical Forest" buildings are also being inserted into the city skyline. The two buildings in Nanjing are expected to suck up to 25 tons of carbon dioxide out of the air each year and produce around 60 kg of oxygen each day.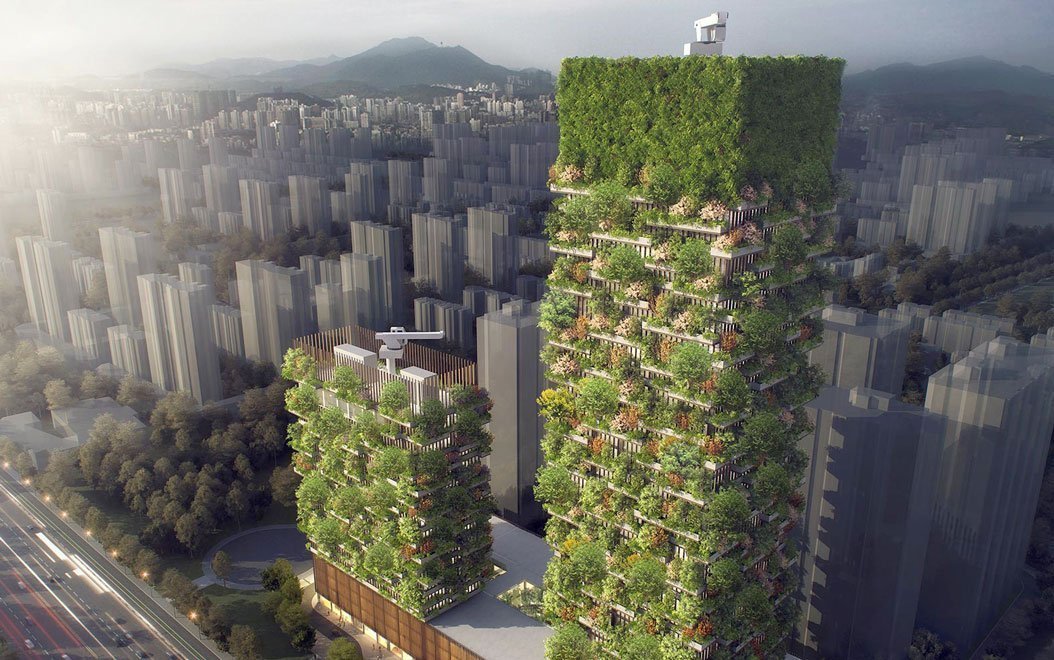 Foest city in Malaysia
China is not the first one. The company's 20-year flagship project is another Forest City, located along the coast in the special economic zone of Iskandar in Malaysia. Neighboring Singapore is less than 30 minutes away by car.
The residential and commercial mixed-use development occupies 20 square kilometers of reclaimed islands and 10 square kilometers of the main island. In 1917 Southeast Asian journalists were invited to visit the township over the weekend, where they toured the Harbor Commercial Street, a retail area with duty-free shops, restaurants, and boutiques. They stayed in Phoenix Hotel, a luxury accommodation with 283 guest rooms, restaurants, and meeting rooms; and looked at the first of six Industrialized Building System factories that would supply the prefabricated parts to be assembled on- site in Forest City homes.
Reporters also viewed the lavish, seaside Peony Littoral villas, with the biggest unit being a three and a half-storey house that occupies 6,500 square feet (approximately 600 square meters). Priced at 19 million Malaysian ringgit (about PhP224 million), it has six bedrooms, a bespoke elevator, a balcony, and a garden. Some 233 units will be completed by the end of 2018. All have been sold to buyers mostly from China, Singapore, Malaysia, Indonesia, South Korea and Japan.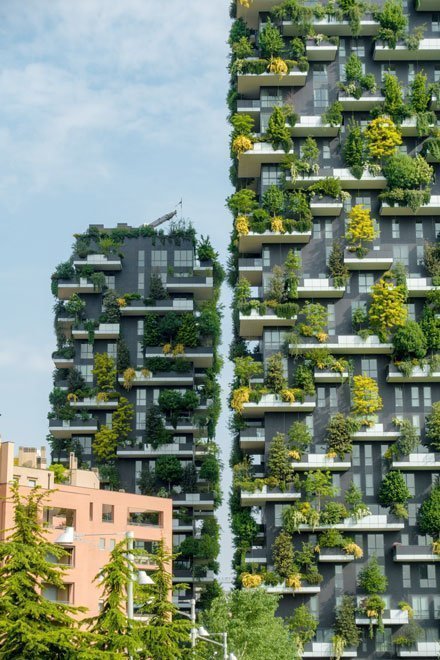 With a US$100 billion investment, the development of Forest City began in 1915, after an environmental impact assessment. The first phase of reclamation opened in March 2016. It is sparsely populated for now, with only employees, construction workers, shopkeepers, security guards, and some tourists bustling about.
But Country Garden Pacificview president and chief strategy officer Dr. Runze Yu envisions that, by 2020, residents are already moving in and the community will be a much livelier one. A duty-free shopping mall will have opened; all three golf courses, including one designed by golf legend Jack Nicklaus. They will be up and running; and a landmark building will be ready for entrepreneurs to build their businesses. International school Shattuck-St. Mary's will also be on its third year of operation by then.
First experiment in Milán
Before China and even before Malaysia, it all started in Milan. Stefano Boeri studio is an architecture team that creates eco-freindly buildings and other projects around their world. The three partners are italian: Stefano Boeri, Gianandrea Barreca and Giovanni La Varra.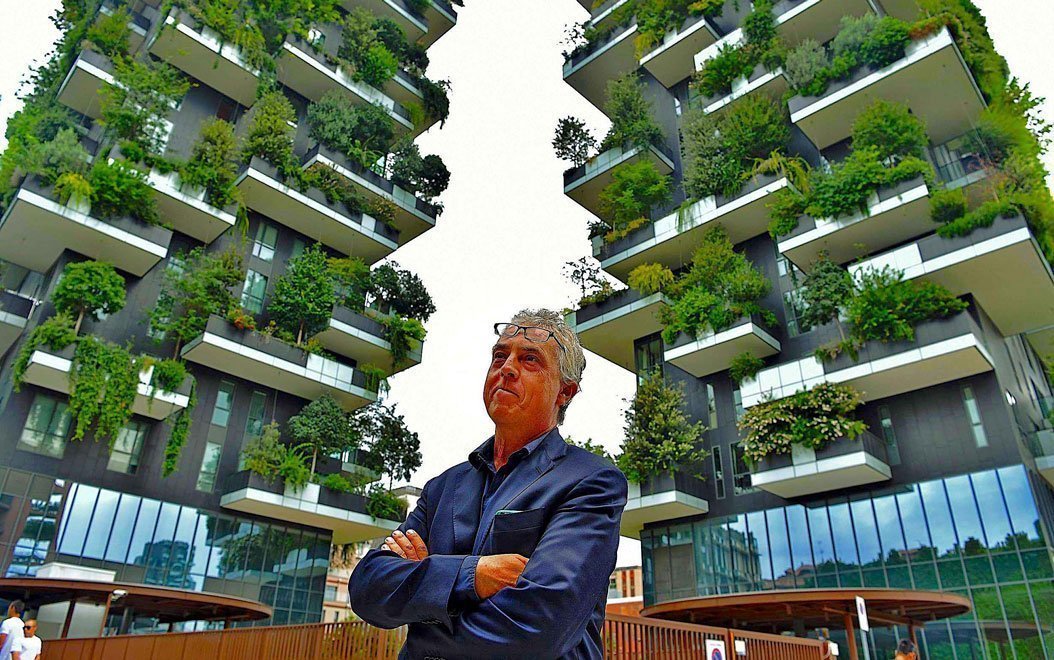 Their famous "Bosco Verticale " is a pair of residential buildings in Porta Nova, Milan have served as an inspiration to other green builders around the world. They have proven that such buildings, with balconies and ledges covered in plants, are possible to maintain in the heart of busy cities. Since their opening in 2014, they have won several prestigious awards, including the International Highrise Award in 2014 and the title of "2015 Best Tall Building Worldwide".
They have a height of 111 metres and 76 metres and contain more than 900 trees (approximately 550 and 350 in the first and second towers, respectively) on 8,900 square metres of terraces. Within the complex is an 11 storey office building. Its facade includes plants in every floor. It also involved input from horticulturalists, botanists and gardeners. It was inaugurated in October 2014.
The Bosco Verticale in Milan and Liuzhou Forest City in China just proved Boeri's plan to fight the climate change. His projects vary from urban forestry to protection of biodiversity in the cities: from Milan to Eindhoven, from Malaysia to China. Boeri aims to avoid the use of cement and the expansion of cities. He also wants to get the cities closer to forests, protect the environment and biodiversity to lessen the pollution, and to make nature an important part of the architecture.
Besides being covered in plants, the forest city will also make use of renewable energy sources, such as solar and geothermal energy. This will further cut down on air pollution and CO2 emissions. This power will help run, among other businesses and residences, a hospital and two schools. A fast rail line for electric cars will run through the city, connecting it to nearby Liuzhou.
Chinese magazine "Business Times" underlines the importance to adopt urban development models which tackle Climate Change effects, searching to improve the air and city environmental conditions. These green citizens are expected to absorb thousands of tons of carbon dioxide and pollutants produced by 100,000 human residents. Undoubtedly, green buildings in green cities, which become energy efficiency, will be the most interesting, thematic ideas that architects can look out for in the near future.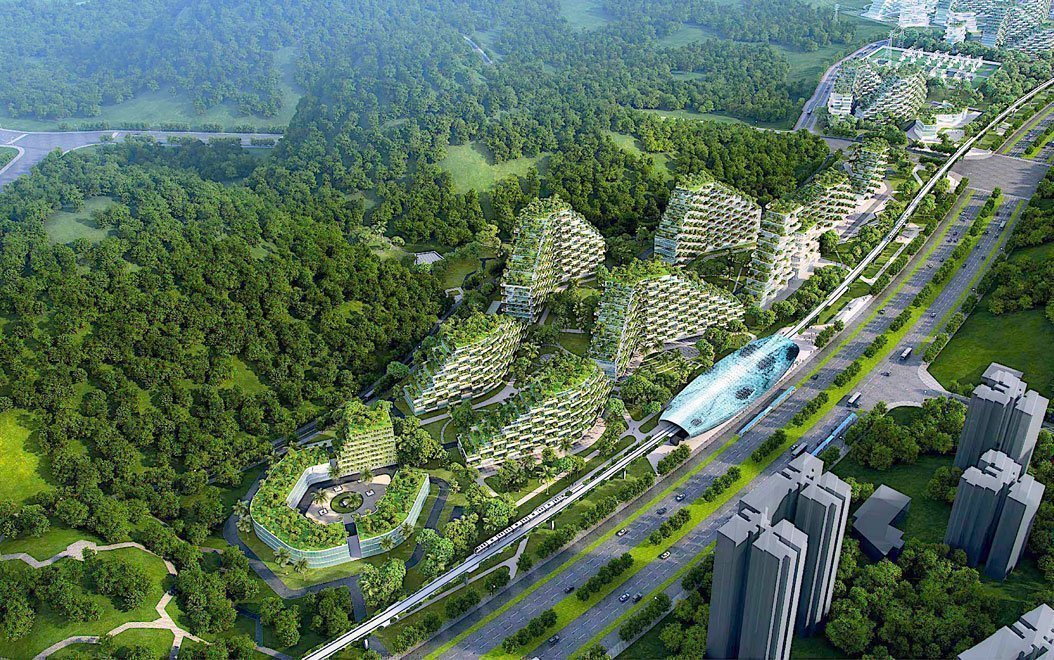 The Forest City created by Stefano Boeri studio in China has all the earmarks of transforming the future of architecture and being a magical place that all travelers will have listed very soon on our "wish list". Because, now more than ever, we need to put passion into making our wish lists. Today, sweet dreaming is a must.