Olga Picasso, painted melancholy
Olga, a young Russian ballet dancer, became Picasso's first wife. She opened up his life into a sophisticated world where he met Sergei Diaghilev, Erik Satie and Jean Cocteau.
Olga was Picasso's forgotten wife, written out of history as a neurotic, snobbish depressive who was a drag on the great artist. But inspired in museum exhibitions we research through the real history, bringing a different light shining on Olga Khokhlova. The show "Olga Picasso" travels to four museums through Paris, Moscow, Madrid and Malaga.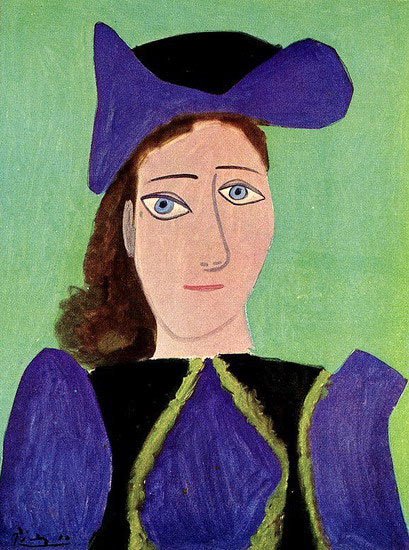 Picasso fell madly in love with the beautiful Russian ballerina in 1917 after seeing her dance "Parade" on the opening night at Theatre du Chatelet. She was a member of the Russian Ballets, directed by the genius choreographer Sergei Diaghilev. He was leading the company and worked closely with musician Erik Satie and artist Jean Cocteau. Picasso created the stage sets and costumes. Since that night, Olga became his first great love, main model and muse.
Olga Stepanovna Khokhlova was a Russian ballet dancer of noble descent but better known as the first wife of Pablo Picasso, one of his earliest artistic muses and the mother of his first son, Paulo.
Her portraits have serious eyes and a perfectly straight nose. Restraint and tenseness as if she was still wearing that cubic costume designed by Picasso for her ballet.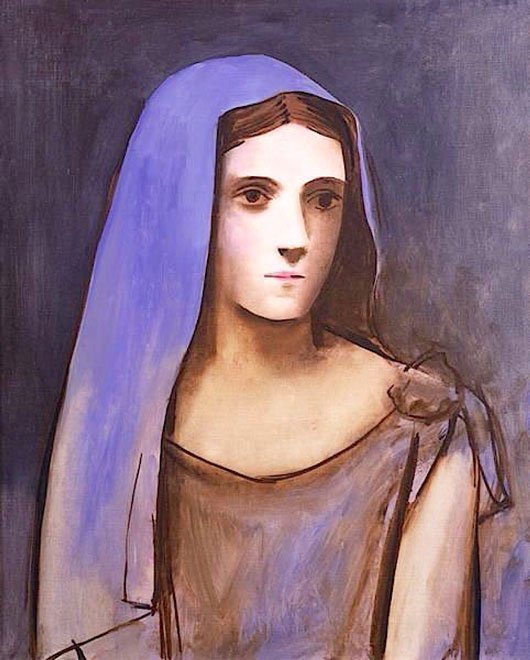 She was born in Nezhin, Ukraine (1891-1955). Olga wanted to be a ballerina from the time she visited France and saw a performance. She became a member of the Ballet Russes of Sergei Diaghilev for whom Picasso designed costumes and theatre stage. After meeting Picasso, Olga left the ballet company, which toured South America, and stayed with him in Barcelona.
He introduced her to his family. At first his mother was alarmed by the idea that her son could marry a foreigner, so he gave her a painting of Olga as a Spanish girl: "Woman in Mantilla". Later Olga returned with Picasso to France, where they lived together.
Olga married Picasso in 1918, at the Russian Orthodox Cathedral in Paris. Jean Cocteau and Max Jacob were wedding witnesses. Olga became his main artistic muse. They went to London for the performance of "Le Tricorne" for which Picasso again had designed costumes and stage on Sergei Diaghilev's wish. The new ballet was also performed at the Alhambra in Granada (Spain) and Paris Opera in 1919. It was a great success.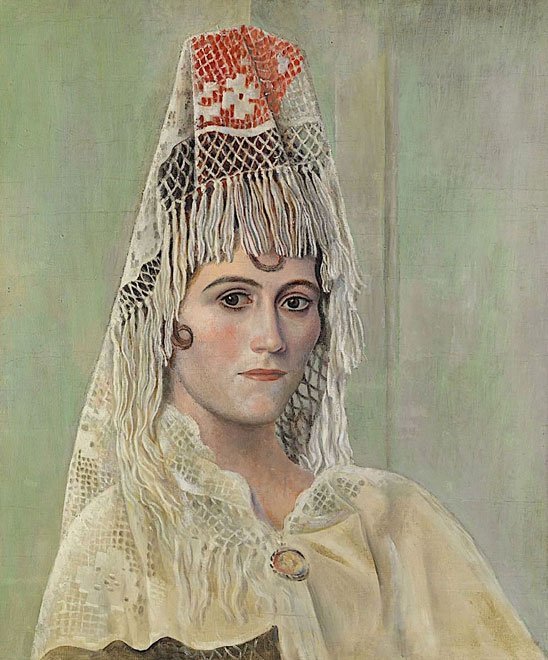 Olga was a feminine dancer, always dressing up and playful with ballet friends and her dogs. Settled in Paris, she furnished the house in a glamorous and luxurious manner, in the high of fashion. They had a car with a driver, highbred dogs and art studio on the second floor. They threw receptions and dinner parties. Olga liked expensive clothes, caviar and champagne. But she had good reasons to be sad and preoccupied. Her father, colonel in the Russian Imperial Army, disappeared in the chaos of the Bolshevik revolution. While Olga and Picasso were climbing the Paris social ladder, her family lost everything. In 1921, Olga gave birth to a boy named Paulo.
It was the happiest period of their family life. Picasso painted many sentimental portraits of Olga and little Paul dressed as harlequin, in a round hat, sitting on a donkey.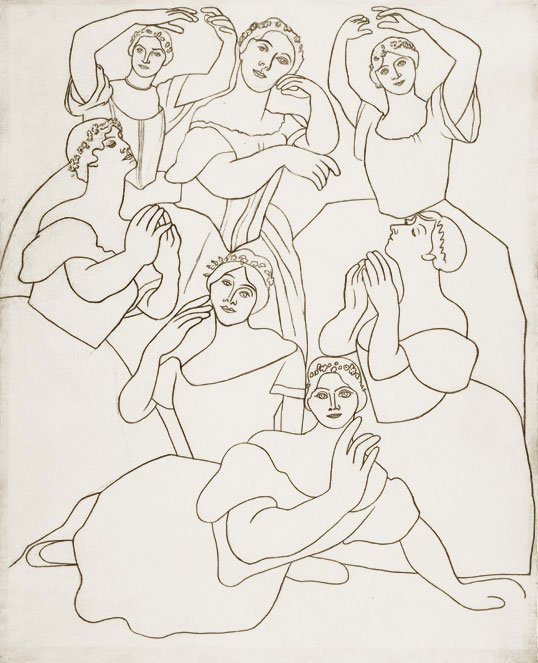 Picasso idealised Olga on canvas as model of perfect motherhood after the birth of his first son. But soon the relationship began to go wrong since he fell Inin love with a 17 year old girl that he met on the street. From then on, the family union deteriorated.
He portrayed Olga as melancholic, often sitting or reading. First his view of her was carnal, but as time went by, his ardour cooled. Later as their marriage soured, she appears in his paintings as deformed and contorted by pain and regret.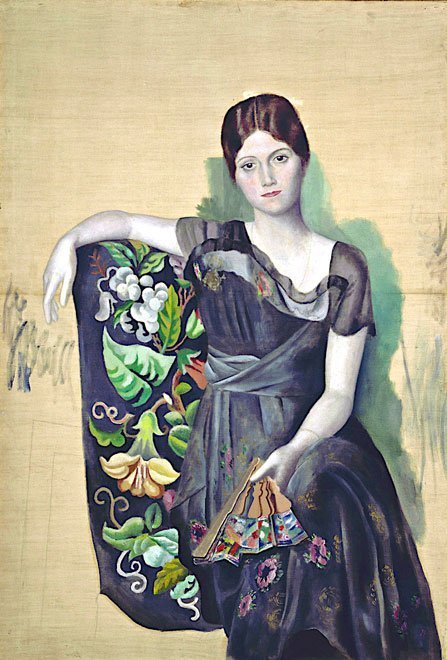 In 1927, Picasso, then 45, began a nine year affair with 17 year old French girl, Marie-Therese Walter who gave him a daughter, Maya. Infatuated with the blond young girl, he was leading a double life. In 1935, Olga learned of the affair and even that his lover was pregnant. Immediately, Olga took Paulo, moved to the south of France and filed for divorce. Picasso refused to divide his property so he kept her legally married to him until her death in 1955.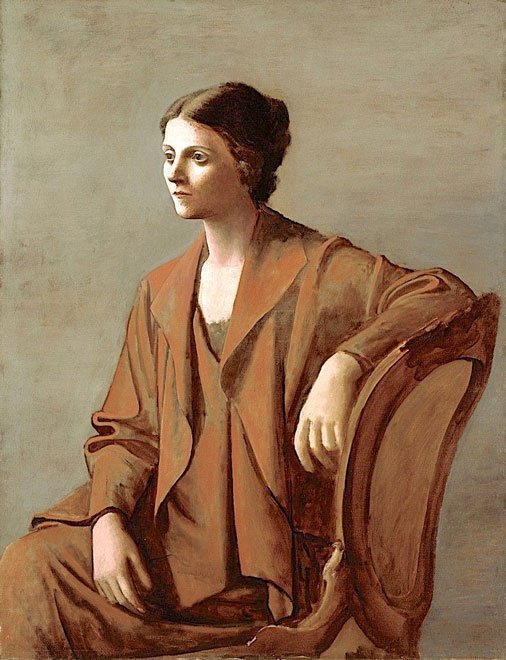 The exhibition allows a really fascinating study of the direct links between the artist, his love life and painting styles. Confidential documents show a more nuanced view of their relationship.
Olga is a very mysterious woman. In his portraits and photos of her she doesn't smile a lot… but when you see her in films, she is actually very joyous and girl-like.
She was known for her jealousy fits but obviously there was real tension. Did Picasso had love and respect for her? He too was a prisoner of their situation, which he expressed in comparing himself to the imprisoned Minotaur, mythological being half-man half-bull.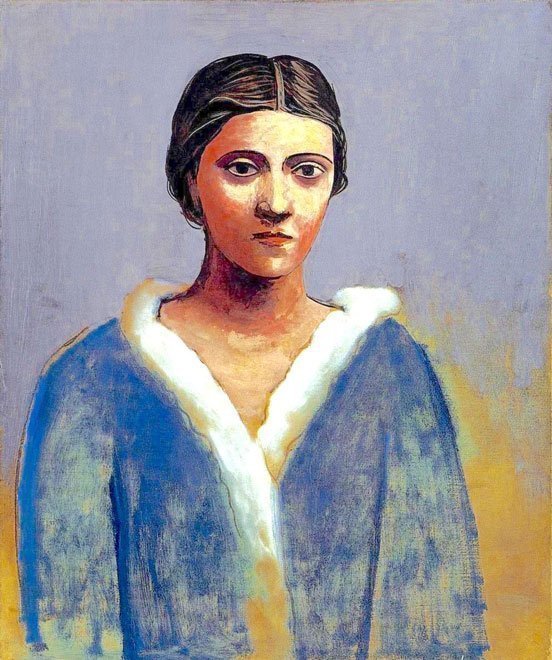 They separated but she still depended on him financially. Olga had real trouble accepting the separation. She was completely alone and suffered great emotional pain. After the war when Picasso settled in the south of France, Olga followed him, going from hotel to hotel, living out of her suitcase, while their son, Paulo, became his father's chauffeur. She would send Picasso little cards with photographs of Paulo and the grandchildren as if they were still a family. But Picasso never replied to her letters and wanted nothing of the reconciliation and conventional family life that Olga craved.
Dismissed as "mad woman" by Picasso, paralytic and abandoned by society, she died from cancer in Cannes in 1955. Four years later Picasso married Jacqueline Roque, 45 years younger. He painted her obsessively, over 400 artworks, until his death in 1973.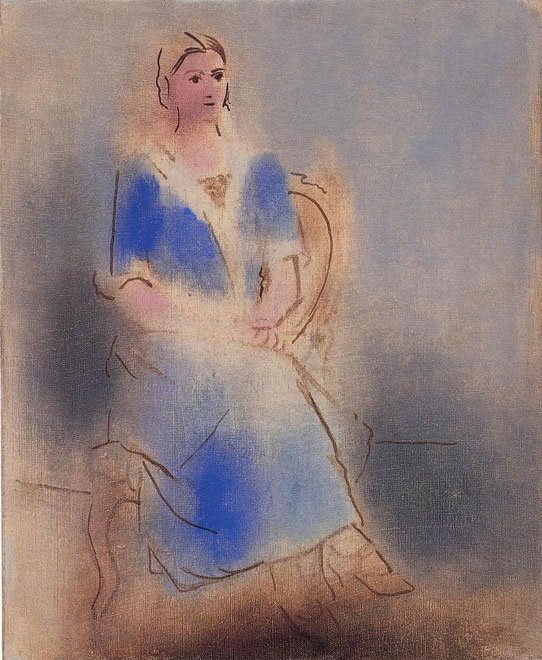 Paulo, Olga's son, was married to Emilienne Lotte. They had two children: Pablito and Marina. Pablito, the grandson, married Christiane Pauplin and committed suicide with 26 years. Their only child Bernard Ruiz Picasso, co-founded the Picasso Museum in Malaga with his mother, Christiane.
In 1990 Marina Picasso founded an orphanage in Thu Duc, Vietnam, in a former military base. Named "The Village of Youth", it was funded by her inheritance from her grandfather. The foundation organises digging of wells, sends milk to orphanages and hospitals, and grants farming subsidies and scholarships. She wrote an interesting book about her own life experiences: "Picasso, My Grandfather" by Riverhead Books (2001).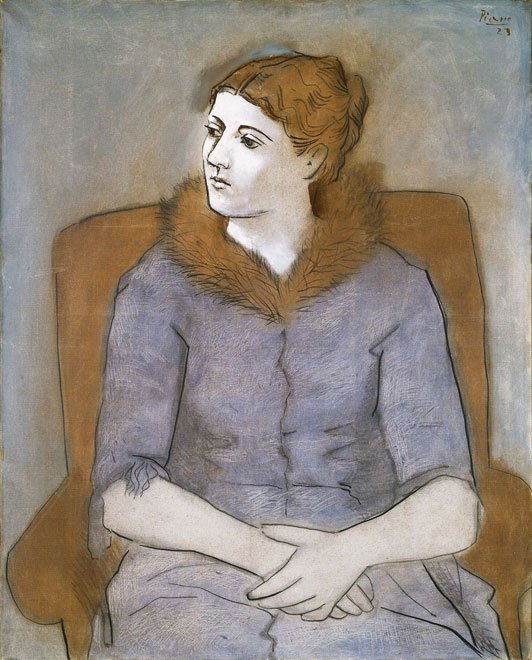 Based on the exhibition, letters, photographs and films, Olga emerges as a muse of the painter's Classic Period (1914-1925). Here Picasso shows influences from Michelangelo, Ingres, Renoir, Greek and Roman Art. He paints strong women, with a palette of pale tans and grisailles.
Picasso has often been condemned as a macho misogynist, whose sex drive and selfishness left a trail of destruction behind him. Three of his family members committed suicide: his lover Marie-Therese, his second wife Jacqueline Roque and his grandson Paulo.
Picasso painted Olga but he certainly didn't make her happy. A great artist… but an extremely complicated man. Olga's portraits have a heavy, patterned presence reminiscent of sculpture. His vision reveals a wounded melancholic heart.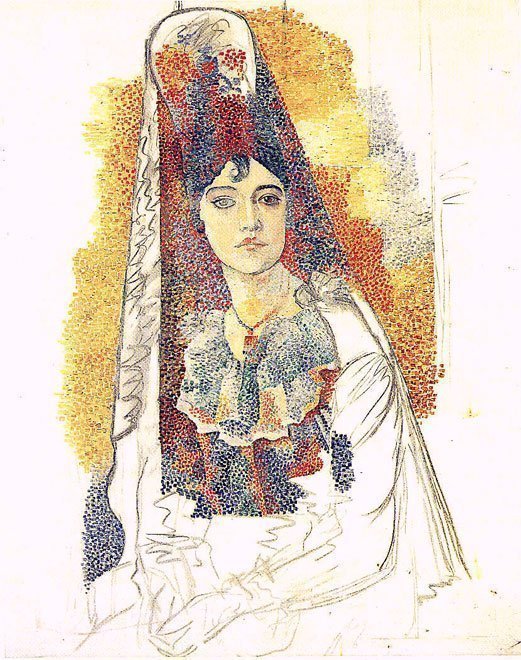 Exhibition "Olga Picasso"