Arata Isozaki wins "Nobel Prize" of Architecture.
This year's Pritzker Prize 2019, considered the highest honor for architects, goes to this prolific Japanese creator who is known for masterfully blending Eastern and Western aesthetics.
The 87 year old, planner and theorist, Arata Isozaki has completed over 100 projects throughout Asia, Europe, North America, Australia and Middle East in a span of over six decades.
Born in 1931 in the city of Oita, across the gulf from Hiroshima, Isozaki was a teenager when he witnessed the destruction of Japan during World War II. He lived intensively the drama following the devastating events of Hiroshima and Nagasaki totally destroyed by two atomic bombs.
I grew up on ground zero. Everything was in complete ruins. There was no architecture, no buildings, not even a city. Only barracks and shelters surrounded me. So my first experience was the void of architecture. Then I began to consider how people might rebuild their homes and cities.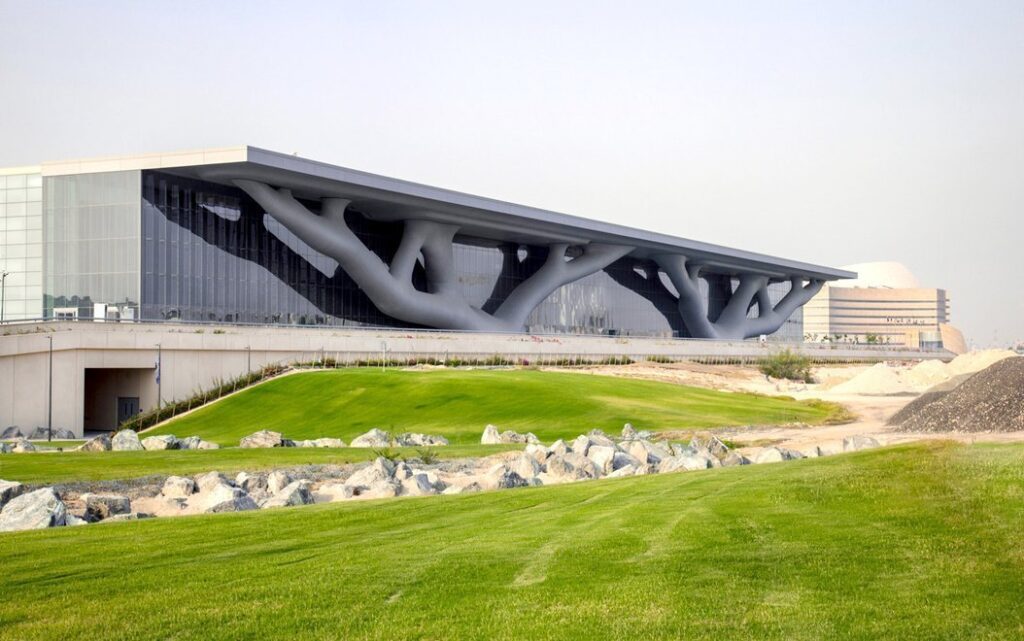 Following Japan's Allied occupation, Isozaki graduated from Tokyo Architecture University in 1954. After that, he spent years traveling, escaping from the drama in his country.
I wanted to see the world through my own eyes, so I traveled around the globe at least ten times before I turned thirty. I wanted to feel the life of people in different places. I visited extensively Japan and the Islamic world, villages in the deep mountains and metropolitan cities of China, South East Asia and USA. I was trying to find any opportunities and I kept questioning What is architecture?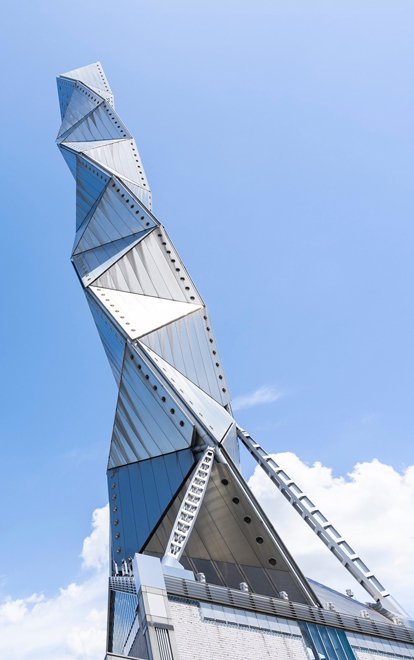 In his early years he worked locally to rebuild his hometown, Oita, after Hiroshima bomb. He created a medical center, a library and other facilities in the wake of the country's postwar economic and cultural turmoil.
In order to find the most appropriate way to solve these problems, I could not dwell upon a single style. Change became constant. Paradoxically, this became to be my own style.
Some of his star projects in Asia are: Art Tower Mito, Shanghai Symphony Hall, Ceramic Park Mino and Tokyo School of Music.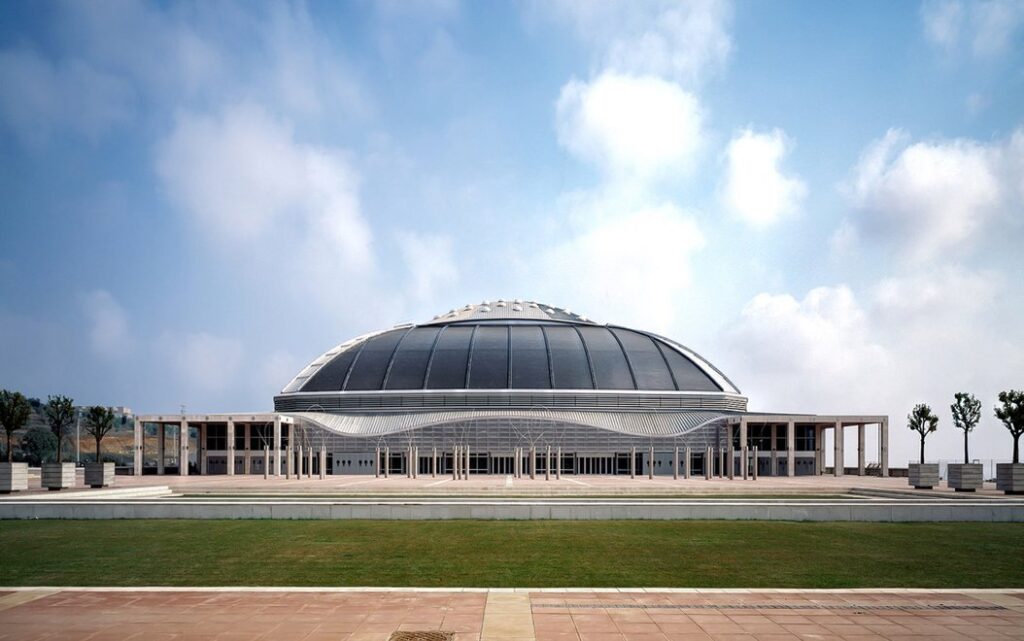 After building his first constructions in Japan, commissions began coming in from around the country and ultimately across the world. This allowed Isozaki to form a creative bridge between Eastern and Western societies. Very early in his life, Isozaki became a citizen of our planet, an international creator. The 87-year-old still practices out of his studio in Okinawa. He was one of the first Japanese architects to build abroad.
His first international commission was the Museum of Contemporary Art in Los Angeles (MOCA).
Among his most iconic finished projects abroad: the Olympics Sports Hall in Barcelona, Disney Team Building in Orlando, Qatar National Convention Center in Doha, Pala Alpitour and Allianz Tower in Milan…
His most original project was Ark Nova, the first large-scale inflatable concert hall ever constructed (2013). This giant plastic round shape building was used for musical performances at Lucerne Festival in Grass Square Park, Tokyo. The unique design was a collaboration of Isozaki with Indian performance artist and sculptor Anish Kapoor.
Another spectacular collaboration was also related to music. In 2014, he inaugurated Shanghai Symphony Hall, marking the 135th anniversary of Asia's oldest orchestra. A key aspect was a long-awaited collaboration between Isozaki and acoustic master Yasuhisa Toyota. The Singapore Symphony Orchestra placed music first. They became China's first organisation to hire an acoustician before choosing the architect. Isozaki and Toyota combined both shoebox and vineyard structures for the shape of the hall. The six large parabolic reflector boards are covered by weaved bamboo and the stage floor is made of Hokkaido cypress from Japan. The colours of the materials used give the hall a gold tint, bringing much warmth to the interior. The main chamber hall, fits 1,200 people and sits on giant springs to protect against the vibrations from the subway that runs underground.
In 1915, Tokyo's Watari Museum of Contemporary Art, dedicated an exhibition to Arata Isozaki. It conveyed the image of a post-humanist man of letters and a critical mannerist with a spirit reflected in his own theory and practice. The small scale show focused for once on Isozaki's performative approach to space. His contingent texture is read, written, experienced, eventually produced in dissonance, dialogue and sometimes, in silence. An ironic poster design by Hans Hollein on occasion of the 1976 exhibition MAN transFORMS placed as prelude at the entrance of the show introduced Isozaki stripped off his skin, dissected in an unreal anatomy where vital organs and muscles are attributed to icons, such as Michelangelo (the heart) and Marilyn Monroe (the buttocks). The exhibition conveyed the image of a Renaissance man.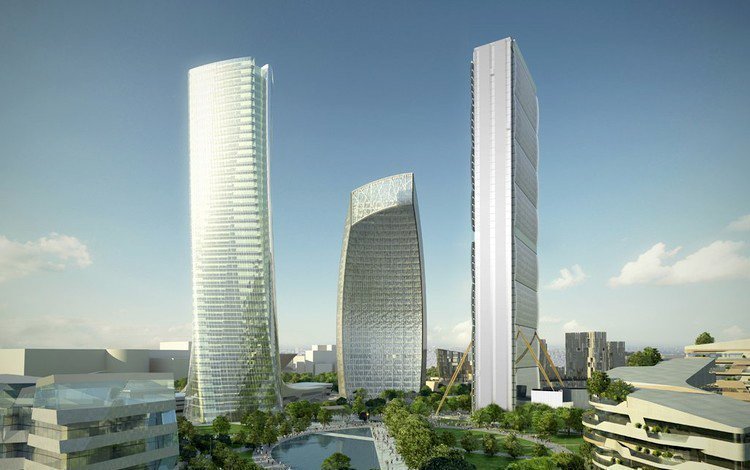 On their decision to honor Isozaki, the Pritzker jury gave a speach:
Possessing a profound knowledge of architectural history and theory, and embracing the avant-garde, Isozaki never merely replicated the status quo. His search for meaningful architecture was reflected in his buildings. To this day, they defy stylistic categorisations which are constantly evolving and always fresh in their approach.
Another of his best-known buildings is Palau Sant Jordi, the largest covered sports center in Barcelona, Spain. It was designed for the 1992 Summer Olympic Games and reflects his work's global influences. A giant dome has room for 17,000 people. It's huge roof references Catalan vault-building techniques, such as those used by Gaudi, while its sloped form was inspired by Buddhist temples. Local materials, including brick, tile, zinc and travertine, were used as finishes.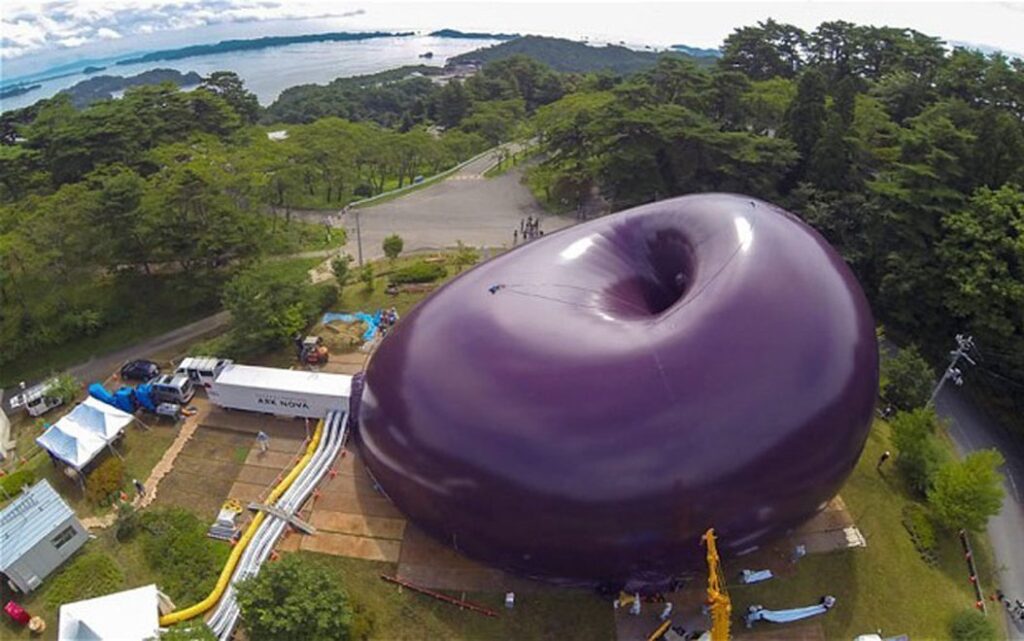 Unconventional Tokyo School of Music has been chosen as one of the world's best new buildings. Though controversial and geographically challenging, the red Indian sandstone building was resolved by Isozaki's eloquent awareness of scale through an assemblage of volumes. He employed Renaissance Golden Ratio and Yin Yang theory throughout, evoking the complementary nature of Western and Eastern cultures.
While the Pritzker Prize has traditionally been considered as Western-centric, Isozaki is the eighth Japanese architect to claim the award in the last 10 years.
Japan has now produced eight laureates, counting 2010's joint winners, Kazuyo Sejima and Ryue Nishizawa, and including recent winners Tadao Ando (1995) and Shigeru Ban in 2014. Isozaki's achievement puts Japan on the same level as with United States, which has produced eight winners. That is including Frank Gehry, Canadian-born with American nationality. The seven member Pritzker jury, founded in 1979, included US Supreme Court Justice Stephen Breyer, British architect (also 2007 laureate) Richard Rogers and Ratan Tata, former chairman of the Indian conglomerate, Tata Group.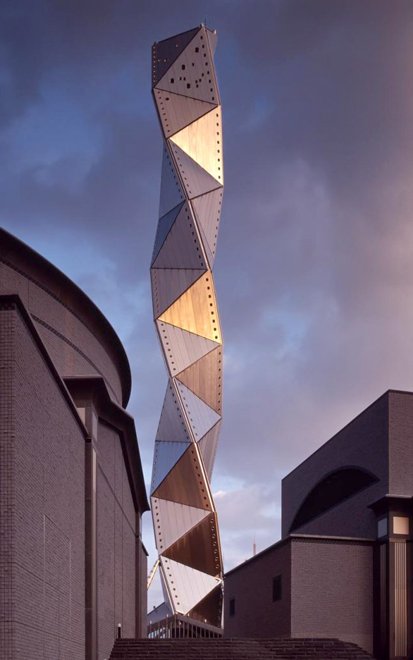 Isozaki has always been a globally minded artists with a Renaissance creative mind. He is certainly a visionary whose original approach is known for conceiving avant-garde forms, mingled with the essence of ancient oriental philosophies.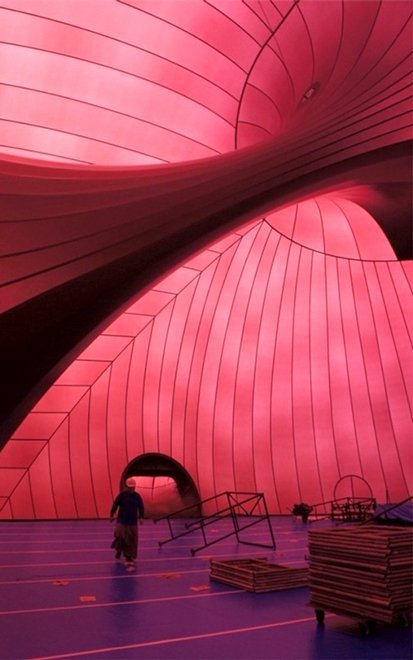 Specific praise from Pritzker judges was mentioned for Museum of Contemporary Art in Los Angeles and Tokyo School of Music.
It truly makes sense that this respected artist has just been awarded winning the industry world's top honour. He proved best as master in combining East and West, Modern and Postmodern styles. Even more: he is master of his soul from destruction to creation. I dare to name him as the Emperor of Japanese Architecture.