Ceesepe, from Underground to the "Movida"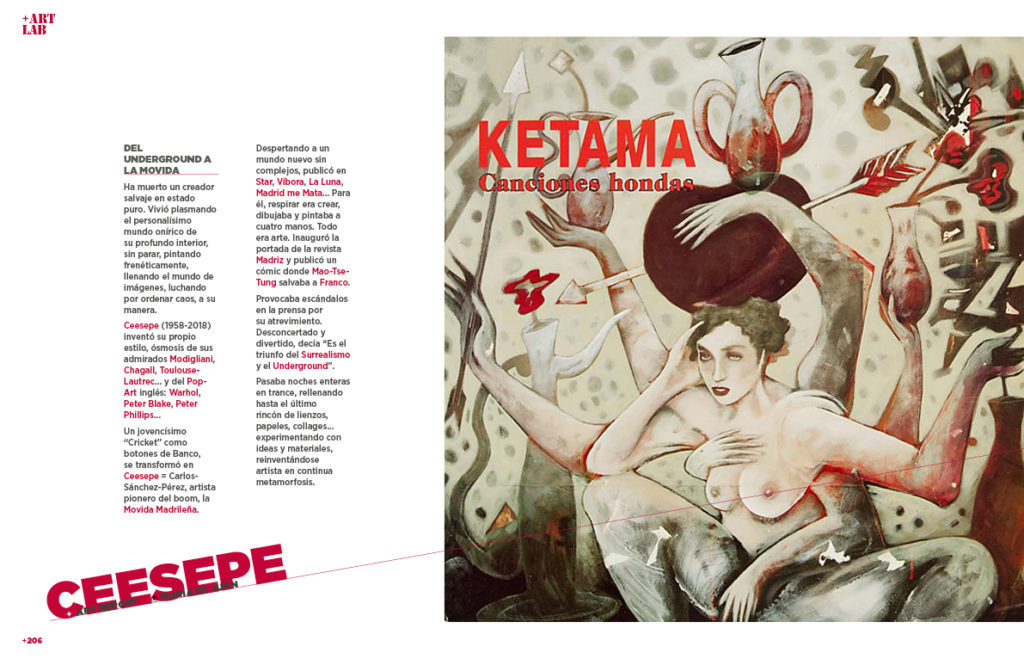 A savage creator in its purest form, just passed away. He lived capturing a personal dream world in his deep interior, without stop, painting frantically, filling the world with images, struggling to order chaos, in his own way.
Ceesepe (1958-2018) invented his own style, by osmosis of his admired Modigliani, Chagall, Toulouse-Lautrec… and British Pop-Art: Warhol, Peter Blake, Peter Phillips…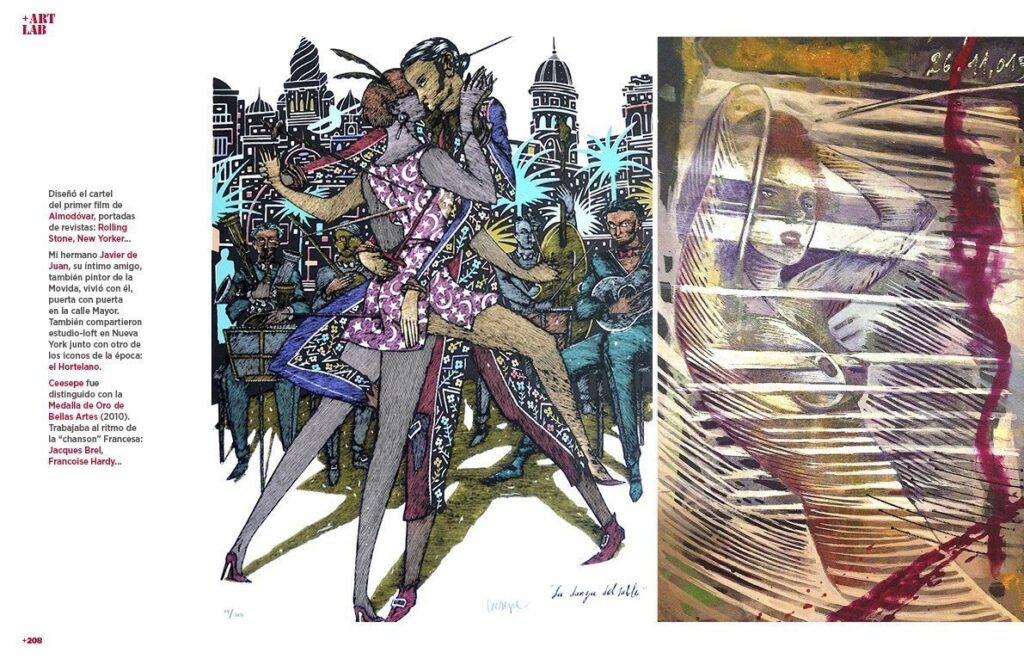 A young bank bellboy, was transformed into Ceesepe (Carlos–Sánchez– Pérez), pioneer artist in the birth of Madrid's "Movida".
Awakening to a new world without complexes, he published inStar, Víbora, La Luna, Madrid me Mata… For him, breathing meant creating, drawing and painting day and night. Everything was art. He inaugurated Madriz magazine cover and published a comic book where Mao-Tse-Tung saved Franco.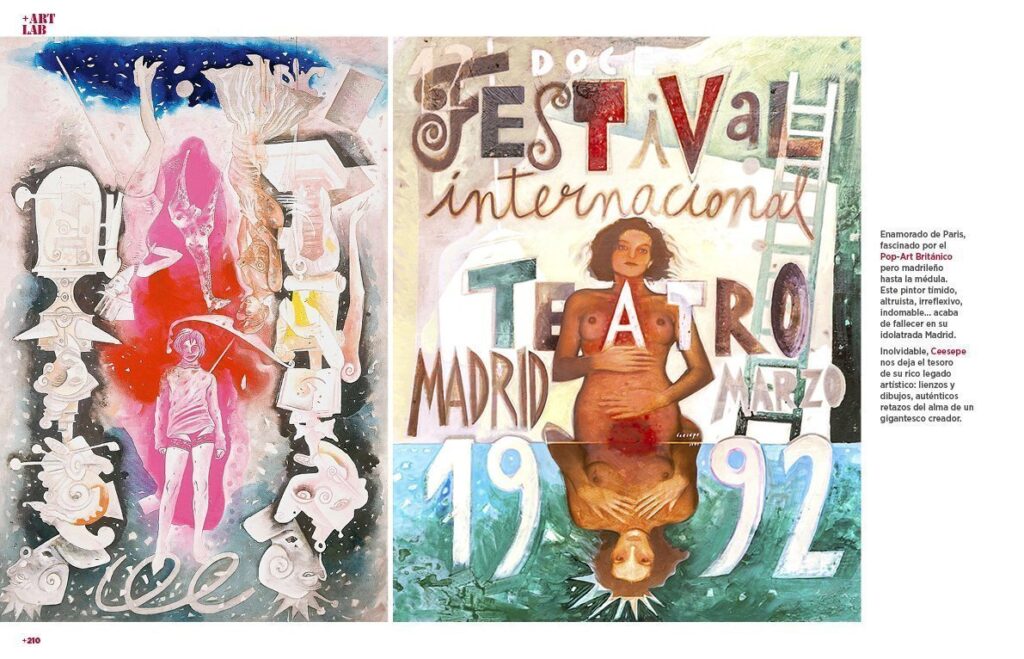 His audacity provoked press scandals. Baffled and amused, he said "It's the triumph of Surrealism and the Underground."
He spent whole nights in trance, filling up every corner of canvases, papers, collages … experimenting with ideas and materials, reinventing himself as artist in continuous metamorphosis.
He designed the poster for Almodóvar's first film and cover magazines:Rolling Stone, New Yorker…
My brother, Javier de Juan, his close friend, also a painter of "La Movida", lived with him, door to door. They also shared a studio-loft in New York along with another icon: El Hortelano.
Ceesepe received the Fine Arts Gold Medal (2010). He worked at the rhythm of French "chansons": Jacques Brel, Francoise Hardy…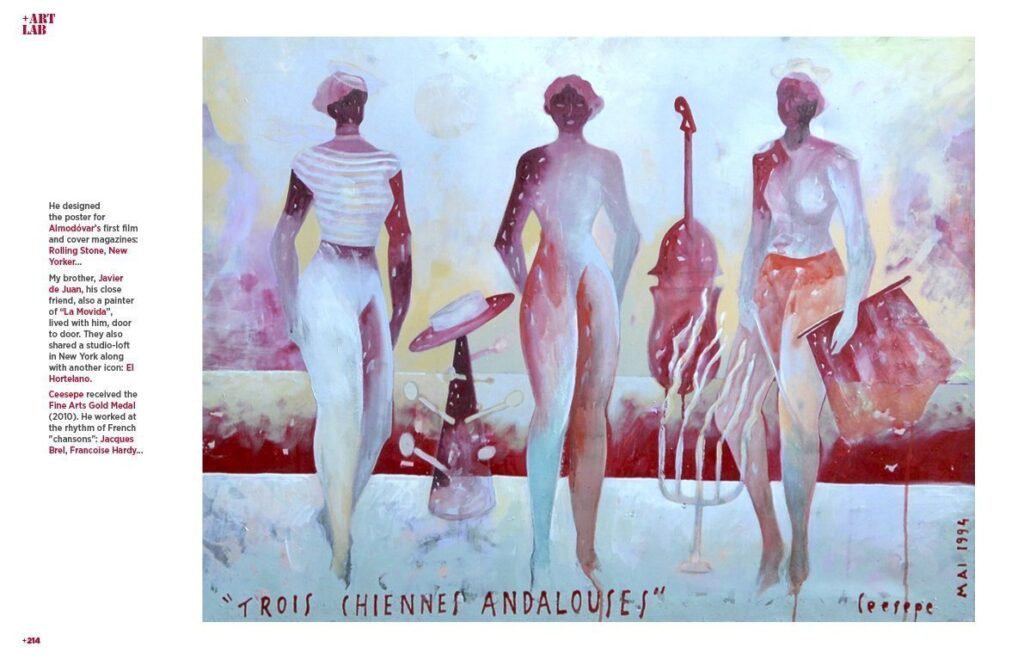 In love with Paris, fascinated by British Pop but Madrilenian to the core. This timid, altruistic, unreflective, indomitable painter… has just died in his venerated Madrid.
Unforgettable, Ceesepe leaves us the treasure of his rich artistic legacy: canvases and drawings, authentic remnants of the soul of a gigantic creator.
---
María de Juan