Guy Laroche and its striking sobriety
All on black. There is no better way to define the collection with which the great French fashion house invites women to dress their feminine curves for the upcoming season.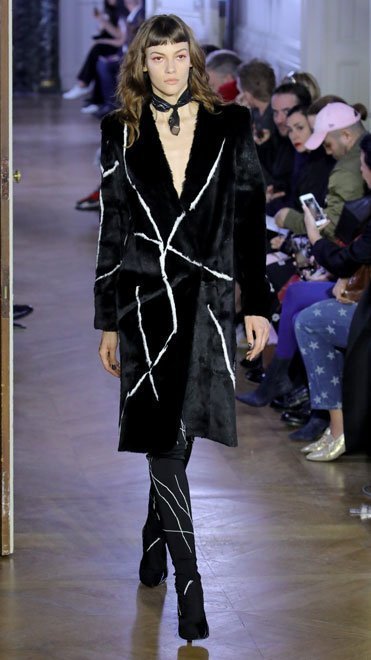 If there is anyone who knows how to sculpt the female figure by imbuing it with a sober and excessive elegance, it's one of the greatest French empires of fashion, Guy Laroche. And there is no one who loves the grandiloquent world of haute couture that isn't familiar with savoir faire and tradition of a brand with such deep roots in the world of elegance.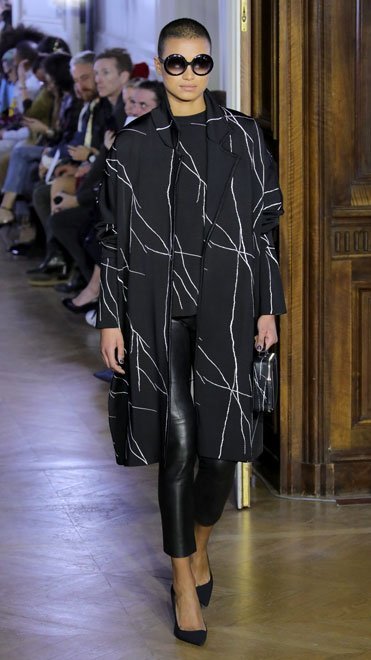 Thus, thirty years after the death of the designer, Richard René, current Creative Director of the brand, has illuminated a collection that, during the upcoming months, stands as the most well-deserved tribute to one of the masterminds of the 21th-century feminine elegance.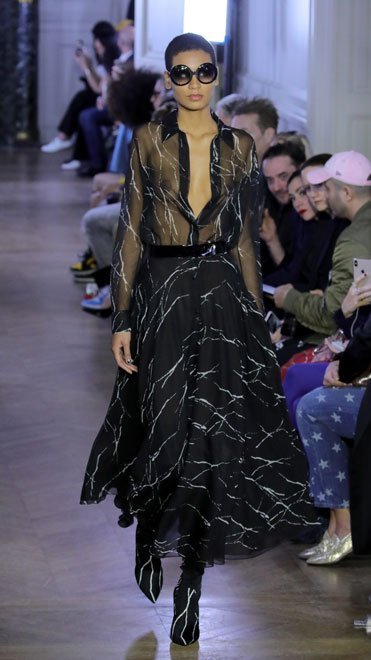 If Guy Laroche never left anyone indifferent throughout all the decades that he led the powerful empire, Richard René has done things right, proposing for next fall-winter 2019-2020 to fill the female universe with pieces with a print based on and inspired by the black marble that covers the tombstone of the design virtuoso, who died on February 17, 1989.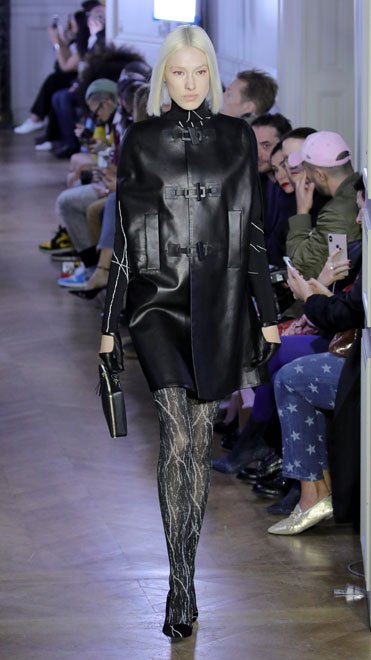 Thus, and without dwelling too much on what for many is surely considered a macabre inspiration, the Gallic fashion house opts for combinations with the elegance that the 21st century woman look for.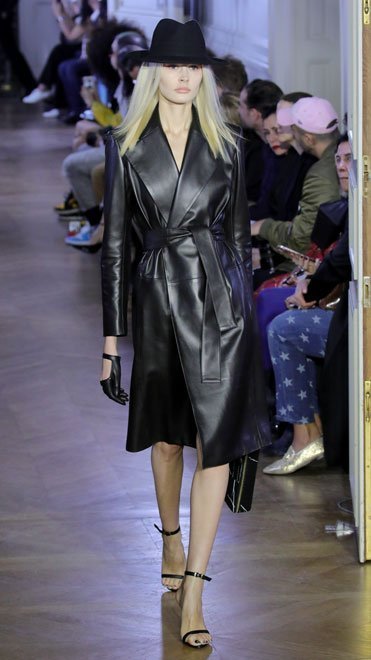 While it's true that the delicacy of the patterns used by Guy Laroche in each of the proposed combinations seems to come directly from the most renowned sewing workshops, actually, it's not: we are before a pure elegance, without artifice, that finds in the beauty of fabrics its best weapon of inspiration and seduction.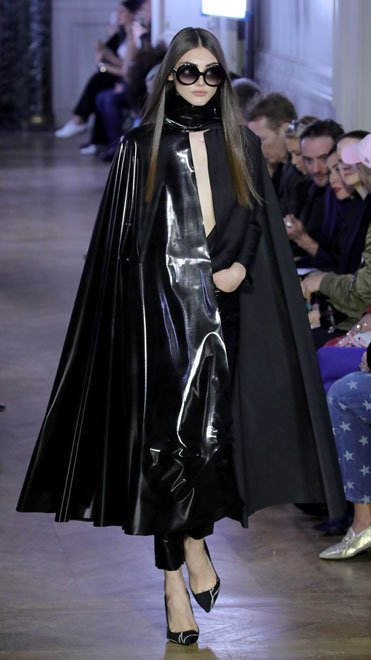 Guy Laroche dreams of a modern, young, and casual woman who, eager to become the undisputed protagonist of any soiree, seeks to let her silhouette be wrapped in straight-line dresses that bring lightness and versatility.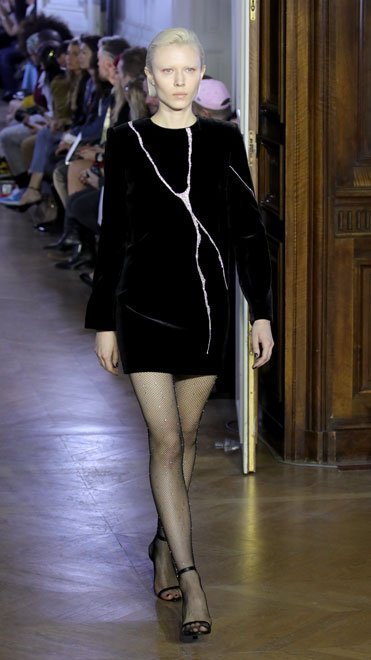 In her wardrobe we could also find seductive pleats adorning skirts that combine wonderfully with masculine-cut jackets and sensual and suggestive layers that, during winter nights, will become a key piece behind which that secret mystery will hide —with woman's name— to which all are eager to arrive and just a few will reach.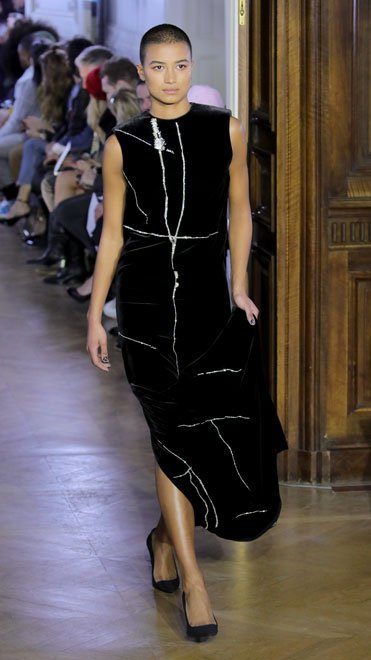 Fine, simple, and most of all fluid garments that, dyed in the most rigorous black, are used for any time of the day or night. Elegant midi dresses, suggestive blazers with revealing necklines and dresses that fit the body and sculpt a perfect waist that find in the asymmetric cuts their best element of distinction; chiffon wraps waists transformed into suggestive sources of infinite sensuality… pieces and combinations all born to seduce a world in which women seeks to feel confident without having to give up their feminine wiles.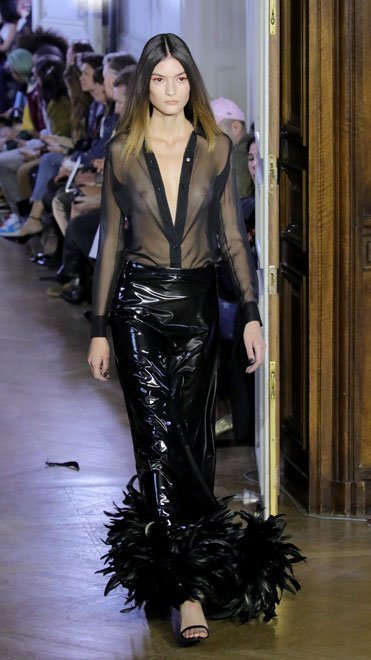 And in the midst of this infinite sobriety, unequal white strokes come to break that sober monotony and bring a very personal touch to each of the proposed designs.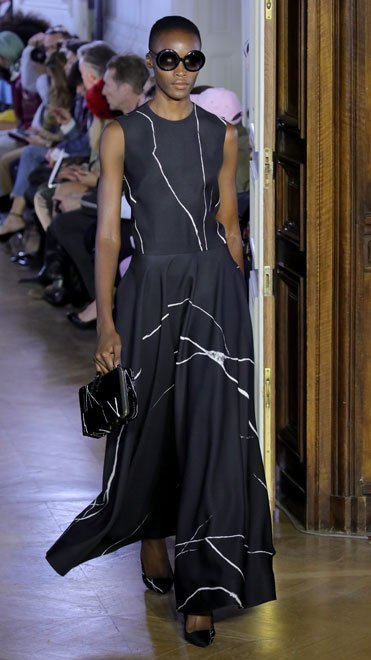 Ravishingly feminine pieces where we can glimpse marks of an exclusive and suggestive femininity. Fluid cuts stretch out their hands to delicate transparent blouses; jacket suits that find in reinvention the best way to take to the streets again…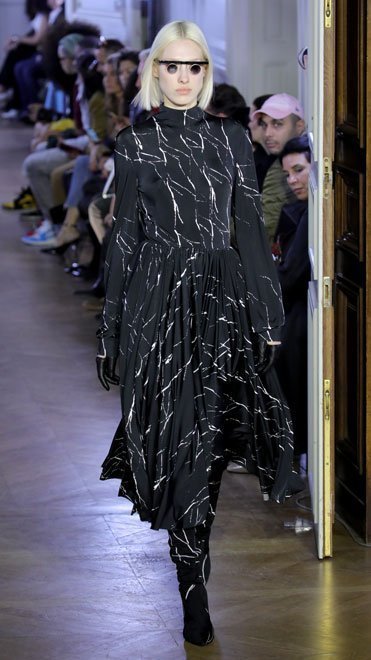 In short, a collection in which Guy Laroche looks for and craves to reach that exclusive distinction reserved for a few; the custom-made inspiration that only a few souls understand; the savoir faire that only haute couture lovers can make their own and enjoy.