The Three Great Dames of Impressionism
Artists linked to impressionism became part of the artistic canon but women were relegated to the background. In 1928 the critic Henri Focillon refered to them as "The Three Great Dames of Impressionism": Mary Cassatt, Berthe Morisot and Marie Bracquemond.
Few know that the initial inspiration of these first Impressionist painters was precisely the intense friendship between artists.
Degas intimated with Mary Cassatt, Berthe Morrissot met Manet copying at the Louvre Museum and posed for more than a dozen of her paintings. Monet and Degas were great friends of Marie Bracquemond who even welcomed Gauguin into his house for a season.
At that time, women did not have access to art academies. If they wanted to learn drawing and painting, they had to take private lessons or become copyists in Musée du Louvre. They coincided there with other artists, creating artistic and personal links.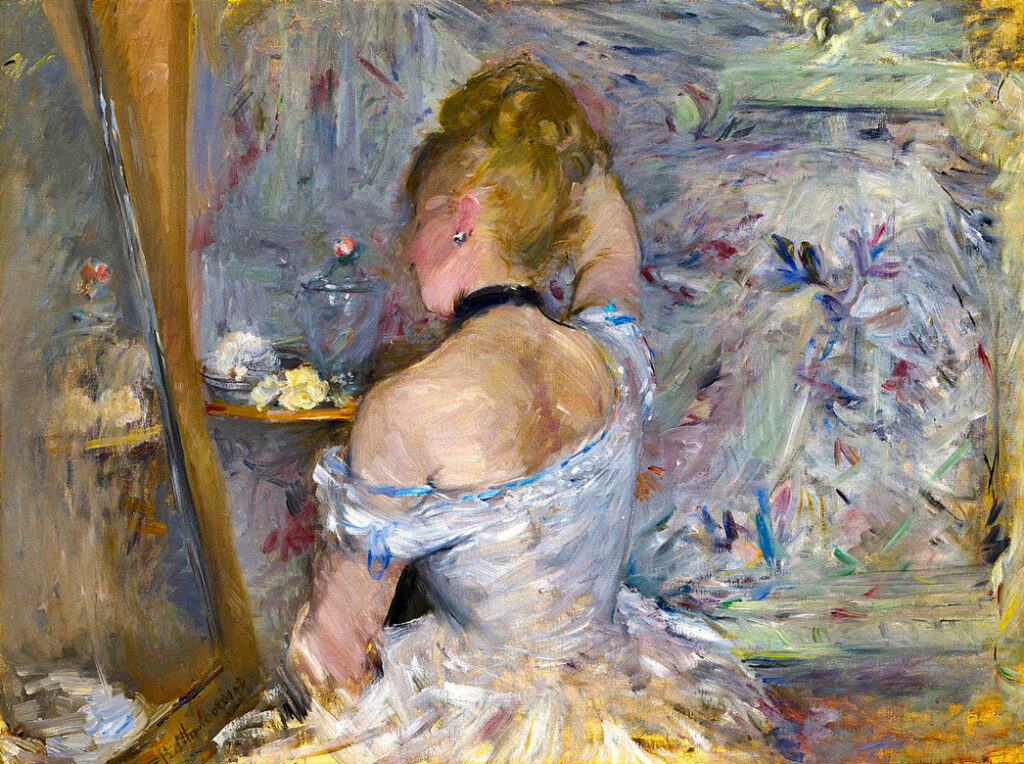 These female painters, half forgotten, lived an era dominated by men, as it has been throughout the history of art, since the beginning of time. Despite the opposition of family and social environment, they fought against the current in a male world, to become authentic artists, not just Sunday painters.
They made painting their passion and center of their lives. They were accepted at the Salon de Paris, organised by the Academy of Fine Arts that marked the trends of the artistic world by selecting historical themes in large formats. Later, they showed in the Salon des Independents of the Impressionists, rejected by the Academy.
But they were not typical impressionists painting outdoors. More than nature, they were interested in the human figure and especially in their private world, the female universe.
The three agreed on their favourite themes, focusing on capturing the essence of women and childhood, in their daily intimate environment: childhood and motherhood in home interiors, parks or gardens.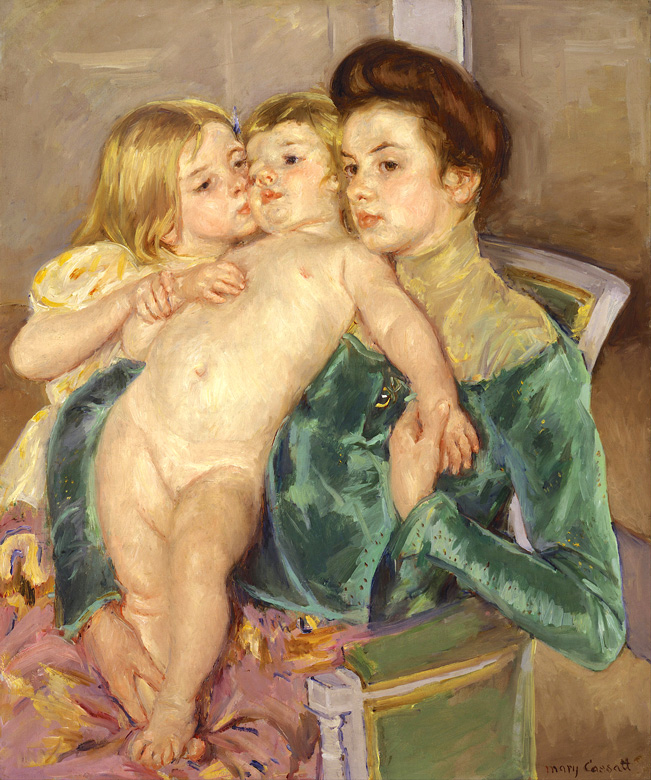 Mary Cassatt
Mary Stevenson Cassatt (1844-1926), was born in Pennsylvania, USA and spent her early years with her family in France and Germany. She studied at the Pennsylvania Academy of Fine Arts. She persuaded her parents to study in Paris, where she took private classes with the academic painter Jean-Léon Gérôme.
From her childhood, she was an admirer of old masters that she learned to copy in the Louvre. Her painting "Music with mandolin" was accepted at the Salon de Paris, being the first participating American. After four years in France, the Franco-Prussian war forced her to return to her home in Philadelphia.
A year later, she returned to Europe and spent eight months in Parma, (Italy), studying paintings by Correggio and Parmigianino. She traveled through Spain, Belgium and Holland where she copied and delved into the works of her admired artists: Velázquez, Rubens, Rembrandt and Franz Hals.
Cassatt settled in Paris, where she began to present her works regularly in the Salons. Edgar Degas invited her to join the group of the Impressionists. Being the only American, she came to exhibit in four of their eight exhibitions.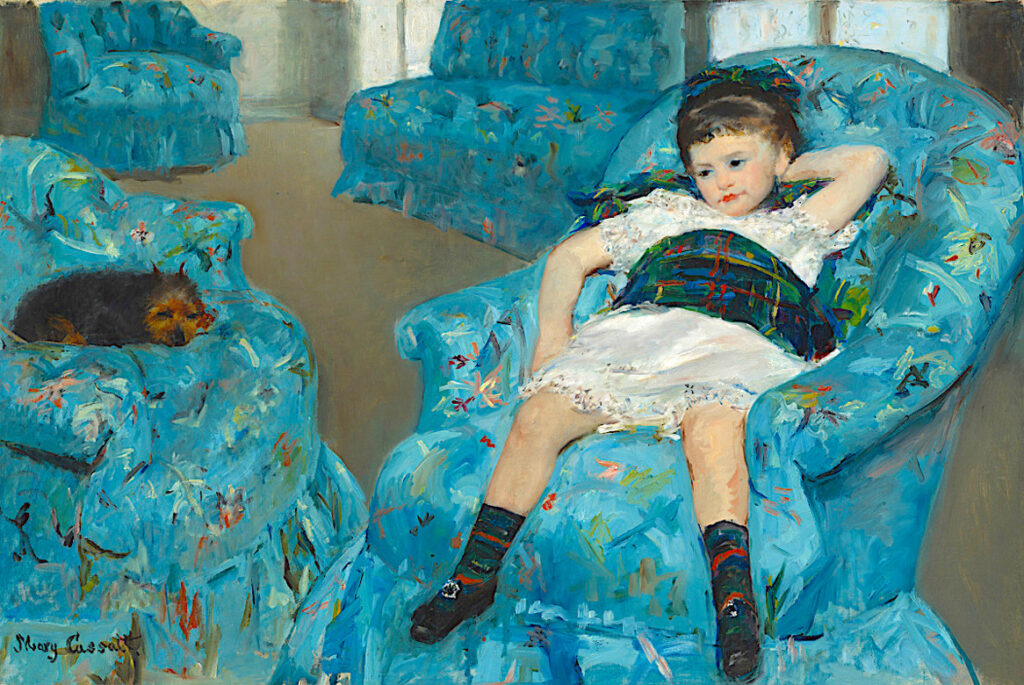 She expressed her great admiration for Manet and Degas. He was her main mentor, criticised his work, offered technical advice and encouraged her experiments in engraving, with influences from Japanese art.
Closely linked to Degas, he was her inspiration with his technique, composition, light and use of color. Both were interested in compositions with figures and the theatre.
Mary's favourite subjects were her sister Lydia, her family, opera and theatre. Although she never married, she specialised in capturing motherhood and childhood, which she treated with tender warmth and great naturalness in paintings, pastels and prints.
Cassatt's role as a consultant to art collectors benefited private collections and museums in the United States. It can be said that she was the link who brought Impressionism to America.
Her collaboration was key in the selection of the Havemeyer collection, exhibited at the Metropolitan Museum in New York. From her youth, she promoted collecting the French avant-garde.
She accompanied Havemeyer on a trip buying art through Italy and Spain. When her sight failed, Cassatt's work was drastically reduced, she left the printing press and stopped painting. She died at her country house, Château de Beaufresne, near Paris.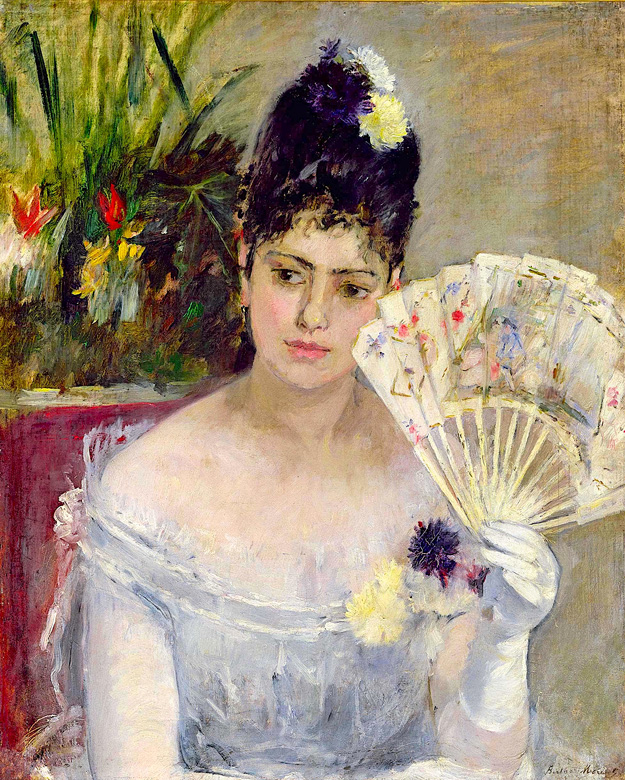 Berthe Morisot
Belonging to the French upper bourgeoisie, Berthe Morisot (1841-1895) lived and was educated in the taste for arts and music. She received classes with her sister Edma, by painters like Chocarne, Guichard and Achille Oudinot and learned to paint outdoors.
They entered as copyists in the Louvre Museum where they met Fantin-Latour and Felix Bracquemond, Camille Corot and the painters of the Barbizon School.
Berthe took notes in the open air of works she finished painting in her studio. She exhibited at the Paris Salon and at the first impressionist exhibition. She painted scenes of domestic environments, portraying her sisters and children.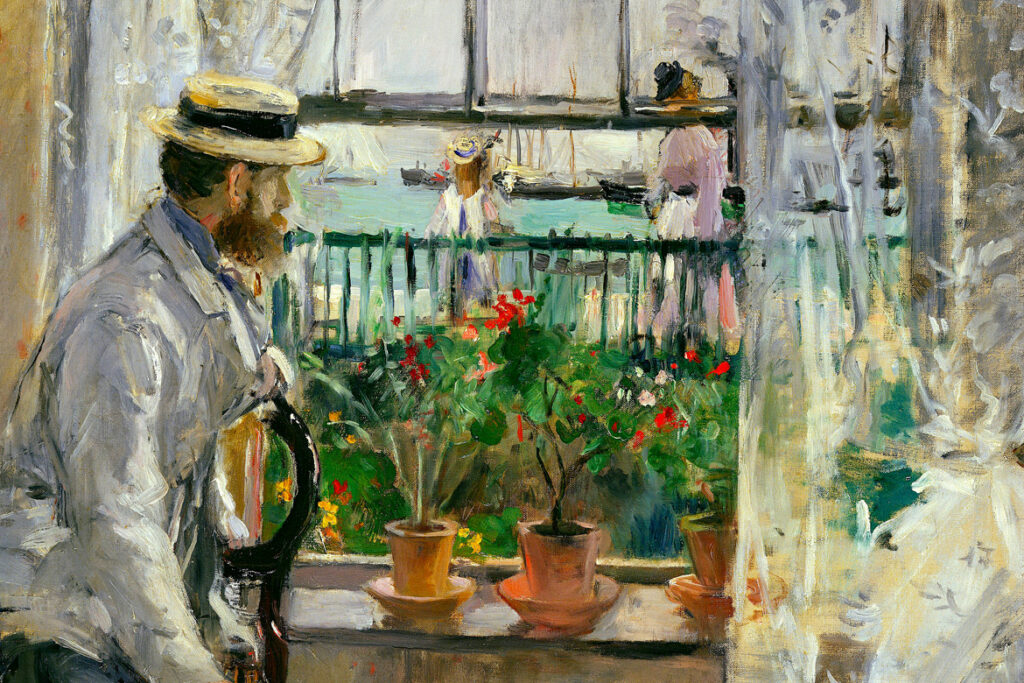 She was a close friend of Edouard Manet and married his brother Eugéne. She was the one who attracted the painter to the world of impressionism, although he never exhibited with them nor considered himself a member of the group.
Berthe posed for Manet in "The Balcony" (Orsay Museum, Paris) and in twelve other paintings. They always maintained an intense artistic relationship.
Only Berthe Morisot and Pisarro participated in all the impressionist exhibitions. But she suffered discrimination for being a woman. She lived in a macho society that underestimated her work.
The influence of Renoir is reflected in the luminous freshness of her palette, the free and vigorous invoice and the poetic atmosphere of her canvases.
She had an intimate relationship with other impressionists, frequent guests at her home in party meetings with artists and intellectuals. After the death of Monet, she organised an exhibition in his honor with the help of Emile Zola and other artists.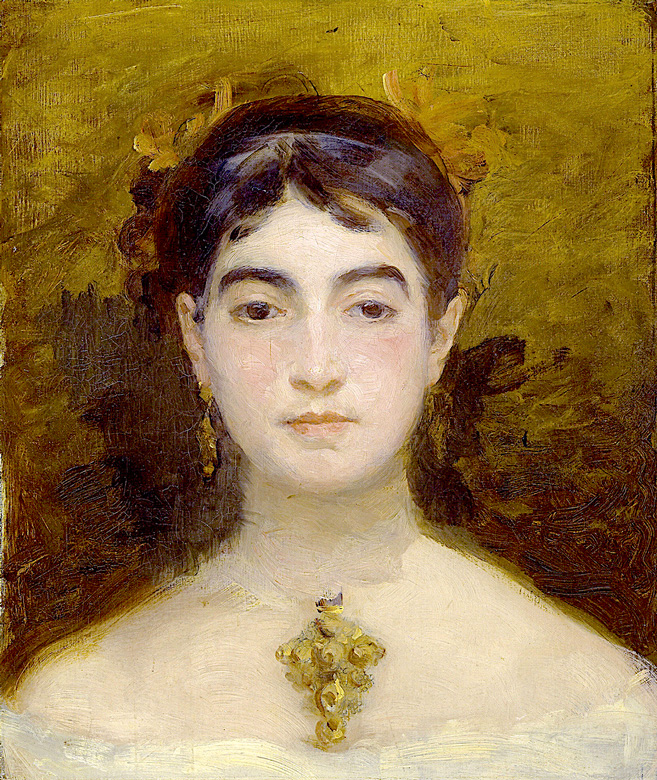 Marie Bracquemond
The most unknown of the three, is possibly the brightest artist. Praised by Monet, Degas and Gauguin, the envy of her own husband, an aspiring artist, forced her to abandon the brushes and fall into oblivion.
As a child, Marie Bracquemond (1840-1916) lived a nomadic existence with her family, moving to the rhythm of her stepfather's work destinies.
She received painting classes with her sister and soon showed great talent. She attracted the attention of the painter Ingres, becoming one of his outstanding students. She got a copyist job at the Louvre Museum, where she was discovered by Felix Bracquemond, they fell in love at first sight and got married.
Felix admired his wife's talent. In the beginning, he supported her, introducing her into the circle of his artistic friendships. Monet and Degas felt especially interested in her work and encouraged her to paint in the open air, something truly revolutionary. It was not usual, nor well seen, for a woman to paint outside the home. The fruit of her work appeared in several Impressionist exhibitions.
She was influenced by Gauguin, who spent some time staying at their home, sheltered by his fragile economic situation.
Unfortunately, Felix's admiration for his wife's work led to envy. His own artistic career was on the rise and he considered that the success of his wife diminished his brilliance. He began to be extremely critical of her and the discussions became daily.
Marie chose at first to abandon outdoor painting in the open country side and secluded herself in the garden of her house where she painted "Terrace in Sèvres" today in Petit Palais Museum in Geneva. But even this could not placate Felix.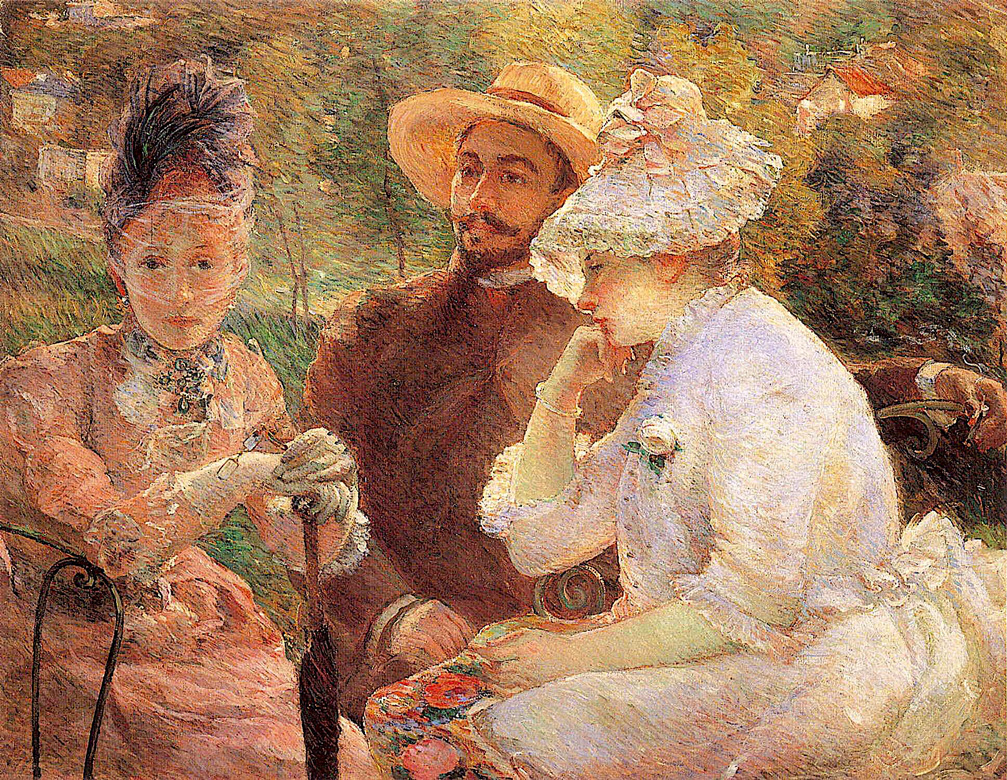 She left the artistic circuit and practically nobody took her into account. Finally, in exchange for family peace, she opted for a drastic solution: she finally abandoned the brushes and never exhibited again.
At the same time, the recognition of Felix Bracquemond continued to grow while she went into anonymity, taking care of their only son. Today, it is almost possible to find her paintings in museums as they are distributed in private collections.
Virginia Woolf in her essay "A room of her own", denounced how she was denied that her art embodied what grew and lived in full sunlight, that it had its own nature.
These great creators of impressionism were relegated with contempt to the category of "women artists", due to the theme of their paintings: scenes of domestic life, motherhood and children.
For them, the male world was socially vetoed, however, their paintings had many things in common with male painters. Degas, bourgeois like them, painted ballerinas, and horse races, Monet and Renoir also focused on their children.
Impressionism shook the foundations of art history. It made absolute truths begin to be questioned. It managed to open the way that would lead to the birth of the avant-garde and the great aesthetic revolution of the XX century, but certain things, unfortunately, did not evolve. Proof of this is the case of Marie Bracquemond, the impressionist who was forbidden to paint.
These impressionist were ignored for years due to the simple fact of being women and the intimate gender of their work. Currently their paintings are quoted high in the art world, valued at more than four million dollars.
Today times have changed. Art organisations around the world fight for gender equality and the promotion of creative women.
Their work is presented in individual exhibitions at museums such as Mary Cassatt at Musée Jacquemart-André, Paris (2018) and Berthe Morisot at Thyssen Museum, Madrid (2012). But Marie Bracquemond, like so many others, remains an extraordinary artist, sadly forgotten.