Ouka Leele, painted his photographs with colour and poetry
Photo España Award 2022, posthumously. We pay tribute to a great photographer, painter, writer and poet.
Ouka Leele transports me to the book The Little Prince by Saint-Exupéry. This eternal girl chose her artistic name from invented words for a non-existent star.
They were written by her partner, painter El Hortelano in his unreal map-painting. She adopted it because she didn't want to be recognised. Her obsession was to hide from fame.
She died this year, too young. Today, her spirit rests in the sky, surrounded by other stars with real names.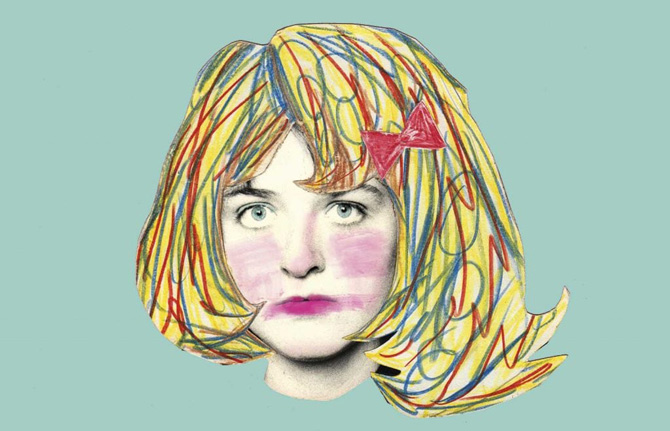 The art world mourns the absence of this artist who created her own language, full of madness and fluorescent tones on black and white photos, where she painted the most vivid colours.
Barbara Allende Gil de Biedma
Barbara Allende (1957-2022), known as Ouka Leele, was the most mystical figure in Madrid Movida of the 1980s. From a young age, she acquired an international reputation.
With overwhelming creativity, she managed to endow her creations with a particular atmosphere, somewhere between dream and reality. She had the soul of a poet.
Her work has an intense flavour of Surrealism and a sweet aroma of intimate poetry.
Like the artists of the Renaissance, Ouka Leele played all styles. With an almost sickly sensitivity, she was multidisciplinary: in addition to successful photographer, she was painter, writer and poet.
Artist caste family
Bárbara Allende was born in Bilbao (1957), the daughter of architect Gabriel Allende, niece of a poet and a Minister. The first inspiration was her grandfather, amateur photographer and painter. Her sister Patricia was also photographer.
"I went to a religious school. The smell of incense, the tulle veils and the monkish ceremonies fascinated me. It was like being in the theatre all the time."
During her childhood she was fascinated by a kind of mysticism, bordering on asceticism. It was what she cultivated growing up, when she became a key artist of the most well-known movement in Madrid. She always preserved a kind of rebellion and innocence that made her live as if levitating.
"You're just yourself when you're just a few years old. Until you're 4 years old, everyone loves you, they let you live. From 5 to 12, everything changes, you do what they want. And now you don't know what you really want anymore. You go to a party and everyone is standing with their drink and maybe you just want to sit on the floor".
From her youth, Barbara lived in Barcelona, Madrid and New York. Painting was her first vocation, messing around in her grandfather's studio.
In Barcelona, she couldn't pay for heating, she begged for money and sometimes ate thanks to Hare Krishna free food.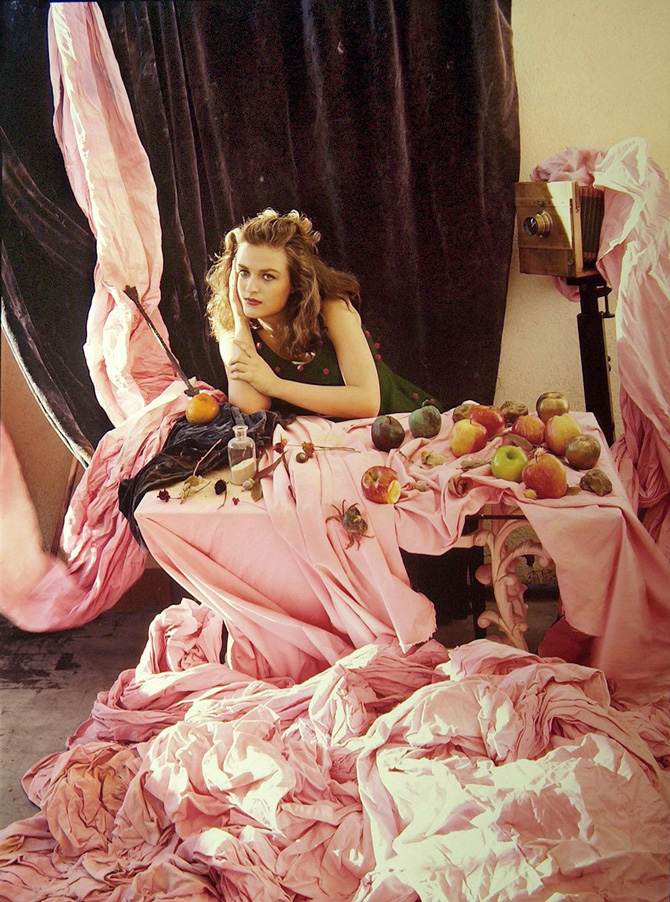 Her first patron was Catalan gallery owner Albert Guspi. She encouraged him to get an artistic name since she used to sign: Barbara no name.
She staged weird performances: projecting photos from a bunker with people parading throwing chicken legs at the audience, while someone read the phone book.
She liked to play with the public, creating a mixture of enigma, horror and absurdity.
In Barcelona, with poverty as a school, she began to be a great creator of dreams.
Friends of La Movida
Inclined towards painting, she started Fine Arts in Madrid, although she abandoned to start piano studies. At the same time she was attending classes at Photocentro to learn photography.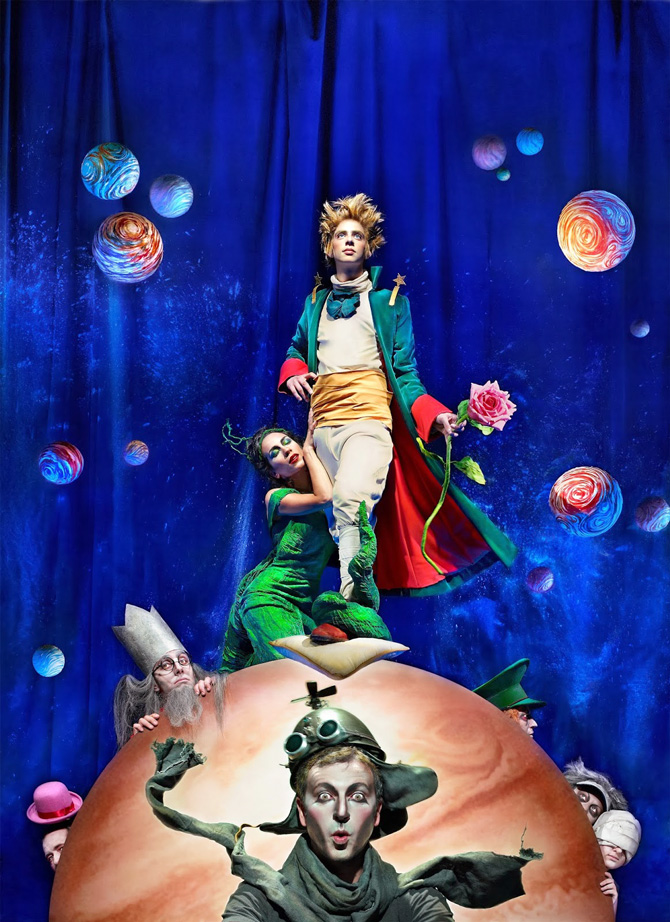 After publishing her first works in a book called Principio (Beginnings), she started exhibiting in 1978. Her photos were black and white, because she hated the coloured. When she was commissioned an image for a magazine cover, she invented adding her own colour. That's when she started to colorise her snapshots.
"I understand photography as visual poetry, a way of speaking without words. I define myself as an everyday poet."
Ouka Leele was the mystical figure in movement Madrid Movida. She was a close friend of artists, painters (El Hortelano, Mariscal, Ceesepe, Javier de Juan…), photographers (Alberto García-Alix), filmmakers (Pedro Almodóvar) and singers (Alaska & Pegamoides).
"Alaska was more glam, and I was more Cistercian."
His first exhibition, Peluquería (Headdresses) revealed the original technique that made her famous.
She felt that photo laboratory did not allow her to elaborate the Dada aesthetic that she desired. So she decided to transform them herself. She coloured her black and white photos with liquid watercolours, merging the two disciplines. She immediately conquered Madrid public.
She painted pictures on her portraits, with outlandish headdresses. This became the first of multiple shows and strange performances.
"I staged a happening where I put a pig on my head and designed a bellows suit with rings inside".
Surely she was inspired by her friend, designer Agata Ruiz de la Prada. Her gay friends went to her inauguration with spaghetti bolognese dripping from their heads. The most extreme punks attended his events along with the most classic ladies with mink coats.
In 2017, Loewe designed a line of t-shirts inspired by his legendary photographs of absurd headdresses.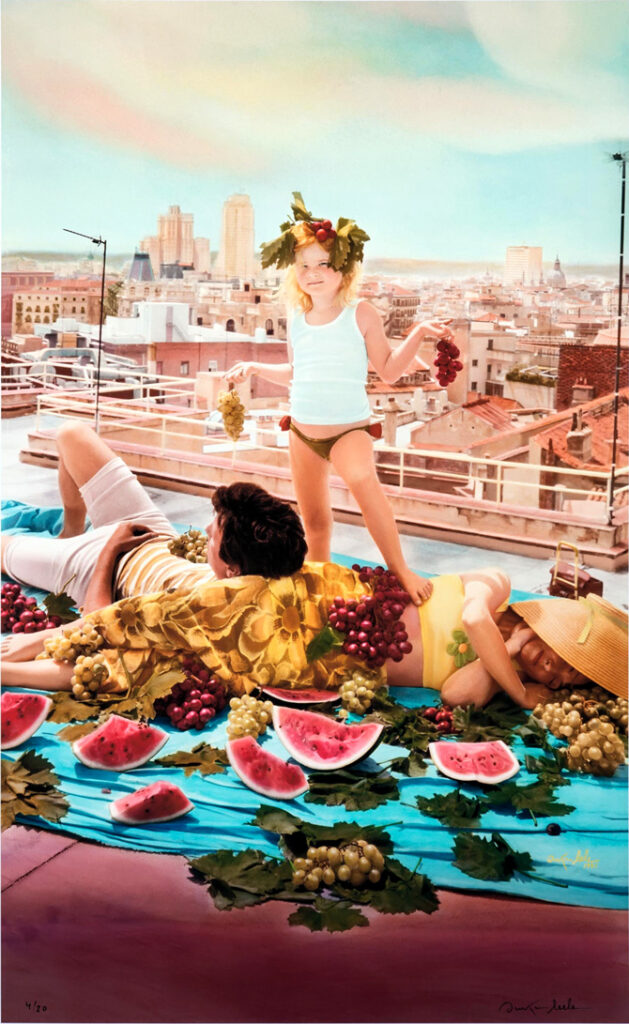 She had a daughter, Maria, of whom she made some of her best portraits. A lover of childhood, she captured her girl in paintings and photographs. She was her favourite model.
In Madrid, she came to stop traffic in Cibeles Square for hours to take her renowned photograph Rappelle-toi Bárbara, which represents the myth of Atalanta and Hippomenes.
In the 1980s, Ouka Leele began to exhibit in Madrid galleries and received commissions for magazines covers such as Penthouse and Playboy. When she was asked about her lineage and wealthy origin, she answered that she lived off her hands. She always refused to ask her family for help.
She remembered the Madrid scene as a job without an office, where they learned from each other, exhibiting or projecting their works wherever they could.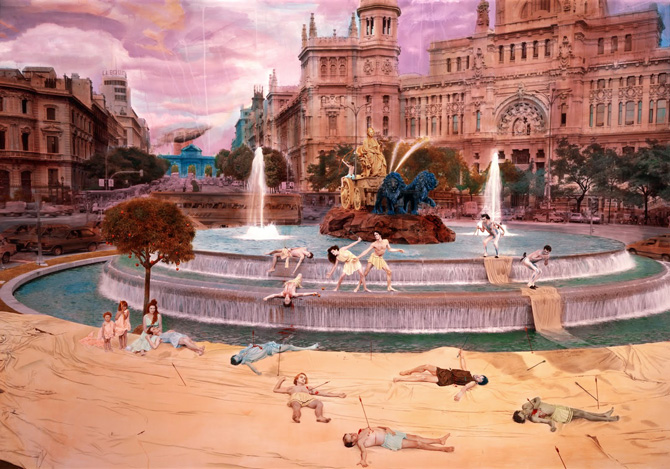 In 1981, she was diagnosed with cancer which made her return with her ex-husband, painter El Hortelano. That illness and her healing accentuated her immense love for life that she preached ever since.
"I don't remember it as a disease but an intuition of being sick. I didn't want to admit it. The hardest stage is healing, which I hope will change because it is tremendous to become a prisoner in a concentration camp. Spiritual growth is so great I don't remember the bad."
In the 90s, she made the international leap exhibiting in galleries: Paris, London, Brussels, Rome, Frankfurt… she sold everything exhibited in ARCO Madrid Fair.
Her photographic work toured cities beyond Europe: New York, Sao Paulo, Buenos Aires, Tel Aviv, Tokyo, Shanghai, Beijing….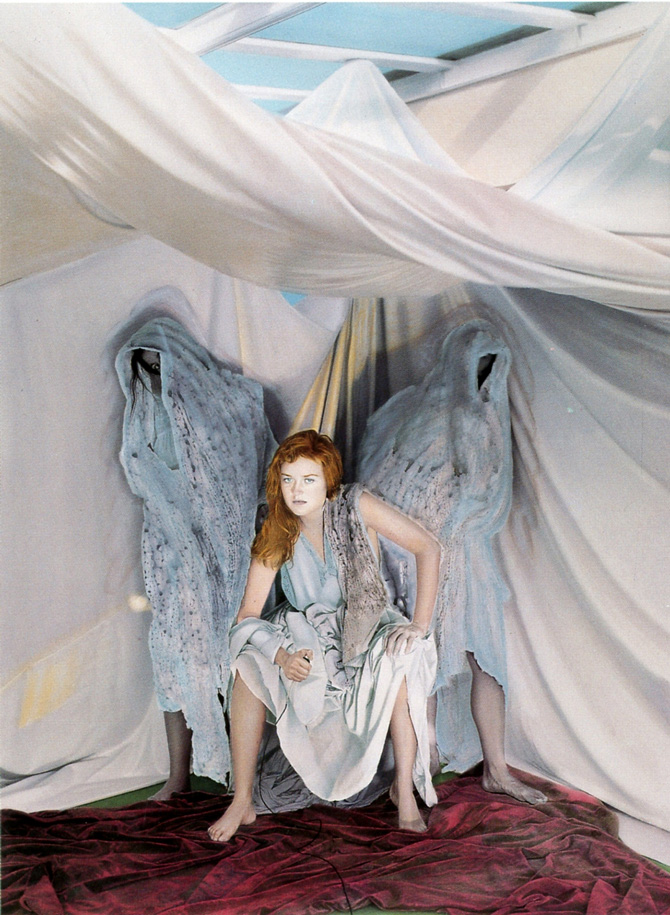 In 2005 she was awarded the National Photography Award by the Ministry of Culture for her innovative contribution to photography. A year before, it was won by his friend, Alberto García-Alix.
"I think my work is better understood if I put paint and not just pure photography. I follow a personal line where painting is the beginning. The first photos I published were in black and white and then I started painting them. It was what I wanted to do and that's what I'm still doing".
Part of his childhood and his conception of painting where captured in the film La mirada de Ouka Leele's (O. Gaze) by Rafael Gordon, with music by Eva Gancedo.
It was nominated Best Documentary at the Goya Awards (2010). For five years, the director followed the painter in creating what she called her Sistine Chapel: a 240-meter mural in Ceutí, a town in Murcia.
She painted immense flowers curled around each other, on a sky blue background. She titled her work My Metaphysical Garden.
She worked on a concrete wall for years, mounted on a crane, under the torrid sun of Murcia, where she found her inspiration.
She painted while her neighbours gave her advice and compliments. She was transmitting her joy for life.
She collaborated many years in ARCO and her work was purchased for their collection. She gave workshops on her self-taught technique at universities, cultural centres and festivals.
She was named Ambassador of the Candidacy of Segovia to European Cultural Capital 2016.
Her most complete exhibition was Ouka Leele inédita at Museo del Traje (2008). It was a sentimental and artistic tour, full of experiences and humanity.
Barbara wanted to recover the emotion of the meeting between public and artist as in the Renaissance. She created a human comedy embodied in photographs.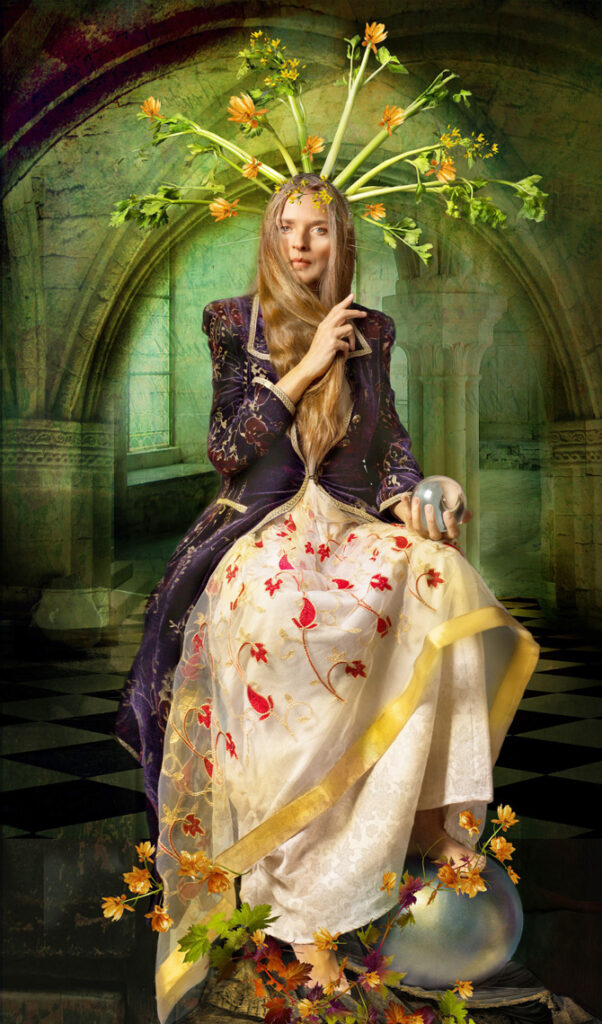 She experienced moments of deep artistic lucidity, which allowed her to reach her highest achievements by sublimating the background and the form.
"I fought hard to introduce photography into the world of art and now for artist's freedom without limitations. I try to bring a little beauty to this world."
Barbara mixed Spanish traditions with innovations from her time, providing fluorescent colours that became her art mark. Her work questions the limits of photography and painting.
In 2005 she declared gathering 25 years of painted photos, with a very laborious manual process. She then began to work with digital photography, taking from her archives, pending editing large material in black and white, never exhibited.
"The idea is to set up a stage incorporating elements of theatre and cinema. Black and white are very expressive colours, but painting changes images greatly. Pure photography plays with reality."
Barbara's reality is the reality of memory, according to the definition of academic Francisco Rico.
"I create a reality that I have seen. I recreate a scene with various artistic elements, a space, which also has some architecture. It only lacks the sound, as was done in ancient painting. With painting I give something more expressive of myself, intimacy, what I feel. It is a memory exercise, what I have seen, since perception is very subjective. It's a language of its own, an expression, close to autobiography. It's a way of seeing. I can use it whenever if a person attracts me a lot".
"I wanted to be like a priestess of art."
This was reaffirmed since an African singer, member of Hijas del Sol, told her that Ouka Leele means in Guinean May you turn the circle of life very well.
Barbara identified with the generation of La Movida Madrileña, her soulmates, who frequently appear in her portraits, together with still life, strange objects or fairytale characters.
"At first it bothered me to be associated with La Movida and I wanted to forget it but now I am very proud. It was a movement full of vitality and creativity. It is a privilege to belong to a generation of artists. Over time, I see an artistic and social movement. We wanted to change everything, disrupt the system, renew it. Sometimes we feel that spirit again when we join or listen to a song by Carlos Berlanga. We play and create together again".
"I am very attracted to traditional photo, when the light draws. I have experimented with digital, but the computer tires me. Digital photography is a substitute, like between the tit and the pacifier".
Her works have been exhibited at Museo del Traje (Costume Museum), Museo Reina Sofia, La Caixa Foundation and ARCO Collection. In 2005 she won the National Photography Award and in 2012 she received the Medalla de Plata (Silver Medal) from the Community of Madrid.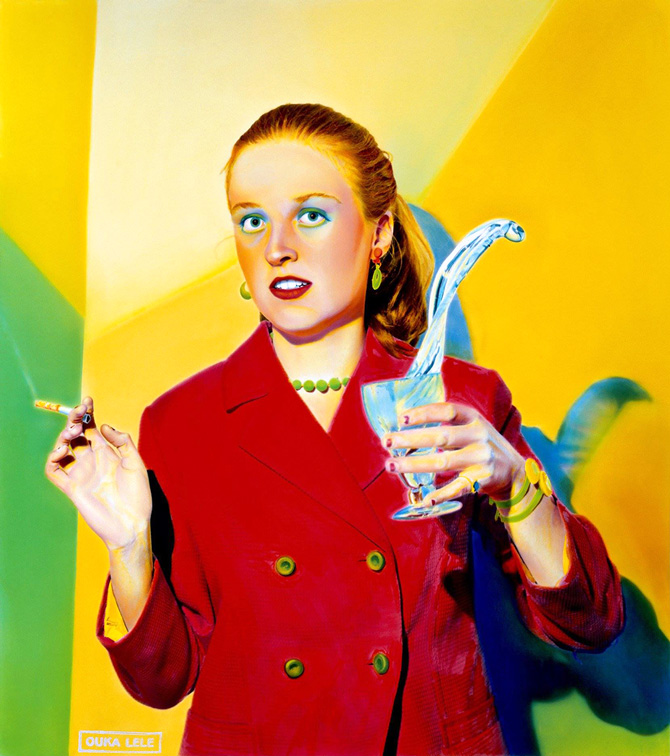 She always considered photography as the language of our time. Her work has been reproduced in hundreds of publications. One of her enigmatic self- portraits was the cover of Tapas Magazine. Her work appeared in leading art press in Spain and abroad: Diorama, Photo Magazine, Telos, Dezine, Revista Actuel…
During her career she did everything. She worked with Concha García Campoy in the book The Double Gaze, she created drawings and serigraphs for the Song of Songs of King Solomon.
In addition to organising exhibitions and workshops, she published several books of poems with drawings and serigraphs: Poesía en carne viva (Atlantis), Floraleza (Now)…
Barbara passed away in Madrid at the age of 64, after a long battle against cancer. Her daughter, Maria Rosenfeldt, who was her favourite model as a child, will now be the one to keep the legacy of an extensive creative career.
All praise is fair, such as the posthumous Photo España 2022 award, since her work expresses a decisive testimony of Spanish sensitivity and artistic life. She will make history for very personal contributions both her original chromaticism and her narrative compositions.
Ouka Leele leads us to question the limits between photography, painting and language.
With her soul of poet, she published several collections of poems. Interestingly, in an interview she read this one, which she wrote with only 17 years, and reflects her most intimate sensations:
"Death has called me,
I'm going with her
I will expire tomorrow
at the time when I feel it the most
and I will be able to finally
enjoy life intensely".