Convinced that memories are a luxury today, Rahul Mishra proposes a handmade collection that takes us back to that little corner of our memory where dreams are fulfilled.
Feeling and remembering what has been lived can become a luxury for the senses. Therefore, Rahul Mishra opts, during the next spring-summer, for women to take a trip to the depths of their memory and relive those stories that can make them smile.
In order to enjoy these unique moments, the Indian designer invites women to take a trip down their deepest and most intimate Memory Lane and let themselves be carried along by those memories they keep, not only in the depths of their heart, but also in their mind.
Rahul Mishra will accompany women on this trip wrapping them in indescribably delicate and fragile pieces made from the tenacity and dedication of mythical and historical weavers. This art is now disappearing but Mishra proposes to raise it to the universe of luxury and sophistication.
Splendid embroideries of fish, leaves, flowers, and clouds are combined with handmade paintings on fabrics put together through real master stitches that turn this handmade collection into a real delight for the senses.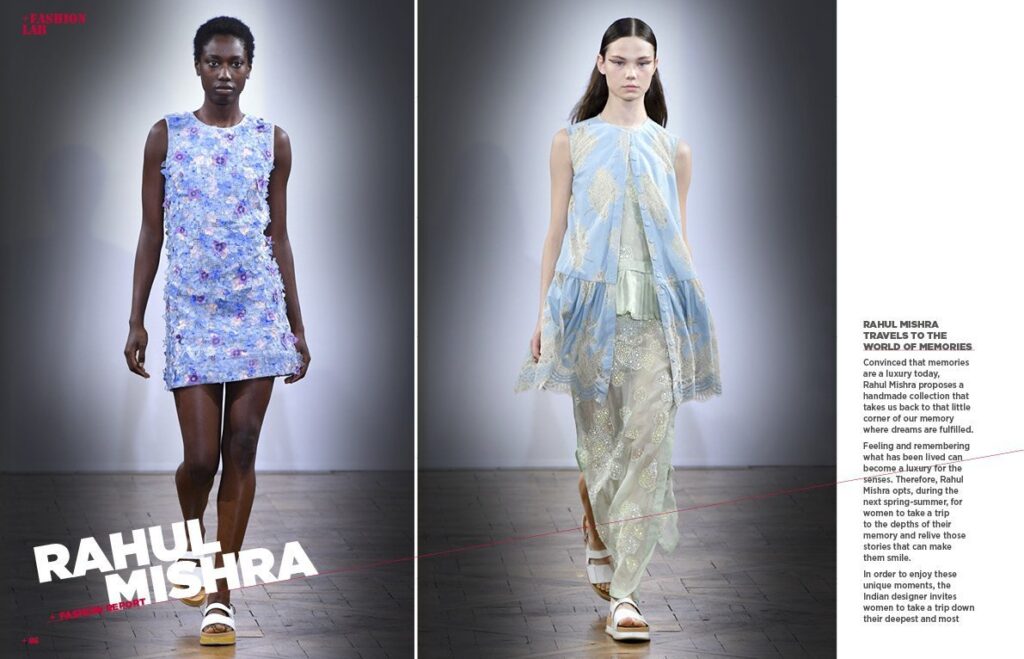 A nostalgic ambience is evoked by Rahul Mishra for delicate, calm women; those who like to remember and get lost in stories lived in the past decades; those who find in blue hydrangeas and in organza petals the perfect complements to decorate garments that seem being imbued with the morning dew thanks to fine encrusted Swarovski crystals.