New fair Paris+ by Art Basel
The vibrant energy and the joy one felt at this fair was one of a kind. A vibe that we haven't experienced at any other recent art fair. Sunshine, smiles, hugs, happiness and collectors in a buying mood sipping wine while overlooking the Eiffel Tower.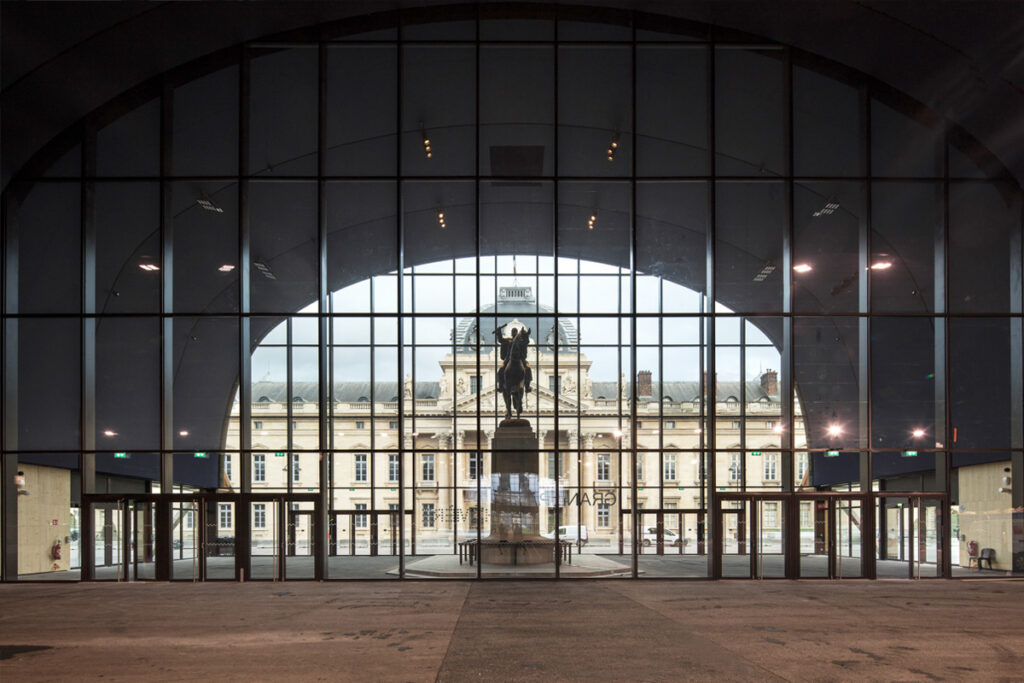 The new fair organised by the Swiss firm that invented the original Basel Fair (and later in Miami), took place in the temporary space Grand Palais Éphémère from October 20 to 23, 2022.
Art Basel has made Paris even more magical this Autumn… Or is it Paris that made Art Basel this magical?
The concept was to build a French Art Fair and the identity is reflected in the selection of the galleries. Out of the 156 exhibitors, 61 galleries have exhibition space in France. So that's about 38 %.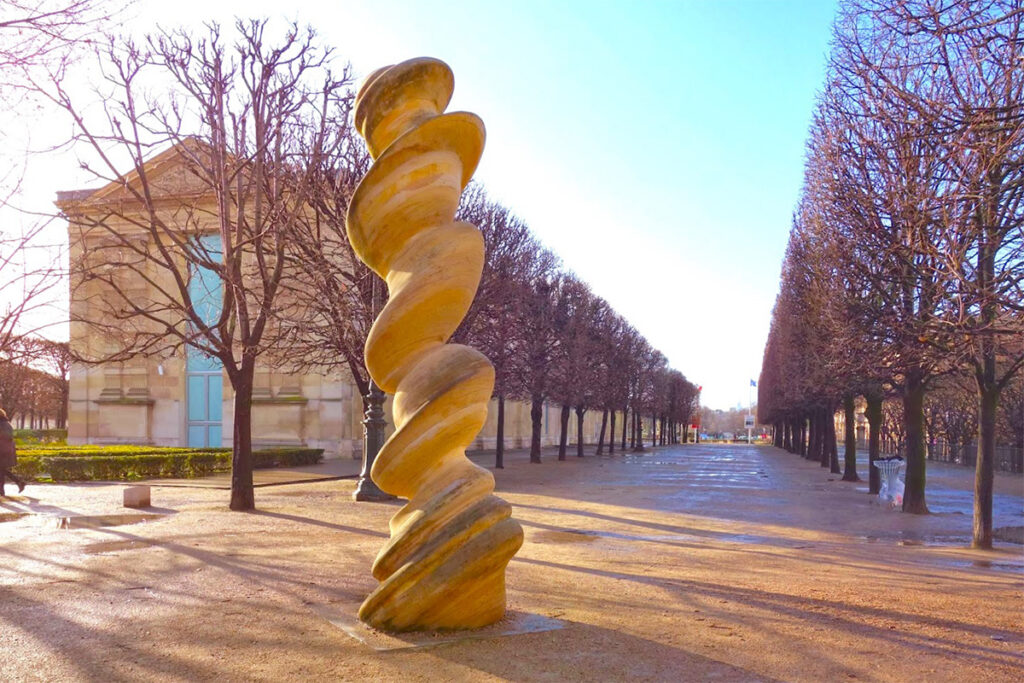 International buyers, from US museums to Korean collectors, boosted sales at Paris+ par Art Basel but huge crowds slowed down deals.
Staff from the Museum of Modern Art in New York and the Art Institute of Chicago were in attendance at the fair's inaugural edition.
One of the first things we saw, when entering the fair was American Artist Robert Motherwell's "Je t'aime No II" (1955) at Pace Gallery. Just brilliant. Vuiton Foundation also had a well placed space with original handbags designed by artists.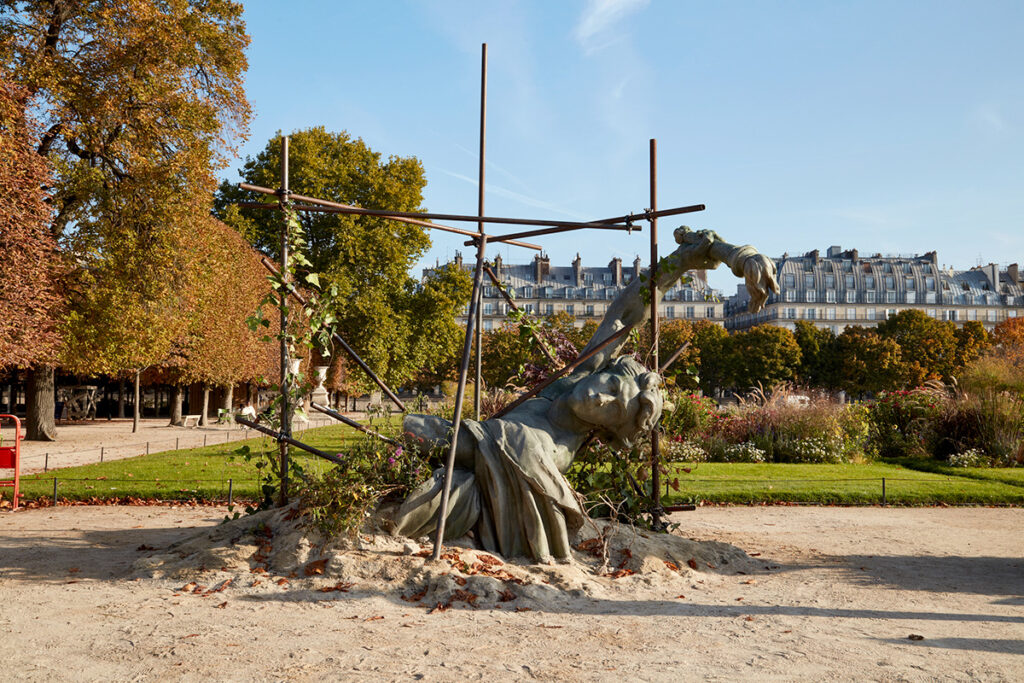 An interesting part of the fair was outdoor with art in the park, under the entitled "Sites at the Jardin des Tuileries". Organised in collaboration with the Musée du Louvre and curated by Annabelle Ténèze, the exhibition titled "La Suite de l'Histoire", brought together large-scale works in the scenic grounds of the gardens of Tuileries next to the Louvre Museum.
A selection of sculptures examines the multi-layered history of the gardens through the work of artists whose practices often subvert and reimagine the role of art in the public realm. Set in a place in which history, architecture and nature converge, the show invites visitors to revisit the gardens with new eyes.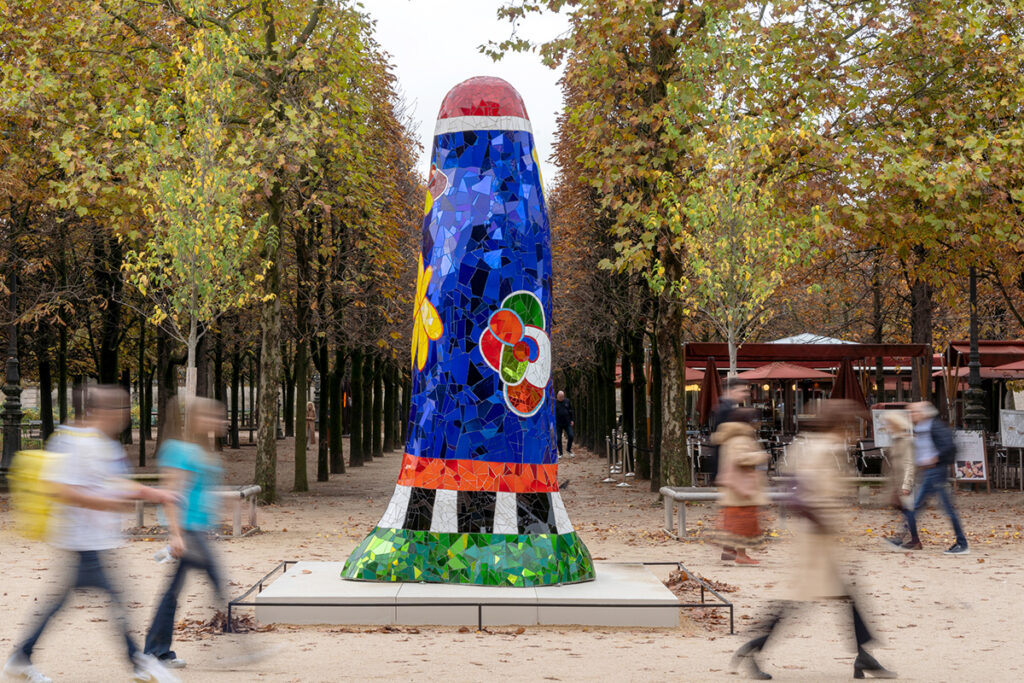 It takes place across two sites, the Jardin des Tuileries and the Musée National Eugène Delacroix. The exhibition curator designed an open-air experience at the crossroads of history, architecture and nature. The show features 20 works, that resonate with the royal, political and public aspects of the gardens. Three major themes are addressed: alternative monuments, optical games and new forms of sculpture. Works that become original ways of occupying the garden. Here we found a selection of the most amazing pieces, from Carlos Cruz-Diez to Franz West. Our favourite outside sculpture is Niki de Saint Phalle's "Blue Obelisk with Flowers" (1992).
In his Dictionary of Received Ideas, Flaubert wrote:
«Erection—used only in relation to monuments»
And this Obelisk by Niki de Saint Phalle is indeed a monument, a stele erected to denounce phallocrats and misogynists. This militant artwork makes use of the mirror mosaic technique de Saint Phalle invented for her Tarot Garden (Giardino dei Tarocchi, 1979) in Italy. She also used it to evoke the AIDS epidemic that raged through the world in the 1990s.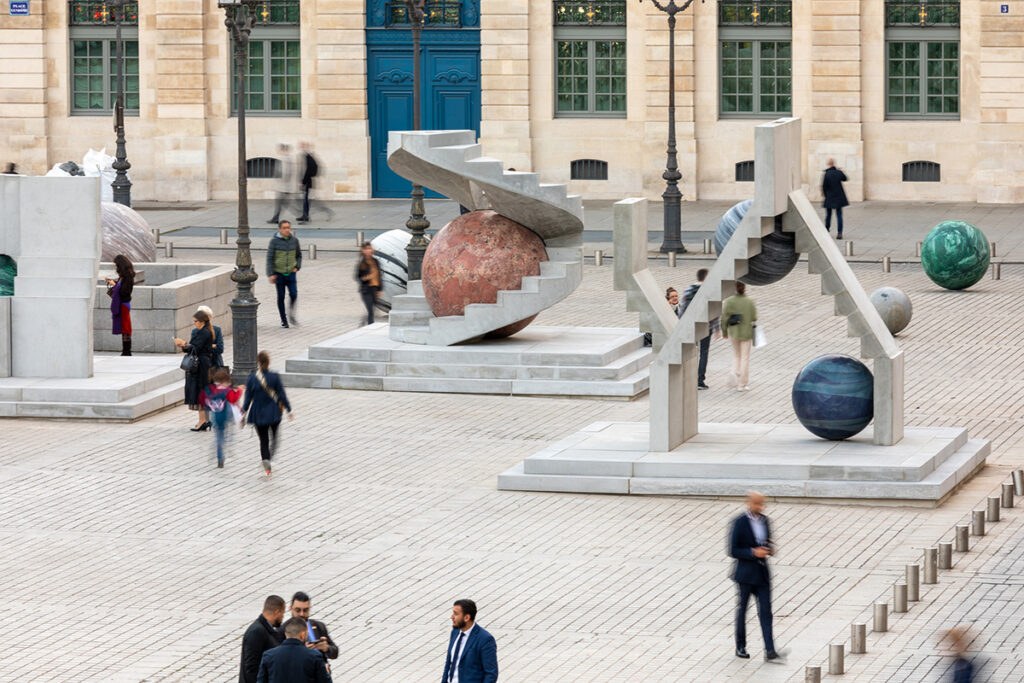 Another sites were at Place Vendôme: German-Polish artist Alicja Kwade presented "Au cours des Mondes" (2022), curated by Jérôme Sans. This new installation, her largest to date, is a set of spheres, a recurring motif for the artist, in dialogue with infinite staircases.
The new fair Paris+ par Art Basel grabbed a calendar slot long held by FIAC (Foire Internationale d'Art Contemporain).
Hosted in Paris since 1974, FIAC was typically held at the Grand Palais the week after FRIEZE London, though it struggled to match the blockbuster sales of its UK rival or Art BASEL's original edition in Switzerland. FIAC's future now appears uncertain, though its parent company, PARIS PHOTO, returns to the Grand Palais Éphémère in November.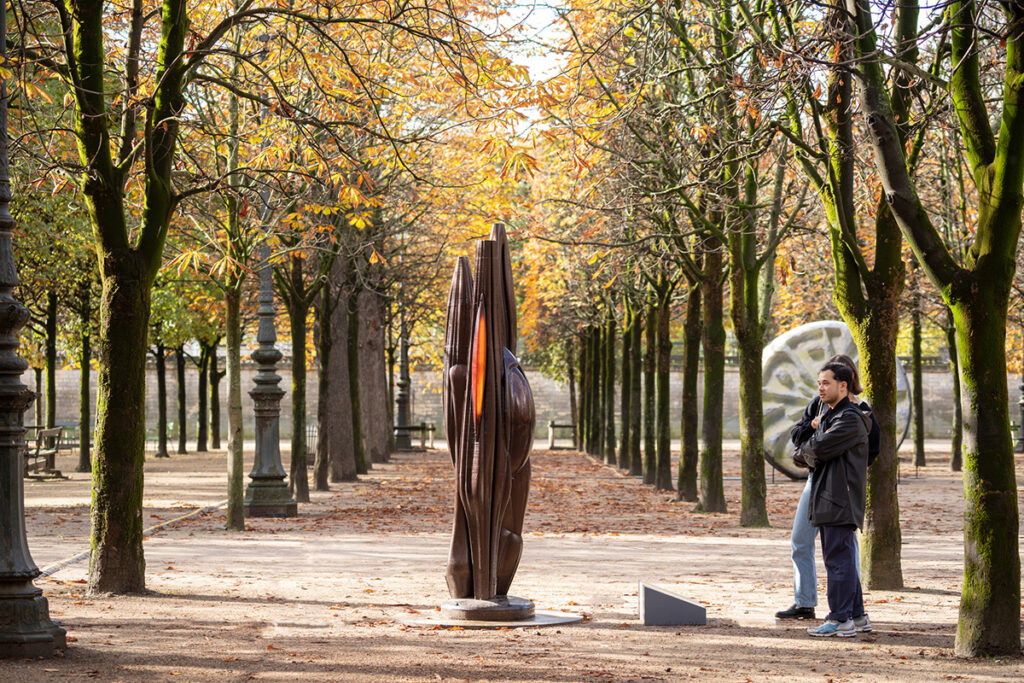 "I don't want people to say that Paris+ is just like Miami or Basel" says fair's director Clément Delépine.
The organiser of this new Basel art fair in Paris has reported what he describes as "vigorous" sales. Although participating galleries are not obliged to disclose their figures, more than a dozen have confirmed deals in excess of $1 million.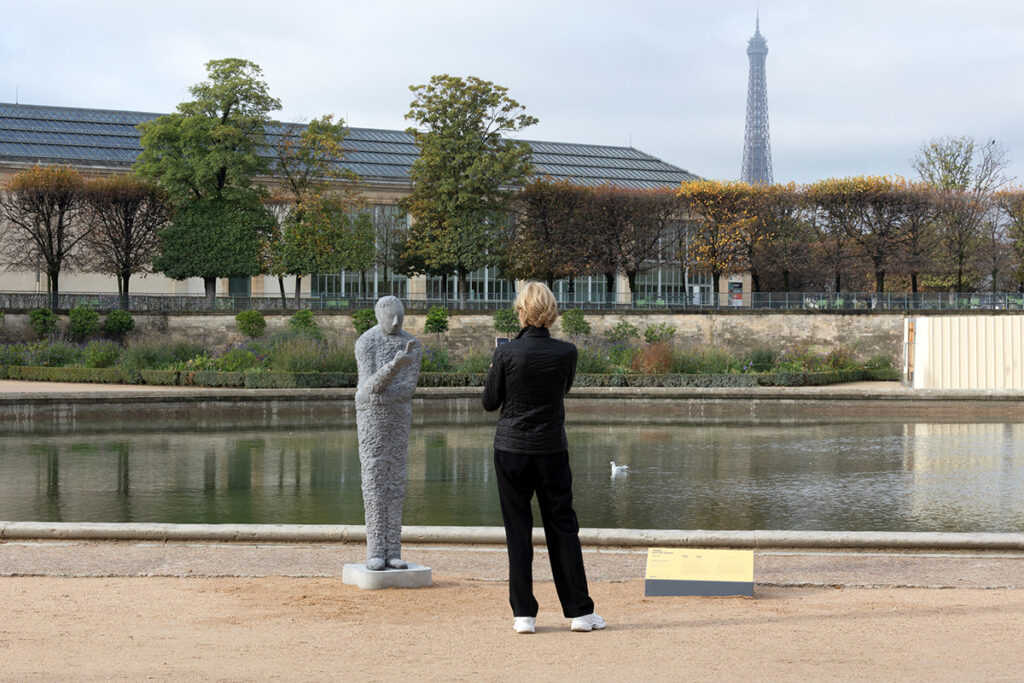 Among them are artworks by major names like Alex Katz, Christopher Wool and George Baselitz. "Paris already has a lot of energy, but this creates an acceleration," said a gallerist who reported selling two works by sculptor Alberto Giacometti for $2.75 million and $1.45 million, respectively.
While it is an indisputable cultural capital, Paris has long been overlooked as a place to buy and sell contemporary art. The reason is that it has two neighbours competitors: Britain home to Europe's largest art market and Switzerland, site of the world's largest art fair, Basel.
France has often struggled to secure its status as a hub among collectors. But after viewing the great success of this new fair Paris+ par Art Basel we can now say "Paris is booming."