Niki de Saint Phalle. Sculptor of female freedom
A versatile french artist, Niki de Saint Phalle was simultaneously painter, sculptor, film director and even designed architecture.
Niki was born in France in 1930 named Catherine Marie-Agnès Fal de Saint Phalle. She was from a middle class Franco-American family. Raped by her father at the age of eleven, she then became an unstable, disturbed young girl. The family moved from Neuilly-sur-Seine (France) to New York.
From an early age, Niki had an extraordinary beauty. Since 16, she worked as a model. Her photos appeared in Vogue, Harper's Bazaar and cover of Life Magazine.
Niki de Saint Phalle was never just a pretty face, although she did have success as a model. She was a bit of a renaissance woman, dabbling in activism, architecture, film, and acting and what she has become best known for: her sculptures.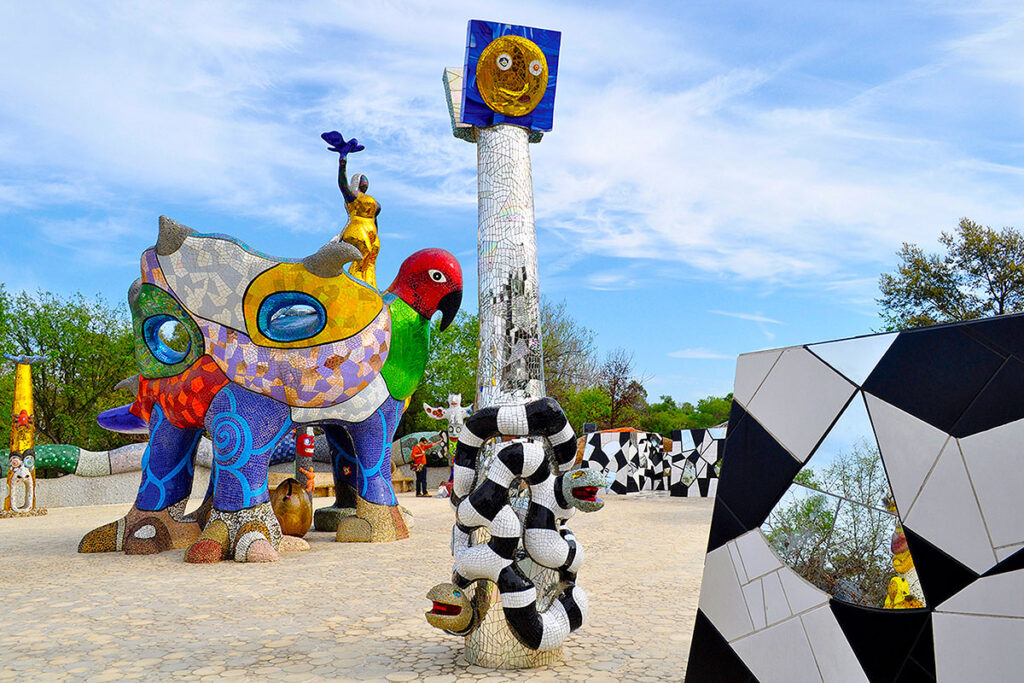 At 19 years old, she married Harry Mathews, future writer and member of the OuLiPo experimental group, in New York City. At 20, Niki started to paint and gave birth to their daughter. Niki and Harry moved from Manhattan to Paris. After travelling back and forth between Europe and USA, she went into a deep depression.
Following a serious nervous breakdown, the artist was hospitalised in Nice. Doctors diagnose her with schizophrenia and treated her with electroshock therapy. She was only 23 years old.
Encouraged by her psychiatrist, she dedicated herself wholly to art. Her artistic creation helped her come out of the blues. A self-taught painter, she began making art to heal her crisis. In 1955 the artist discovered the work of architect Antoni Gaudi and gave birth of her second child.
"My mental breakdown was good in the long run, because I left the clinic decided to be a painter"
Ten years later, she was fully embraced by the art world and friendly with Surrealists artists like Marcel Duchamp and Salvador Dali.
Her first exhibition was "Les Tirs" (Shootings), a series of strange rifle performances. Instead of brushes, she used a gun to shoot plaster, paint cans and objects.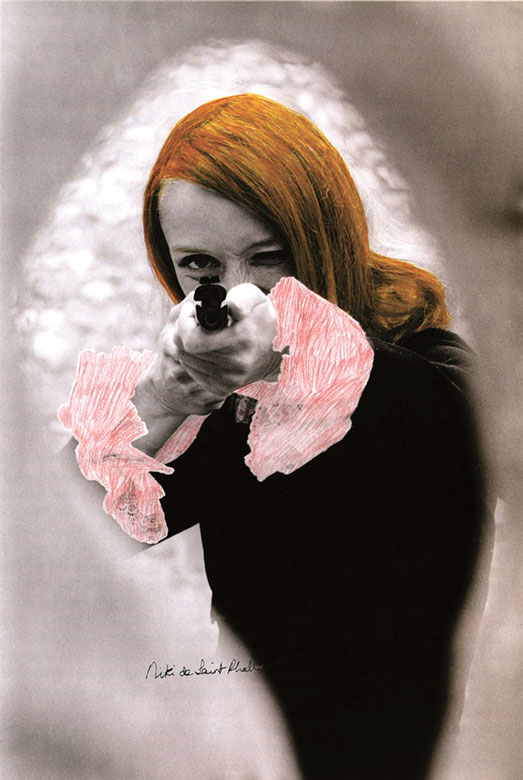 She shot paint with a gun while her audience threw coloured balloons. This made her famous. She was very troubled by her past and "shooting" was a way of externalising her demons within. By firing at her canvasses she was shooting at her father and society, in order to free herself.
"In the human heart there is an urge to destroy all. To destroy is to affirm one's existence in the face of and against everything."
After two years of provocative performances, Niki withdrew into a more private, feminine world and began to represent the role of women in the world.
In 1965, she had her first exhibition called "Nanas" with a series of paintings, drawings and sculptures of huge women, reminiscent of prehistoric female figures representing fertility. These voluptuous, brightly decorated pieces depict women full of life. They have become her trademark.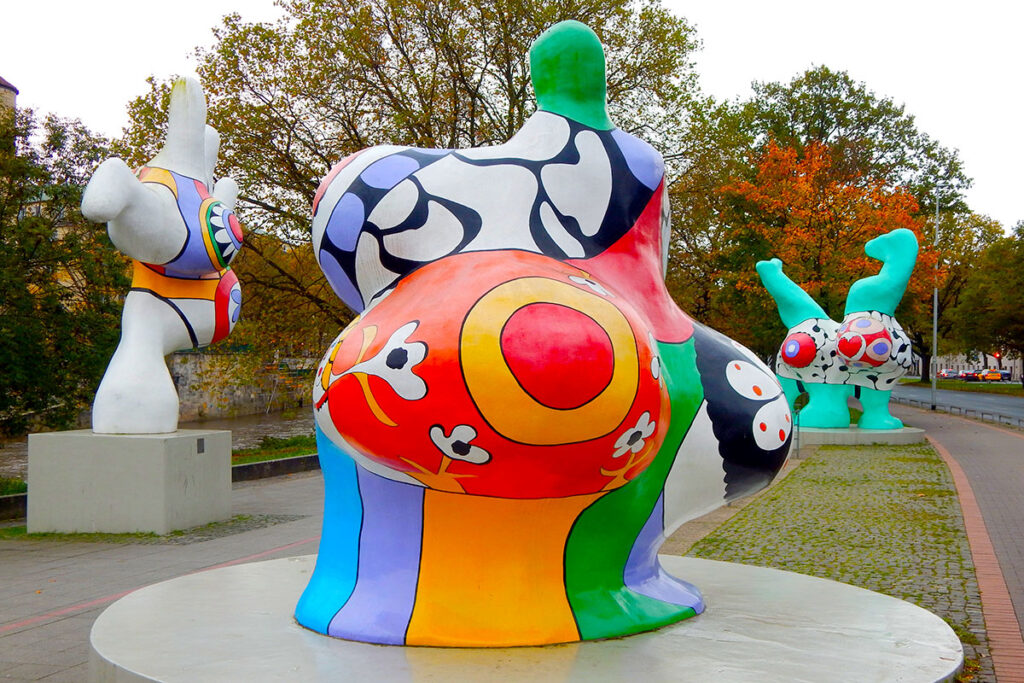 "For me, my sculptures represent the world of women amplified, women's aspiration of greatness, women in the world today, women in power."
Dancing and athletic, large sometimes imposing, sometimes sexy ¡even giant!… they carry hope for a new world where women would have their rightful place. Free from the stereotypes imposed by fashion, their bodies express femininity without restraint, feminism with a smile, like the artist whose voice they express.
"I want to be superior: have the privileges of men and keep more of those feminine qualities, all while continuing to wear pretty hats."
The Nanas are reproduced in the form of inflatable balloons, silkscreen prints, jewellery… They are warriors in the feminist battle which Niki was one of the first to lead in the world of art.
In her eyes, one of the purposes of creation is to bring joy, humour and colour into life.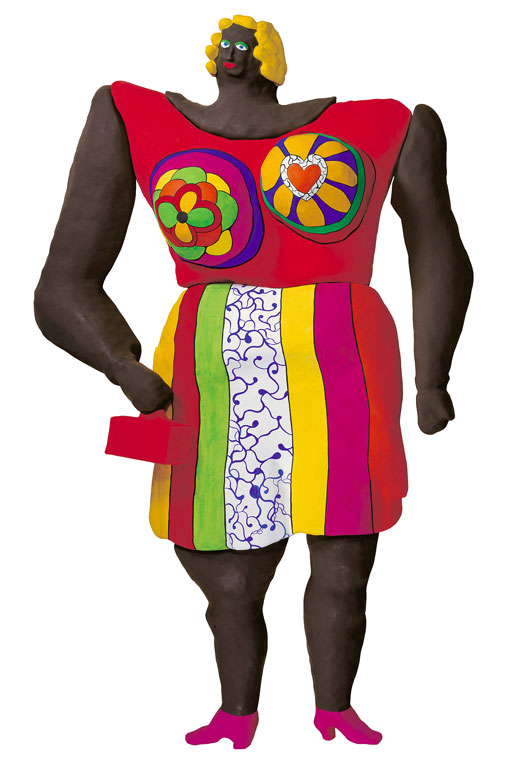 The large architectural projects that she completed starting in the late 1960s are part of this vision of art: able to speak to everyone and make people happy. She also created an exhibition called "Daddy", a virulent denunciation of her father that was connected with her childhood trauma.
In 1955 she moved to Spain and discovered the work of XIX century architect Antoni Gaudi and specially his Parc Güell in Barcelona. Gaudi was a huge inspiration for her to start exploring the world of found objects and ceramics.
"Facing Park Güell I felt chills, flashes of lightning. I was shaking all over. That day my fate was clear: one day I, too, in my own way, would make a fantastical sculpture garden."
Niki decided to create her own architectural figures in a huge countryside, with a group of monumental sculptures inspired by ancient cards characters.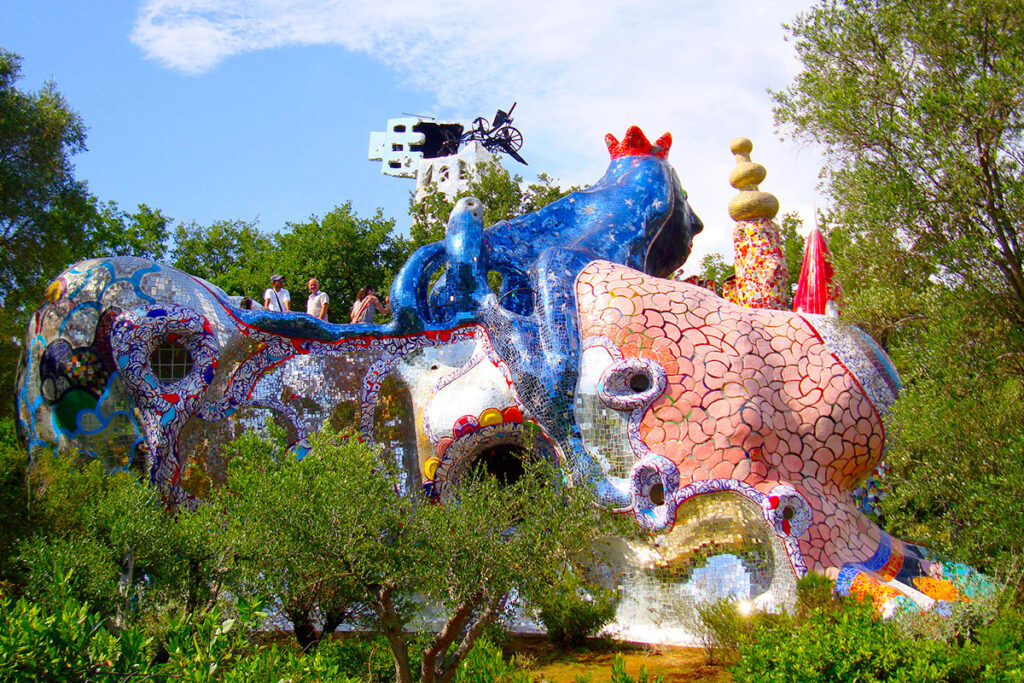 In 1979, she set to work on "The Tarot Garden" at Capalbio, Tuscany. This was her most ambitious and impressive project, a mix of architecture, sculpture and paint. The sprawling garden took decades and millions of dollars to complete. She even lived in one of her massive figures during construction.
It was opened to the public in 1998. Niki was still working on her pieces up until her death in 2002. She died as a consequence of years inhaling toxic polyester fumes while creating her art.
The dazzling figures, covered with reflective mosaics, broken mirrors and colours, are staggering in size and numbers.
They are utterly surreal and fantastical. This garden is a gift, a strange jewel of architecture, totally unique and 100% Niki's own style.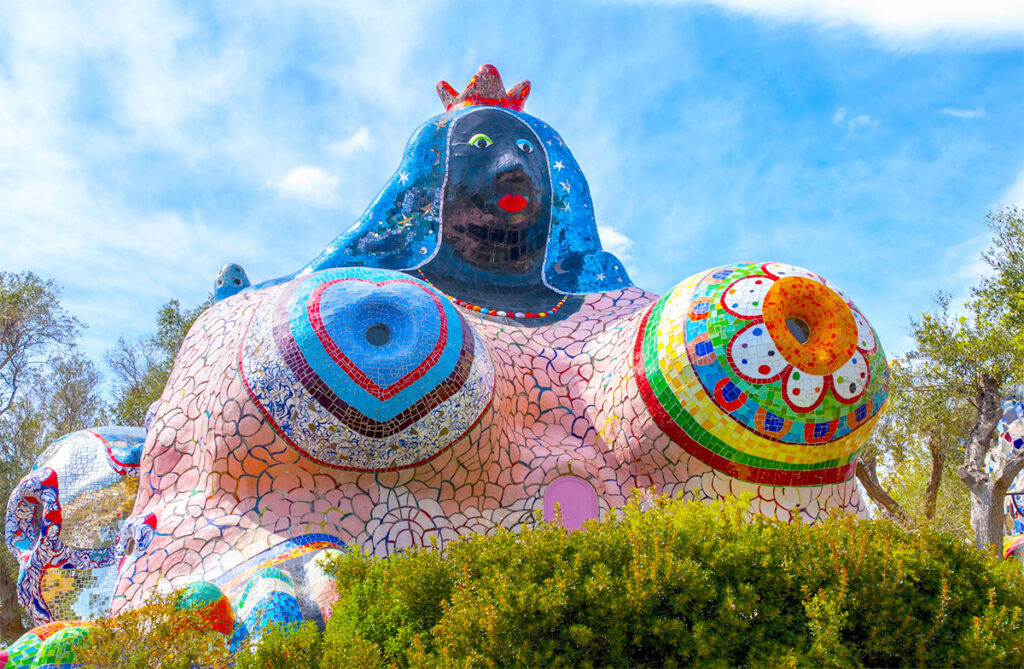 Despite the grandeur of this garden, her most beloved works are arguably her "Nanas". Incredibly popular, they continue to captivate art fans today.
Her friend Marc Bohan, Dior designer (1960-1989), was one of many avid collectors. Her art was his inspiration for Spring 2018 Dior Collection.
Throughout her prolific career, she created a complex body of work in various mediums, deeply embedded with socio-political issues. With themes ranging from joyful to profound, from ironic to intellectual, the paradoxical nature of her work has yet to be fully explored.
She was one of the first women to receive international recognition during her lifetime and she successfully created a public persona.
She has been compared to Andy Warhol. Both were able to use the media to skilfully guide the divulgation of their work.
A recent exhibition was organised by the Guggenheim Museum Bilbao and French Réunion des Musées Nationaux-Grand Palais with the participation of Niki's Charitable Art Foundation.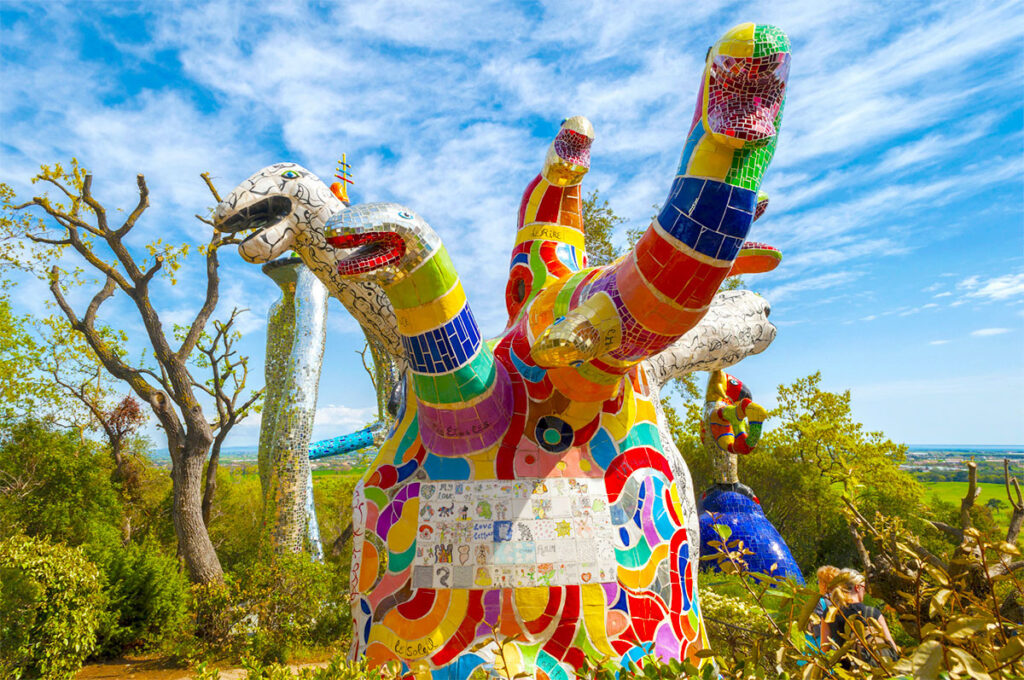 Without any formal art training, Niki took her inspiration from architect Gaudi and painters like Dubuffet and Jackson Pollock to invent a singular world independent of any trend or art movement. Her entire career is sublimated by great themes and myths, which articulate her entire oeuvre.
The joyous, colourful side of her work is well known but its violence, commitment and radical stands have been forgotten. This is equally true of her audacious performances, political and feminist content of her work and her ambitious public sculptures.
It can be out of joy, rage or simply a longing to free from the rigid rules that society imposes on women … what is clear is that Niki de Saint Phalle captured the conflicting emotions of humanity transforming them into optimism and vital force.