Piero Fornasetti, the alchemist artist
Master of trompe l'oeil, painter, sculptor, engraver, interior designer … Piero Fornasetti was the perfect example of a Renaissance man. He created 12,000 designs of objects, furniture, 100 dish models and even cars.
Prolific and poetic, he had artisan hands, a sophisticated eye and a surreal soul. He was "the De Chirico of Decoration".
Look at the eyes that observe you from his magical drawings. Fornasetti wall plates are too beautiful to use as tableware.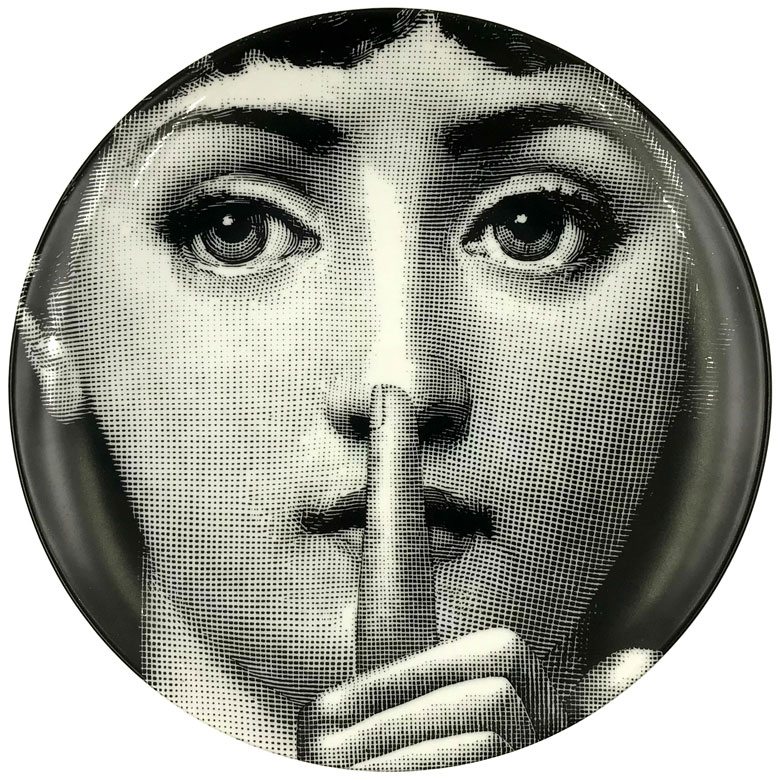 They are all original works of art to transform the home. They starred in the brand's distinctive motifs, which represent an eternal and enigmatic face or astronomy themes. They are variations on the same theme, the result of the exquisite imagination of their creator.
Wherever they are placed, he created pure works of art in porcelain, glass, fabrics, wood and furniture although he never signed anything.
Piero Fornasetti was an ironic Milanese genius, born in 1913. This dream magician applied his rich imagery of suns, mysterious faces, hands and classical architectures to any possible support: comfortable, ashtrays, handkerchiefs, screens, fabrics, lamps, umbrellas, dishes …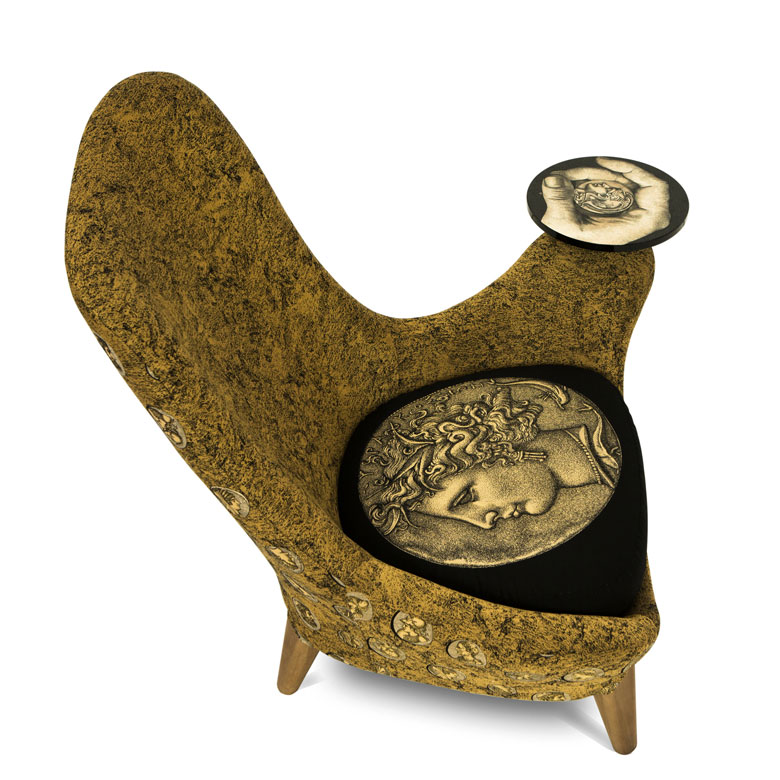 His stamp was black and white, rarely mixed boldly with color. Only two bright shades, gold and red, illuminated the gray 50s of postwar Europe.
He died in 1988 leaving more than 12,000 designs: everyday objects, decorative motifs and printed jewel-furniture that move between Italian tradition and surrealist invention.
His son Barnaba continues to keep his original legacy alive. He lives in his Milanese house, a red boiler mansion designed by Fornasetti in 1948. It is accessed through an unexpected garden-garden full of apricots, hydrangeas and vines.
Are we in an atelier, an office, an eccentric museum or a bazaar? Barnaba Fornasetti, is a talented painter who lives where his father used to live and create for 40 years. He is the guardian of cultural heritage.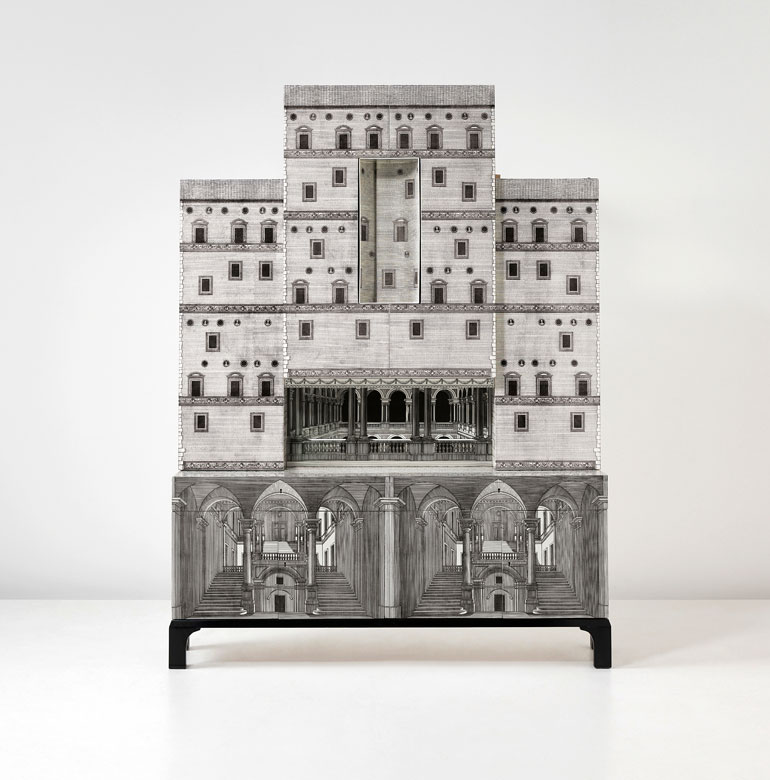 He returned to study art and rediscovered the fantasy world created by his father. The son put the Fornasetti universe back in the spotlight of collectors and decorators.
Their most popular pieces were reissued, creating new ones in the atelier and licensing their designs for wallpapers or tiles.
The process of hand painting remains the same, the only modernization has been the printing technique that remains secret.
It is essential to admire his great book in Italian entitled "Fornasetti: L'artista alchimista e la bottega fantastica" (Electa editorial), with more than 3,000 photographs.
His house is still full of the soul, life and work of Fornasetti. All the windows look to the garden and the interior is a maze full of the false illusions created by "trompe l'oeils".
Upstairs, in the private area, lives his widow, Giulia. Next to it is the house of Barnaba, and below, what was Piero's workshop, is today study and office, where orders are received and the file is managed.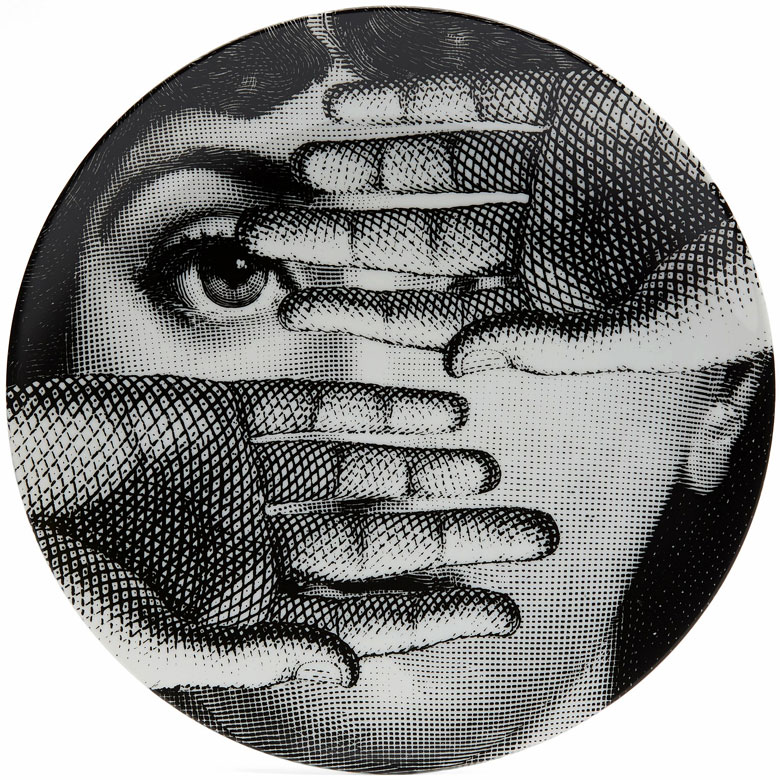 Everything in the house bears its mark, from the doors with magical scams to the furniture. Work was his life. This place stimulates creativity, breathes fantasy, imagination. It is timeless. Before, house and atelier were united, without borders.
Fornasetti did not live with his creations, he preferred to surround himself with antique furniture or objects from other cultures that awakened his inspiration. Everything served: nature, architecture of Palladio, Greece and its capitals…
But his wonderful obsession was the face of an enigmatic 19th-century opera singer. It was Lina Cavalieri, whom she discovered in a magazine and reproduced to infinity in her series of dishes "Themes and Variations".
His method was to assemble and reinvent craft techniques, especially stamping. He stole images from the past and with his magic touch he breathed his strong identity. For his workshop, he took everything he found: wax, paper, gold metal…
He spent hours teaching his artisans how to polish their works. And today he has not yet tired of living surrounded by them. His son is the conductor of the brand: Fornasetti Collection.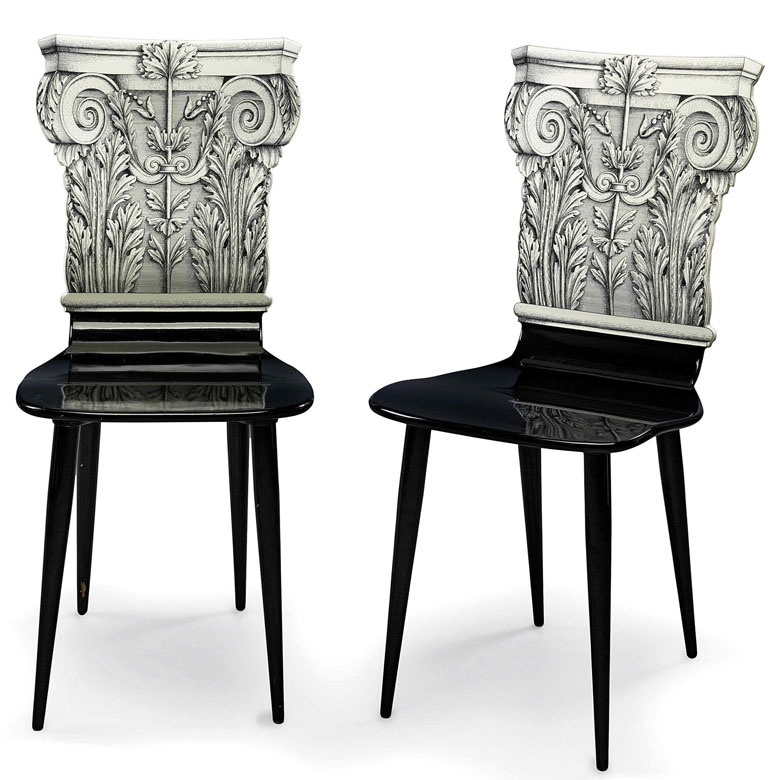 Decorating a home with dishes, candles, trays and decorative accessories from the surreal world of Fornasetti, means living in a world of magic with fine touches of intelligent humor.
Piero Fornasetti is one of the most recognised names in the history of 20th Century Design. His innovative objects and his personal creativity are instantly recognizable. All their production has in common the ability to bring elegance, sense of humor and fantasy to everyday life.
Decoration is a human necessity, it stimulates the psyche and colors life. Neither minimalism and its atoning purism have been able to kill her. And now more than ever, we need to beautify everyday objects to humanize our home and make our existence more friendly.