Andrew Gn's naive touch.
Satin, sequins and appliqués all over for women who, wrapped in the purest romanticism, are ready to toast the miracle of life.
If there is anyone who knows about romanticism amidst the maelstrom in which 21st century catwalks are immersed, it is Andrew Gn.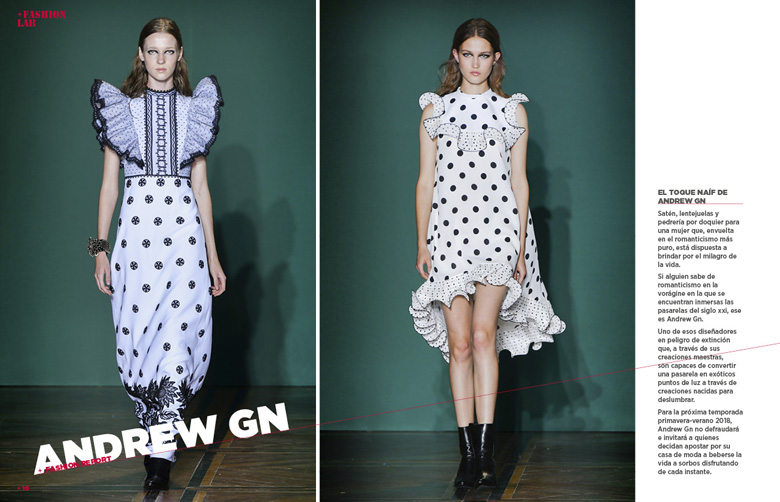 One of those designers in danger of extinction that, through their masterpieces, are able to turn a catwalk into an exotic light show thanks to creations made to dazzle.
For next spring-summer 2018, Andrew Gn will not disappoint but invite those who opt for his fashion house to take life easy, enjoying every moment.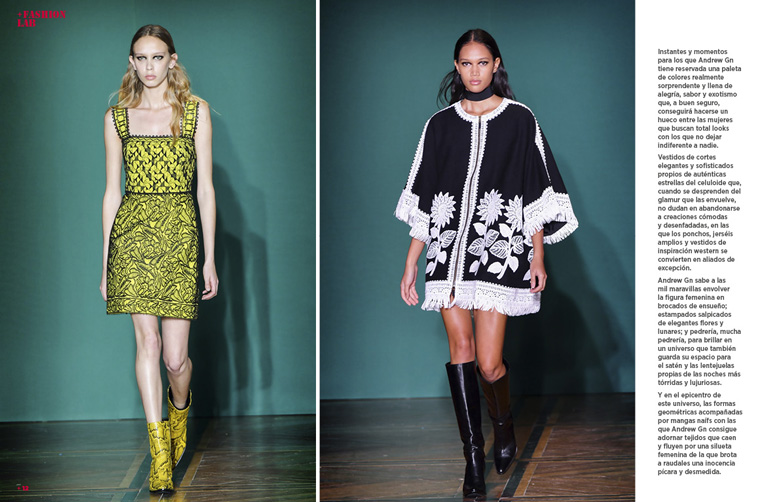 Instants and moments for which Andrew Gn has reserved a truly amazing colour palette, full of joy, taste and exoticism that is sure to obtain a foothold among women seeking total looks that won't go unnoticed.
Dresses with elegant and sophisticated cuts made for genuine Hollywood stars will detach from the glamour that surrounds them to surrender to comfortable, casual creations in which ponchos, oversized sweaters, and western-like dresses become exceptional allies.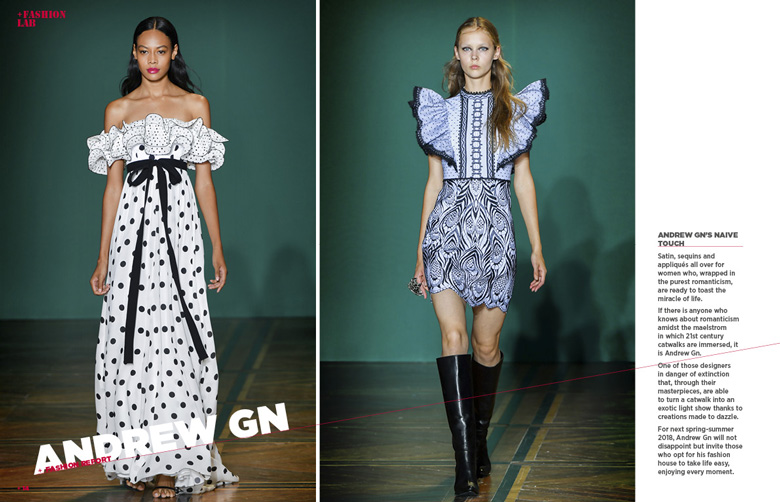 Andrew Gn knows exactly how to wrap the female figure in dreamy embroideries; prints with elegant flowers and polka dots; and appliqués – lots of appliqués – in order to shine in a universe that also leaves room for satin and sequins for the most torrid and lustful nights.
And at the epicentre of this universe, geometric shapes are accompanied by naive sleeves. Thus Andrew Gn is able to decorate fabrics that fall and flow around a feminine silhouette from which springs a mischievous and unrestrained innocence.