Guo Pei Haute Couture SS 2019
If there is anyone who knows how to magnify elegance, it is Guo Pei. The Chinese designer transports us once again to her most traditional origins.
Guo Pei has done it again. Once more, and as she does with every new collection she presents to the world, she has returned to her purest origin and now opts for wrapping women in golden reflections filled with the most elegant harmony.
On this occasion, in addition, she achieves it in an even more spectacular way. Thus, for next spring-summer season, Guo Pei shows that the haute couture she is opting for has little or no reason to be envious of the haute couture that triumphs in the Western world. Finely spun, every single one of the details that give shape to each garment have the capacity to transport whoever wears it to the interior of a book with the most incredible of stories.
Through her designs, Guo Pei invites us to travel in the coming months to a world of fantasies and yearnings. We will travel to a distant place full of poetry in which Chinese reminiscences embrace iridescent tonalities so as not to go unnoticed.
Intricately overwhelming pieces in which Beijing's majesty is mixed with ancestral traditional elements. The designer thus invites us to become whimsical princesses of lavish palaces and let ourselves be carried away by the spiritual balance of the universe. Women dreamed by Pei for the coming months opt for pieces with which to tell the world stories of mystery and sophistication.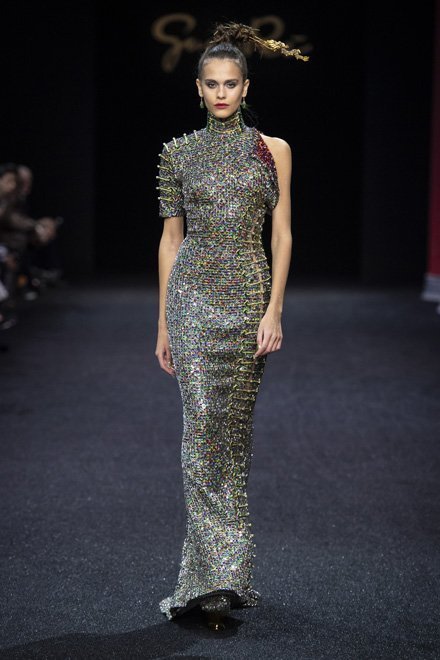 Guo Pei looks for a feminine silhouette full of singularity, thanks to which her designs could shine as the most brilliant star in the entire universe. She yearns for the streets to be filled with pure spectacle, using the best of traditional Chinese craftwork, dotted in turn with Western artistic elements and the purest and most contemporary technical innovation.
And amidst this maelstrom of lavishness, women let themselves be loved; they let their curves be wrapped in designs that emulate the majestic columns so characteristic of all oriental temple salons, thus becoming true walking spectacles.
For this new collection, Guo Pei opts for mixing oriental elements with western textures, resulting in colourful combinations full of metallic dyes, in which patterns and sequins create supernatural mosaics.
Flowing fabrics, straight cuts, and suggestive volumes show elegant forms that are unwilling to lose their purest boldness. Her silhouettes reveal the most suggestive parts of women that reflect the vitality of nature.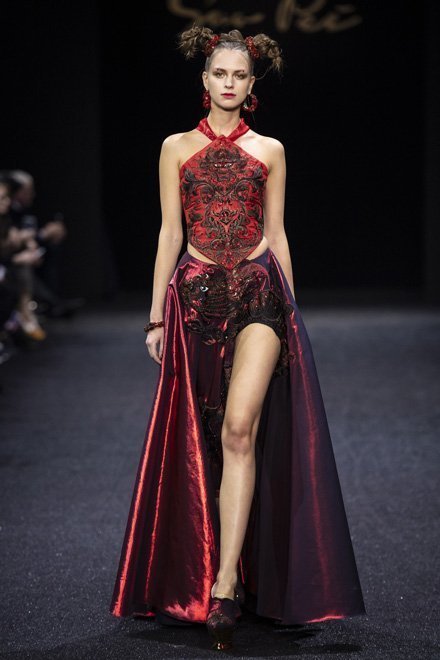 In her almost thirty-year career in the design world, Guo Pei has not disappointed, aiming in every collection to invoke again and again the bombast of oriental designs.
The designer once again illustrates her creations with symbols typical of Chinese culture, such as dragons. On this occasion, these are represented taking the slender shape imagined by the Han dynasty, historically known for its great power of metamorphosis.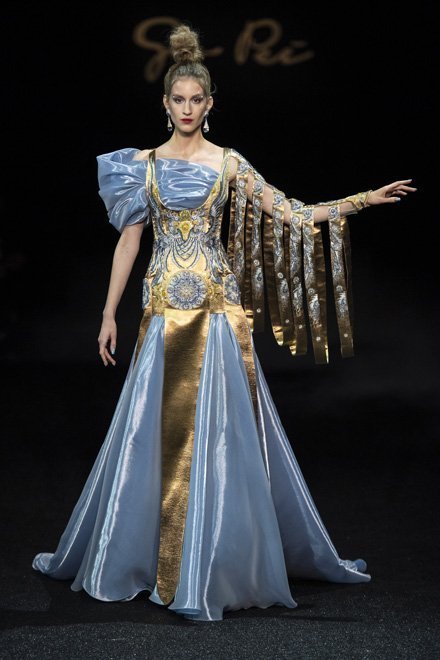 Symbols of tradition are dyed with a bright colour palette, again alluded to by Guo Pei with this figure so typical of Chinese imagery. Blacks, greens, golds, silvers, and reds work together to dye lamés and brocades full of elegance and sinuosity, turning women into free and spiritual creatures.