Chagall, the painter of love
Marc Chagall, Russian-French artist of Belarusian Jewish origin (1887- 1985) is a key figure in 20th Century art. He has masterpieces spread among major museums around the world but for this article we are going to concentrate on paintings of his beloved Bella. Focusing on his feelings we can discover a new interpretation of the language of the artist.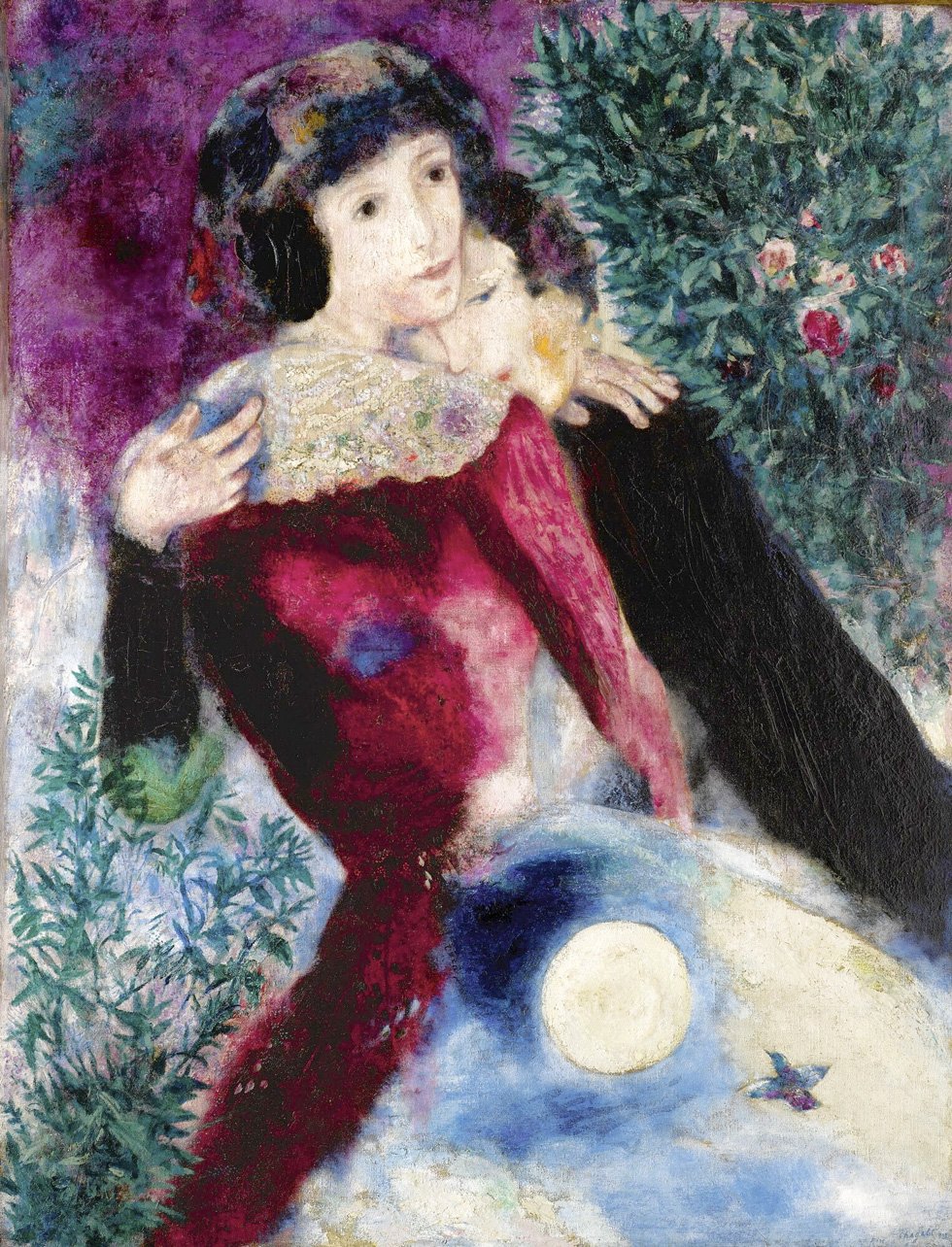 He is really the ultimate painter of love. With his brushes and his poetic vein, he created some of his most sublime canvases inspired by the love of his life: Bella. After she died, she remained an artistic inspiration for the painter. Over the course of twentieth century, he found inspiration through a mixture of the major European artistic currents: from the original Jewish culture to the Russian one, up to the encounter with French avant-garde painting. But above all, he painted his own feelings.
Marc Chagall was born in a small Hassidic community on the outskirts of Vitebsk, Belarus in 1887. His father was a fishmonger and his mother ran a small fruit shop in the village. Marc and Bella met in St. Petersburg, he was 23 and she was only 14. He was a poor painting apprentice in search of fortune and she was a brilliant student, heir to a dynasty of wealthy merchants, owners of the most luxurious goldsmith shops in the city. They met several times in Vitebsk near the bridge, in the light of the banks of the river. Both came from observant Jewish families, but they had nothing in common. Yet, from the first meeting, the spark strikes between the two.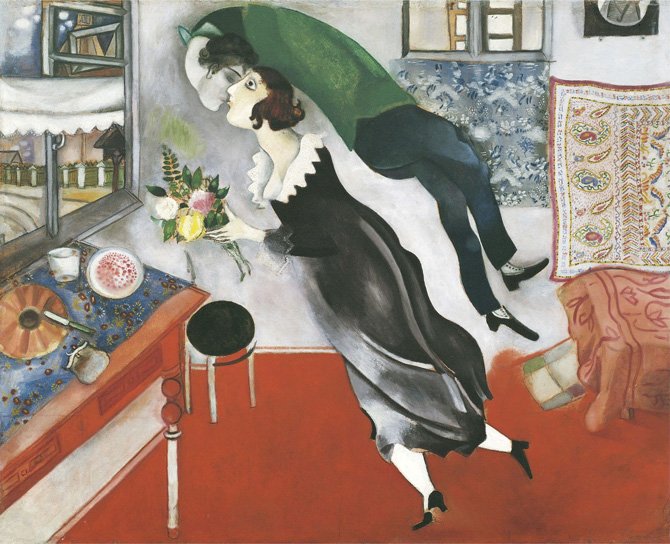 The meeting between Marc and Bella in the fall of 1909 was unforgettable. They met her through a mutual friend, his model, Théa Brachman. He narrated the crush in his book:
Suddenly I feel that it is not with Théa that I should be, but with her. Her silence is mine. Her eyes are mine, it is as if she has known me for a long time, as if she has known everything since my childhood, about my present, about my future… as if she cared for me, as if she intimately guessed me despite being the first time i see her. I felt that she was my wife.
Marc wrote about this young girl with ivory skin and big black eyes who immediately fascinated him. She would describe in her book Lights on, meeting that strange boy with tousled curls and fox gaze in his blue eyes:
I don't dare raise my eyes and meet the young man's gaze. His eyes are now greyish green, sky and water. It is in those eyes or in the river where I am swimming.
In that instant both felt touched by Cupid's arrows. After the crush at first sight, they quickly got engaged. The couple married in 1915, despite the disapproval of the girl's parents.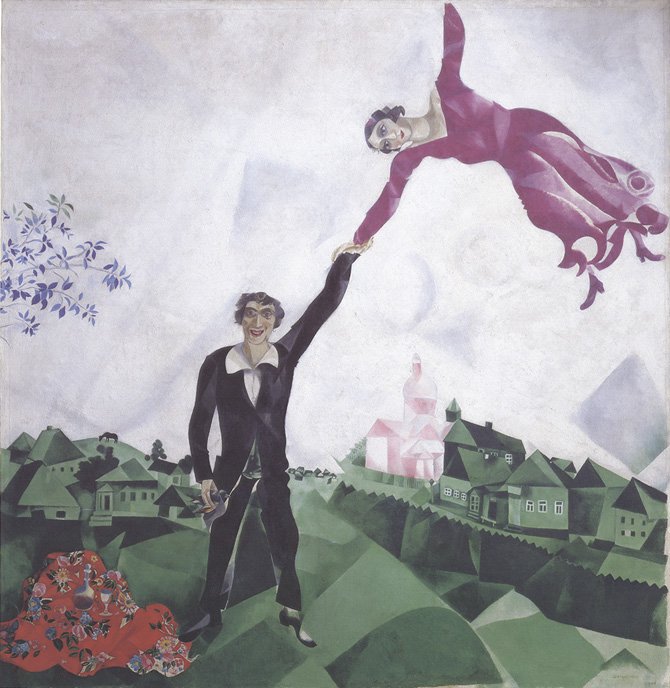 Bella became the great love, primal muse and profound source of inspiration for Marc Chagall's paintings.
We find one of her very first portraits in The couple at the table (1909), a work in which Bella Rosenfeld, at the age of thirteen, already feels the grace of someone who is a muse and model for love and not for profession and the awareness that that she shares with her future husband is blessed.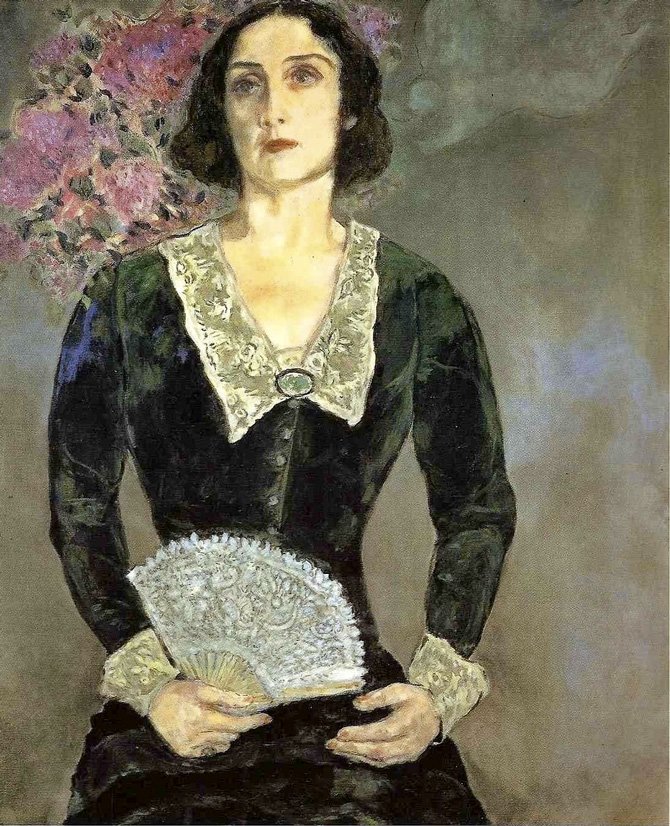 She is depicted with her eyes closed and her hand on her heart, she accepts their marriage as the fulfilment of destiny and with the other hand she holds a pomegranate, a symbol of procreation in Jewish culture and beyond. Behind her her grandparents, always present in the Jewish wedding promise celebrations, point the finger at God as a sign of protection and blessing of the family. In front of the girl Leon Bakst, Chagall's painting teacher. The designs of Léon Bakst had been featured in Sergei Diaghilev's Ballets Russes in Paris.
Art must be an expression of love or it is nothing.

Marc Chagall – My Life
Bella gave birth to their only child, Ida, in 1916. Bella was the subject of numerous Chagall's paintings including the famous Bella au col blanc (Bella with White Collar) in 1917. A few years later, in 1922, Marc moved his family from Russia, where they had ended up during World War I, to Berlin before settling in Paris in 1924. They would live in Paris for twenty years. During this time Marc would work as a painter with the fabulous dealer Ambroise Vollard.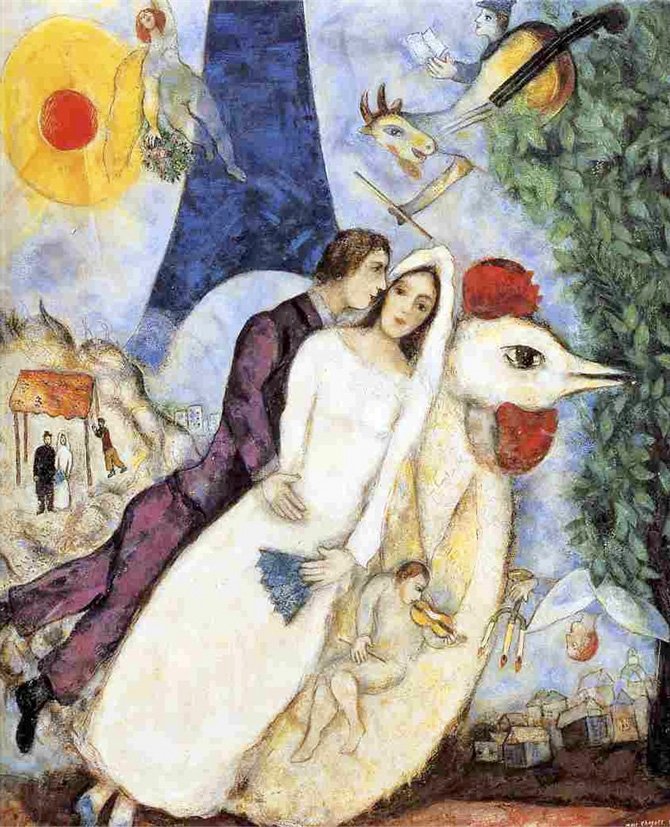 In 1931 Bella translated from Russian into French, her husband's autobiography entitled Ma Vie (My life). Bella visited Jewish communities, the kibbutzes, in Palestine and Vilna. This influenced her decision to write in her native language, Yiddish, her own book Burning Lights. In 1941 trying to escape Nazi persecution, they were arrested in Marseille. After a month in detention in Lisbon, they were finally able to escape the horror of the war to New York where they lived for three years until they returned to France in 1944. Bella fell ill with a throat infection and died a few days later in Saint Paul de Vence. Two years later, Marc posthumously published the book written by his wife.
In the arts, as in life, everything is possible provided it is based on love.

Marc Chagall – Mi vida
Bella was his artistic muse throughout his life, inspiring the best works of the artist. One of the best portraits, where he captured her physically and psychologically, is Bella en vert (Bella in green), 1937. Marc would marry again, but kept the flame alive for his first love. Bella appears in many posthumous portraits such as Bouquet près de la fenêtre (Flowers by the window) painted in 1960.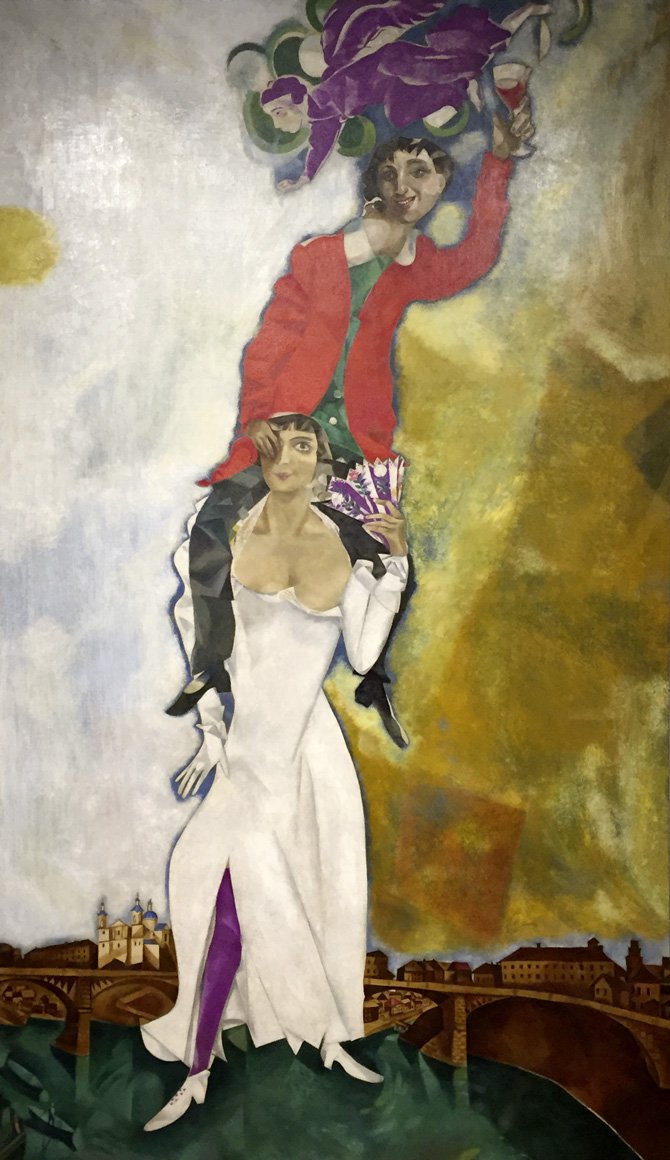 The couple had a hectic life: they first lived in Russia, then moved to Paris and later to America. Finally they returned to the French Riviera. Chagall created a very personal poetic language. The common denominator in most of his work is his favourite topic: love.
When I create from the heart, nearly everything works; from the head, almost nothing.

Marc Chagall – Mi vida
Chagall's work represents Bella in life and death. He continued to paint it over and over again after he passed away. This reveals that the love he had for her never died. Through his brushes, the artist tells us about his boundless love for his wife. His canvases are the expression of what he feels: when he is close to Bella, the whole world is perfect.
And it is so perfect that even it becomes unreal, to describe such a perfect emotion. For this reason, in his paintings, the two lovers appear flying, since they do not touch the ground of the real world. All other details are real. Everything but the lovers. Because love, deep love, the one that cannot keep us still, does not know normality. And Chagall illustrates this in a dreamlike way, avoiding realism.
Especially now, at this time of crisis and global emergency, we need messages of love. In times of turmoil, when the world is shocked by anguish and anxiety, it is precisely when human beings try to hold on firmly to love. Immersed in disoriented feelings, now more than ever, we are thirsty for certainty. Chagall with his paintings of his beloved Bella conveys the perfect message to us in these difficult times: love is the best truth in life.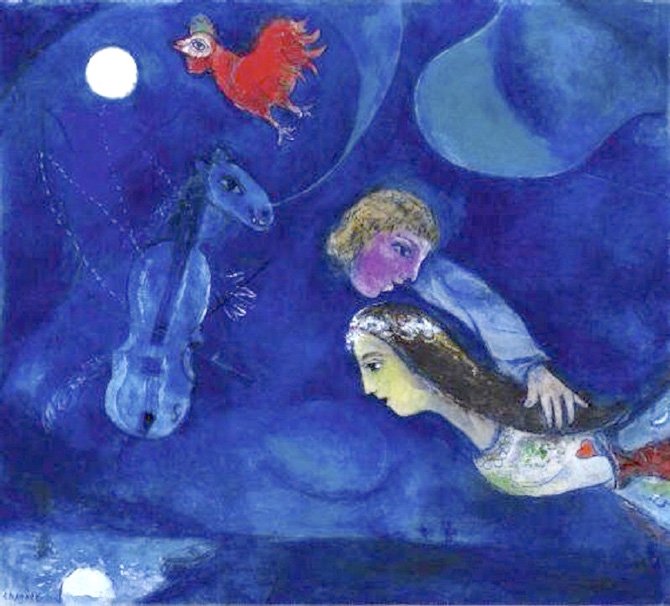 Chagall himself, using his own words, described his passion for love in his autobiography My Life:
Only love interests me, and I am only in contact with things that revolve around love.

Marc Chagall – Mi vida
Despite all the troubles of our world, in my heart I have never given up on the love in which I was brought up or on man's hope in love. In life, just as on the artist's palette, there is but one single colour that gives meaning to life and art–the colour of love.

Marc Chagall – Mi vida
If all life moves inevitably towards its end, then we must, during our own, colour it with our colours of love and hope.

Marc Chagall – Mi vida