Moshe Safdie, man of the world
Moshe Safdie, winner of 2019 National Design Award and Wolf Architecture Price has created the largest artificial cascade in the world … Inside an airport!
Safdie Architects holds studios in Jerusalem, Shanghai, Singapore and Boston. He has just won two major prices in USA and Israel for his innovative approach pursuing new goals.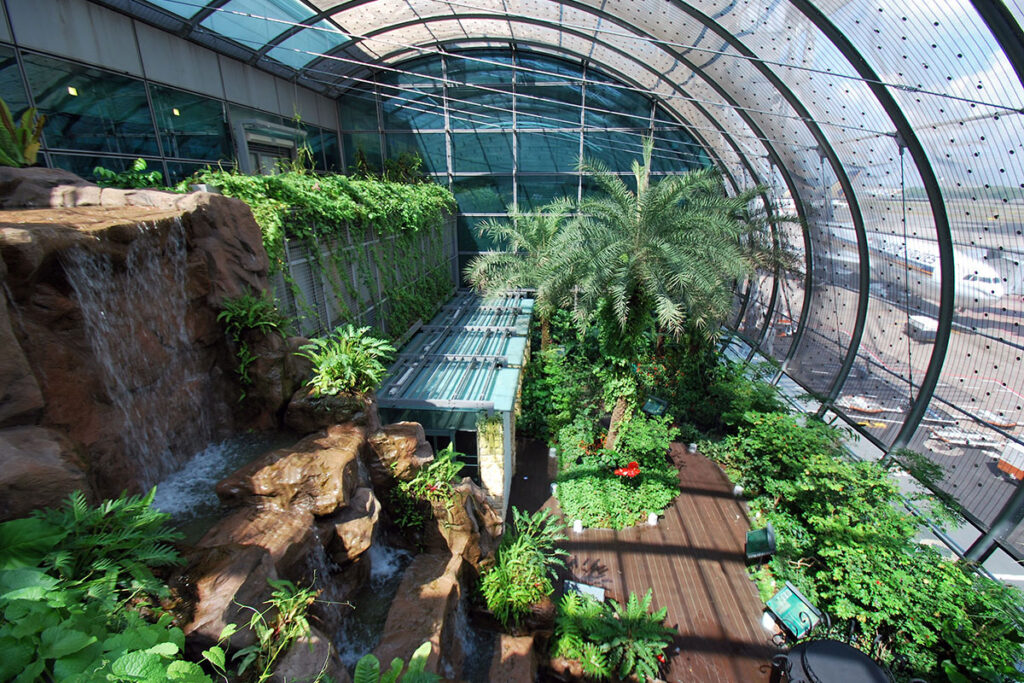 Architect and urban planner, Moshe Safdie is among the winners of this year's National Design Awards, given annually by the Cooper Hewitt Design Museum in New York. Another winner is actor Brad Pitt with his Make it Right Foundation. These awards are widely considered the most prestigious awards for American Design.
Moshe Safdie has also been named the 2019 recipient of the Wolf Prize for Architecture. Awarded by Israeli nonprofit Wolf Foundation, the honor recognises leaders in the arts, music and sciences whose accomplishments have contributed toward the benefit of humanity. Israel's President administered the Prize at a ceremony in Jerusalem in May 2019.
Architecture is in part invention… in part evolution. And anybody who forgets that, can't make great buildings. It builds upon the lessons that happened before. Invention is what you add to that but it's the combination what makes a great building.
Born in Haifa, Moshe Safdie is a citizen of Israel, Canada and the United States. He established his own firm in 1964 to realise his breakthrough seminal project: "Habitat 67" for Canadian Expo 1967.
Moshe Safdie's prolific portfolio can be seen around the world and includes airports, museums, performing arts centres, libraries, housing, mixed use buildings and even entire cities.
The world-renowned Israeli has been really busy with original projects like his popular Marina Bay Sands Hotel in Singapore. It was billed as the most expensive casino property in the world, valued at $8 billion. It's hard to miss on the city's skyline.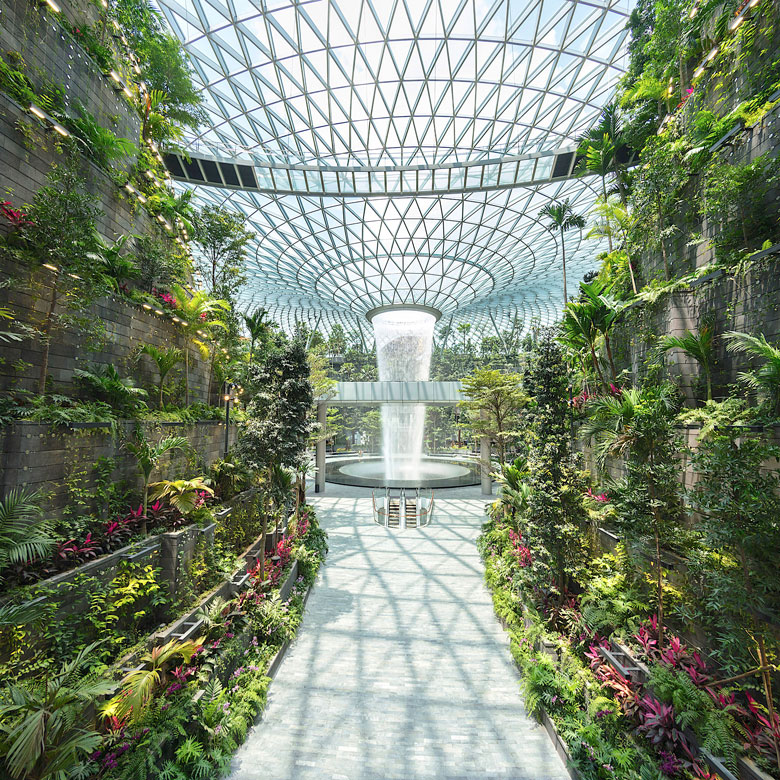 The Israeli architect has just designed the world's tallest artificial indoor waterfall inside a bio-dome for Singapore's Changi airport.
He is wrapping up this huge project: the new Jewel lifestyle destination at Changi Airport, inaugurated in early 2019. Unusual and extensive in scope, it is technically not a terminal. The idea behind the development was to position the airport as a destination in and of itself, not just a place only those in transit.
Places like Universal Studios or Disney can get dated very fast and people can get tired of them. We wanted to come up with something truly timeless and the concept of a paradise garden came about.
The $1.27 billion Jewel Changi is the latest addition to an existing impressive Airport. This donut-shaped structure functions as a central hub connecting three of the current four terminals.
Safdie's design features five stories of retail, gardens and restaurants, as well as a hotel with a five-story underground parking lot.
The bio-dome contains stores, restaurants, lavish gardens and huge waterfalls that pours down from the centre of the roof… Is this heaven?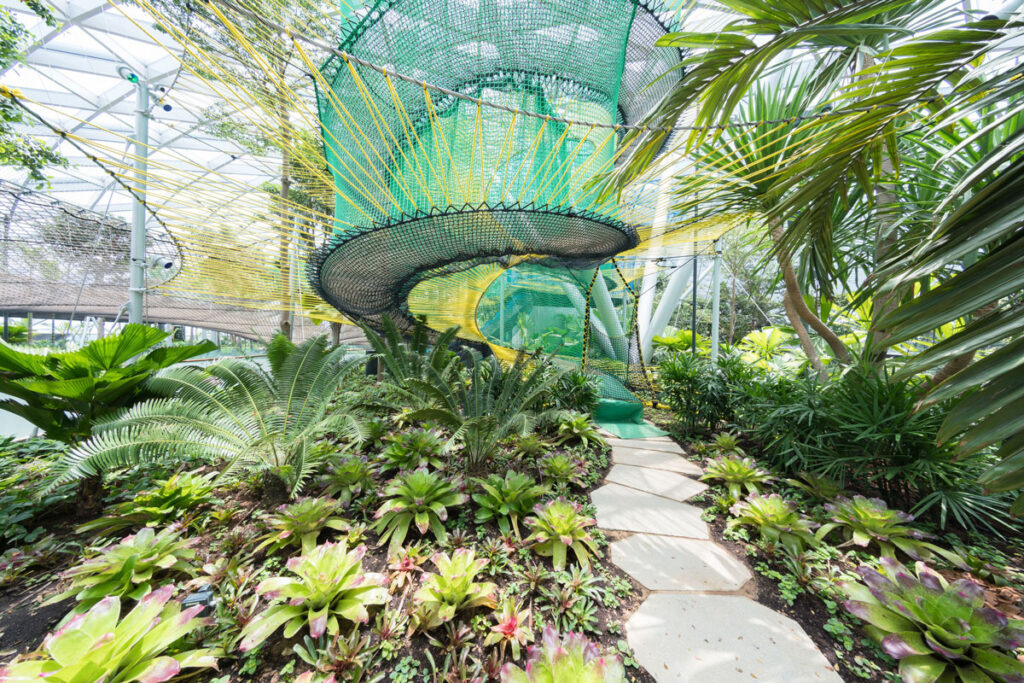 The domed structure consists of glass panel latticework framed in steel, producing a delicate covering over the space and allowing in plenty of light for the expansive gardens within. It also boasts a large mall within the gardens to attract visitors and locals, further solidifying the airport as not only a function of travel but also a destination.
With unusual attractions, including butterfly and sunflower gardens, a free movie theatre, kid-friendly playgrounds and free tours of Singapore for passengers with layovers, it has raised the bar for what other world airports should aspire towards.
Currently, the four terminals accommodate over 82 million passengers annually. With Jewel Airport around the bend, that bar has been raised even higher.
A 250-meter-long bouncing net three stories above ground. A 50- meter-long suspended bridge with glass-panel flooring. Walking trails amongst a lush jungle of animal-shaped topiaries in a five-story terraced garden. A 40-meter-tall waterfall cascading from an opening in a vaulted glass roof canopy. An art sculpture made up of four giant, integrated slides. And that's just scratching the surface.
Owned by Jewel Changi Airport Trust, the new lifestyle destination aims to be attractive to all demographics.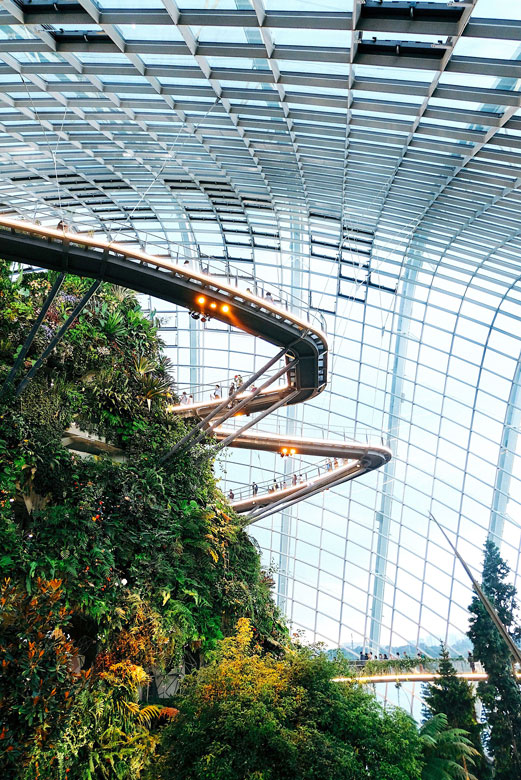 As far as airports go, Changi in Singapore, needs no introduction. It has been named the best airport in the world for six consecutive years by the Skytrax's World Airport Awards.
The dome connects three large terminals forming a hub, where travellers can wonder and enjoy. Besides the dome's great attractions, it is also earth-friendly. The exterior is constructed of steel and glass, while the interior contains sustainable elements that apparently reduce airplane emissions. It is no coincidence that the israeli was chosen to head this project.
Moshe Safdie is known across five continents for fusing architecture closely linked to nature in his past 85 projects.
American TV, CNN Style, filmed "Diving into the dawn with Moshe Safdie". They interviewed him at sunset on top of an endless pool at the roof of his Marina Bay Sands Hotel in Singapore. In his own words:
When people say "This is a happy place" it's when you have the greatest reward as a builder.
Another of his best known projects is Raffles City in Chongqing, China. Located at the crossing of two rivers: Jialing and Changjiang, Safdie's studio designed the whole city, using the riverside landmark as an astonishing stage.
The new city displays a richly evolving tectonic and spatial sensibility. Here, architecture crosses disciplinary boundaries, exploring innovative materials and developing new models of problem-solving in pursuit of new goals.
During forty years of practice, Moshe Safdie has designed cultural, educational and civic institutions, housing, complexes and airports. He has developed designs for existing urban districts and even entirely new cities.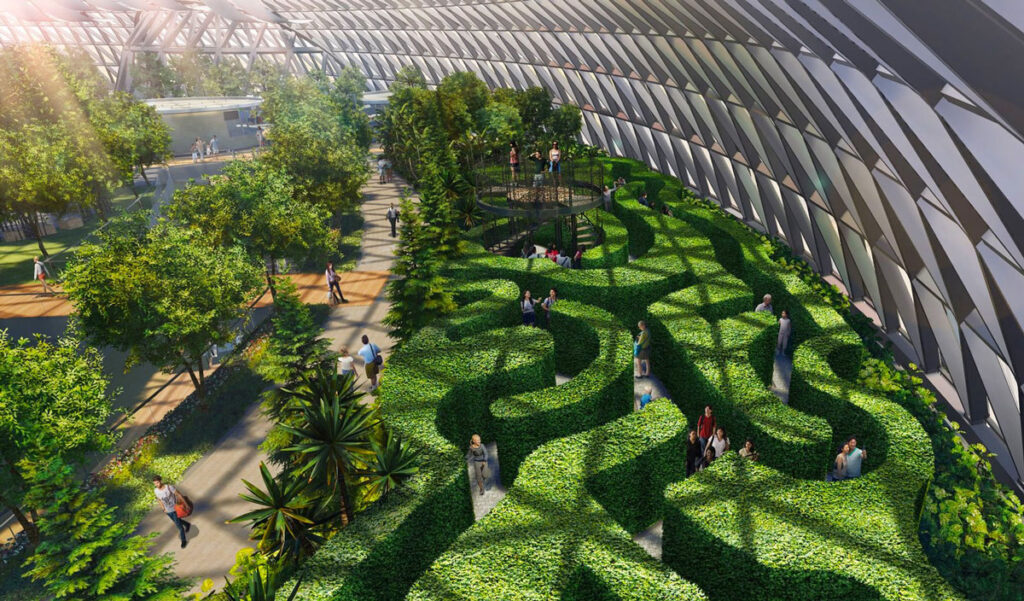 Some of his most recognisable and beloved projects include museums like Yad Vashem Holocaust Museum in Jerusalem; National Museum of the Sikh People in India; Crystal Bridges Museum of American Art in Arkansas, Skirball Museum and Cultural Center in Los Angeles and National Gallery of Canada.
He did the restoration of Jewish Quarter in Jerusalem, USA Institute of Peace Headquarters, Washington; Khalsa Heritage Memorial Complex, Hebrew Union College, housing projects in USA and Southeast Asia as well as urban designs for Montreal, Senegal, and Singapore.
A monograph book has been published with more than 80 of his projects, illustrated with spectacular photography, original design sketches and texts. It features his own essay on his architecture with additional texts by Paul Goldberg, Peter Rowe, Witold Rybczynski and Michael Sorkin.
Over a long and distinguished career spanning 50 years, Moshe Safdie has produced a body of work of great originality and artistry in the field of architecture and urbanism. His projects undertaken consistently seek experimentation and can be understood as an evolving form of research.
Safdie is also a distinguished educator. In numerous publications he has articulated a clear and coherent position as an academic and critic.
Among other activities, Safdie currently serves as Design Critic in Architecture and Urban Planning and Design at the Harvard Graduate School of Design. Along with Jaron Lubin, he led the studio "The High Line as Urban Spine." This Spring 2019, Safdie directs a studio entitled "Re-thinking a Humanist Skyscraper City."
No wonder, Moshe Safdie has been called "man of the world". He is truly earthy and has shown that he can even invent new cities and create new spaces for a magnificent new world.