Art Nouveau, is the French term for New Art. It names a colourful movement in the arts that captivated Europe during the transition from 19th to the 20th century. In other countries, Art Nouveau had different names: Stile Liberty in Italy, Jugendstil in Germany and Modernismo in Spain.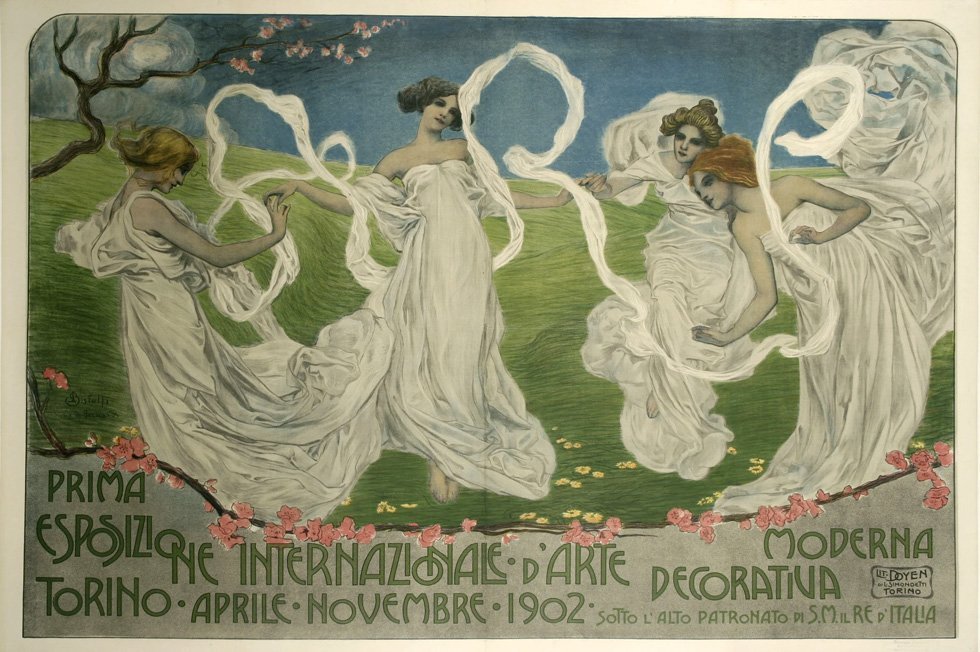 The major event was 1902 Turin International Exhibition featuring design works by Art Nouveau artists from Europe. Right before art lovers would begin riding motor cars, watching the first moving pictures and bracing for the First World War, they would flip through bright magazines of Art Nouveau styles.

The cultural movement included painting, architecture, decorative and applied arts (1890 to 1905). Publications, such as Art Nouveau Magazine, were distributed around Europe thanks to advances in printing. Art Nouveau ended at the same time as Cubism and Surrealism were beginning.
When tourists visit Paris today, it's easy to look around and see the lasting impact of Art Nouveau designs including prints, pictures, signs, wallpaper… in public places, cafes, brasseries and even in subway gates. Art nouveau had its heyday in late 19th-century Paris but quickly spread across Europe and, eventually, to America.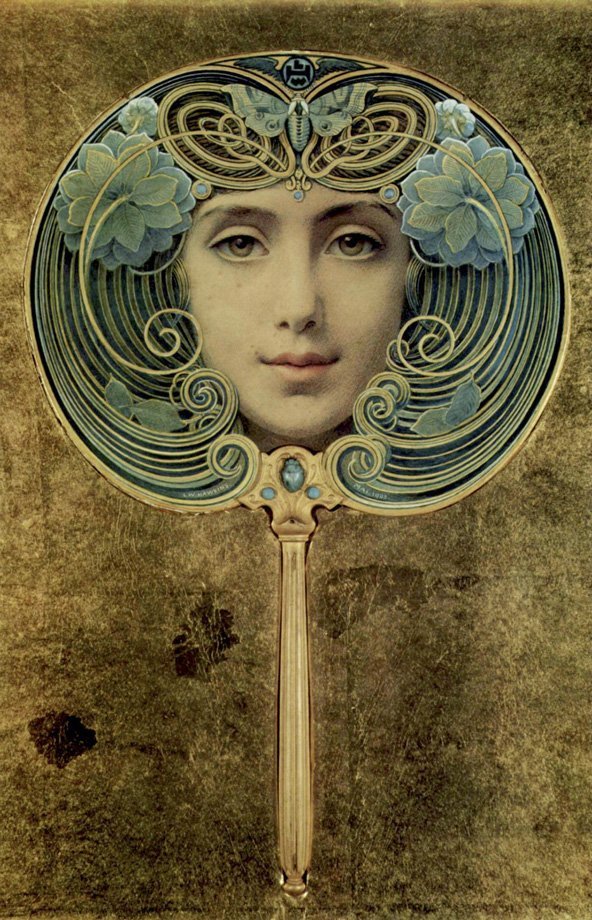 The term derives from La Maison de L'Art Nouveau, a Paris art gallery run by Siegfried Bing, who was a major promoter of the new style, as well as of Japonisme and the Nabis. In addition to marketing individual objects, Bing commissioned artists and designers to create model rooms in his gallery to display Art Nouveau ensembles that included paintings, furniture, wallpaper and carpets. The style influenced art and architecture especially in the applied arts, graphic work and illustration.
Art Nouveau artists drew inspiration from natural elements, focusing on curvy, natural forms: flowers, leaves, insects, waves, humans. It advocated nature as the primary source of inspiration for a generation of artists seeking to break away from past styles.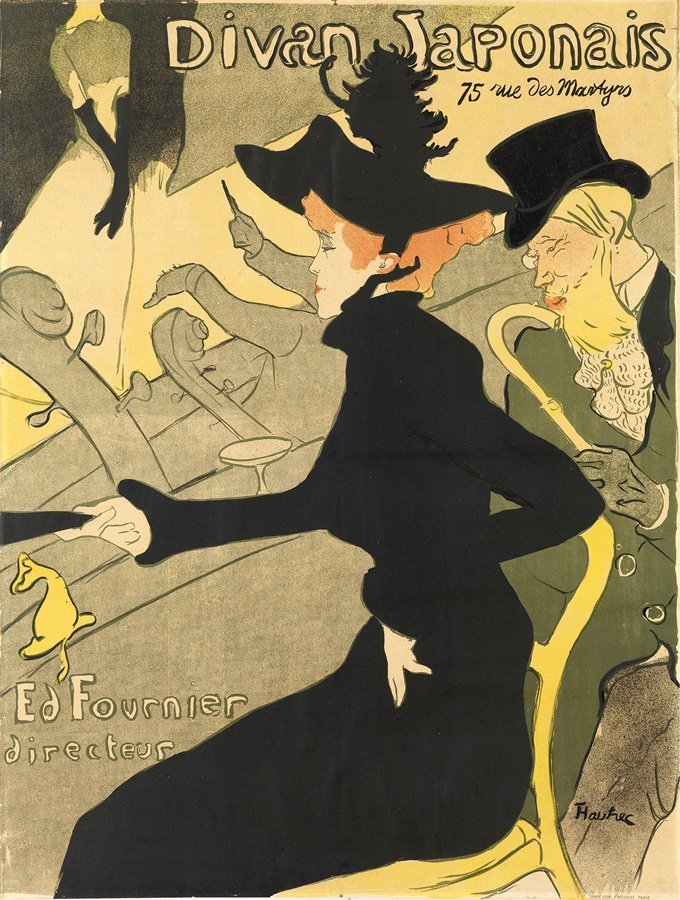 Mucha, Gustave Klimt, Toulouse-Lautrec, Lalique, Galle, Tiffany, they all share a common denominator: they all use flowing and sinuous lines inspired from the unruly aspects of the natural world. Their goal was to modernise design and abandon the previous classical styles. Curves, asymmetrical forms and intense colours were common motifs of the movement. Their aesthetic appeared in various media, including decorative arts and advertisements.
Art Nouveau's origins can be traced back to the British Arts and Crafts movement, a reaction to 19th century academic art styles. It had also influence from Japanese woodblock prints with vegetal motifs and strong curves. Art Nouveau remained popular until 1905 and today it is considered an important predecessor to Modernism. The movement produced many gifted artists specialising in decorative art, architecture and glass work. But in this article we concentrate on painters.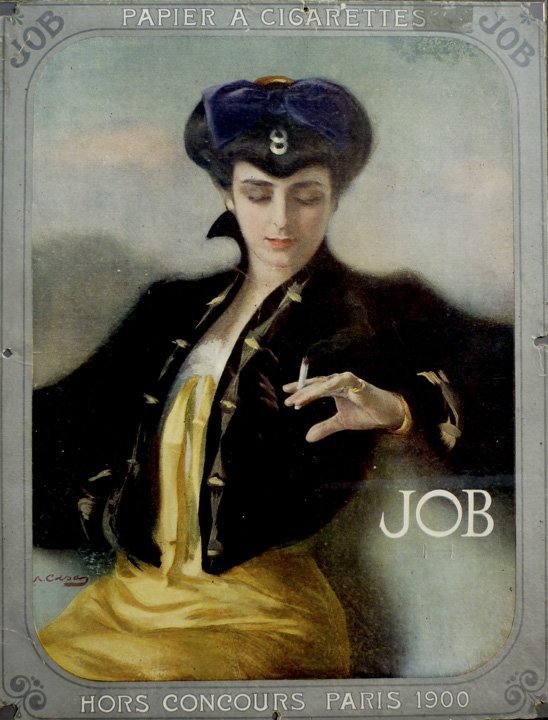 In addition to Paris, major centres included Brussels, Glasgow, Munich (known as Jugendstil), and Vienna (called Secession Style). Main artists were Mucha in Paris and Klimt in Viena. In Barcelona it was called Modernism and the key figures were painter Anglada Camarasa and architect Antoni Gaudi.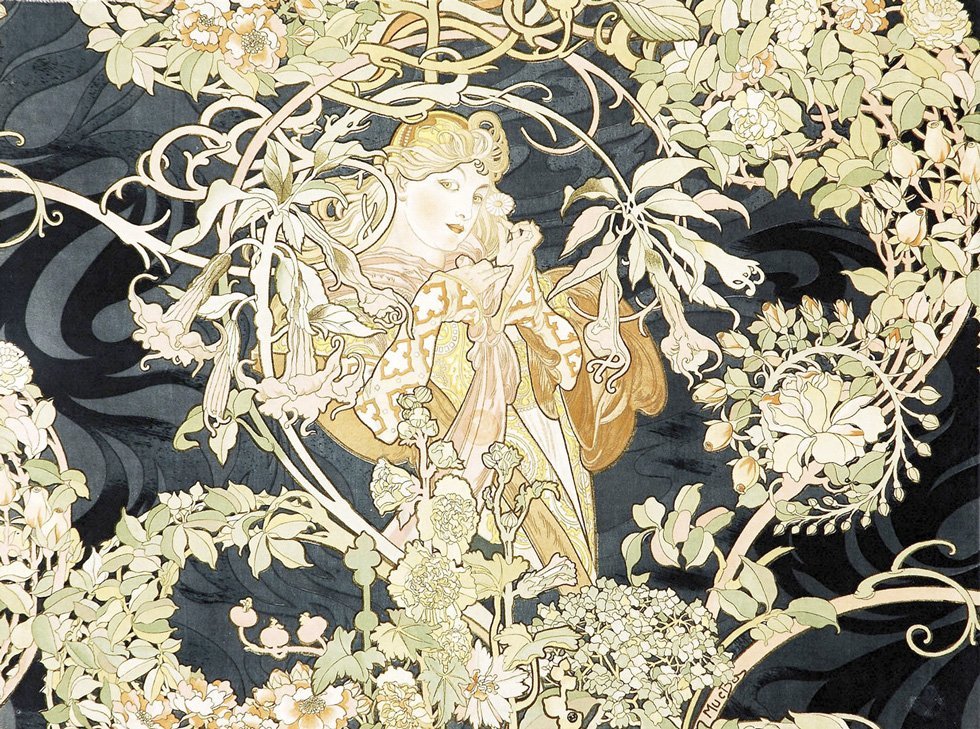 Mucha
Alphonse Mucha is arguably the most prominent author of the Art Nouveau movement. This versatile artist of Czech origin triumphed in France. He created works representing a female figure of great beauty with a poetic style, full of fluidity and with infinite details.
He achieved great success thanks to what was called the Mucha Style. He was primarily known for his commercial posters and advertisements, though he was a great painter and also dabbled in other mediums like furniture, theatrical sets and even jewellery.
His primary subject, the new woman, celebrated femininity and the socially empowered female. Though Mucha rejected the Art Nouveau label, his style was a major influence on the movement. His art was often imitated. However, Mucha attempted to disassociate himself from Art Nouveau throughout his life. He always insisted that rather than maintaining any fashionable stylistic form, his paintings were entirely a product of himself and Czech art.
He declared that art existed only to communicate a spiritual message, and nothing more. Hence his frustration at the fame he gained by his commercial art, when he most wanted to concentrate on more artistic projects.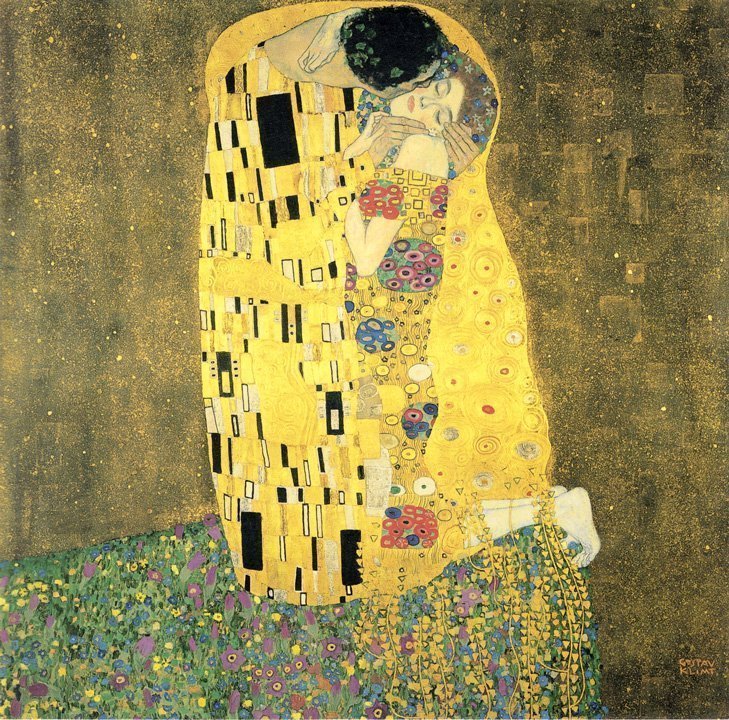 Klimt
Before the Art Nouveau movement, Gustav Klimt was recognised for his decorative paintings of historical scenes and figures. These were commissioned to be created on public buildings and later lead to his Golden Phase which lasted from 1903-1909.
In 1897, Klimt founded the Vienna Secession, a group of Austrian artists whose mission was to bring the modern European art style to Austria. He was elected as the first president of this group because he challenged authority. His international fame as an Art Nouveau artist led to their early success.
Klimt's primary subject was the female figure. His popular work, The Kiss, is one of the most instantly recognisable examples of his work, and one his few paintings that features a man. This piece is a notable work from his Golden Period, which is considered a leading example of the Art Nouveau movement.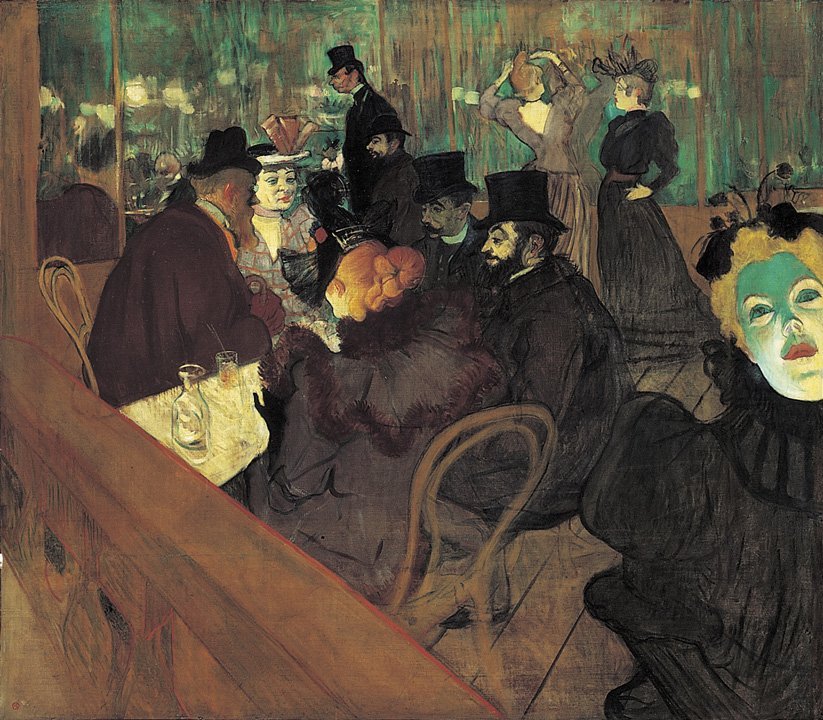 Toulouse-Lautrec
He was the first artist to elevate advertising to the level of fine art, creating a shift in history that acknowledged that an important work of art could be an everyday poster in a nightclub.
Unlike other artists of his time, Toulouse-Lautrec did not struggle to make a living since he was rich. Instead of selling to galleries, he sold to Parisians who profited from his unique vision. His favourite places were cabarets, theatres, brothels and the racetrack.
His famous piece, At the Moulin Rouge, depicts the cabaret that opened in 1889. This painting marked his early contributions to Art Nouveau and coincided with his influential Moulin Rouge posters.
His script writing and exaggerated outlines in these posters became an emblem of the Art Nouveau movement. Nobody like him has given such a personal vision of Paris nightlife, reflecting the decadent ambience of the Belle Epoque.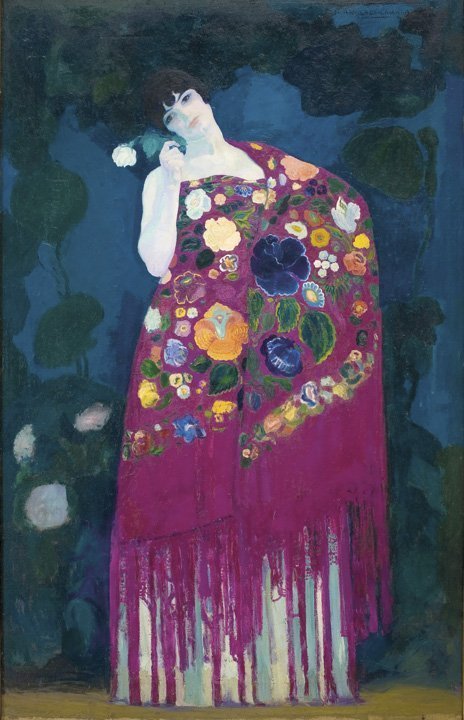 Anglada Camarasa
Hermen Anglada Camarasa held a unique place in the art of his time. After training in Barcelona, made the leap to Paris, where he lived a few years of precariousness and deprivation.
He painted numerous pictures of Paris night-life with light effects. The impact in Paris of the aesthetics of Diaghilev's Russian Ballets was decisive for the development of his work. He also loved Spanish traditional culture, that he painted indulging in its intense decoration and the rich chromaticism of the costumes.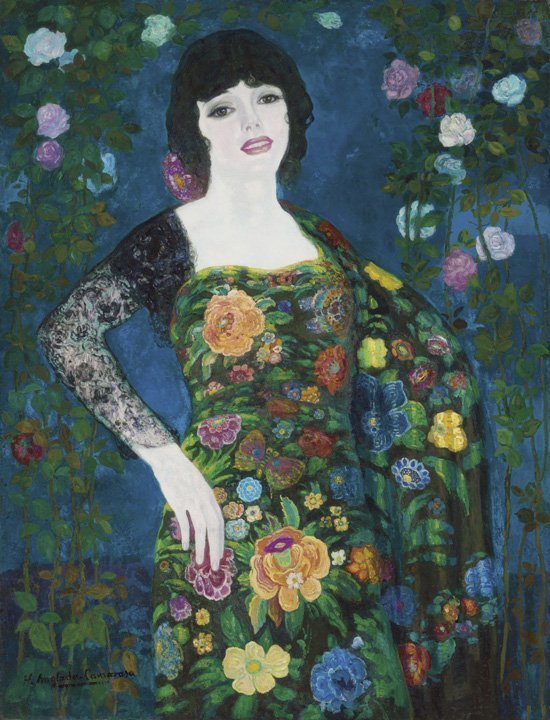 His influence was especially notable in Italy and among Russian artists. Anglada was the youngest painter of Catalan Modernists and made a name for himself internationally.
His personality is associated with two themes. First, the nocturnal Paris of the Belle Époque, that he captured through a very fluid art. And secondly, the Spanish woman wrapped in vibrantly coloured shawls. His most spectacular paintings are portraits of women full of mystery and sensuality wrapped in play of light and shadow.