Buenos Aires. Can hardly wait to meet you, che!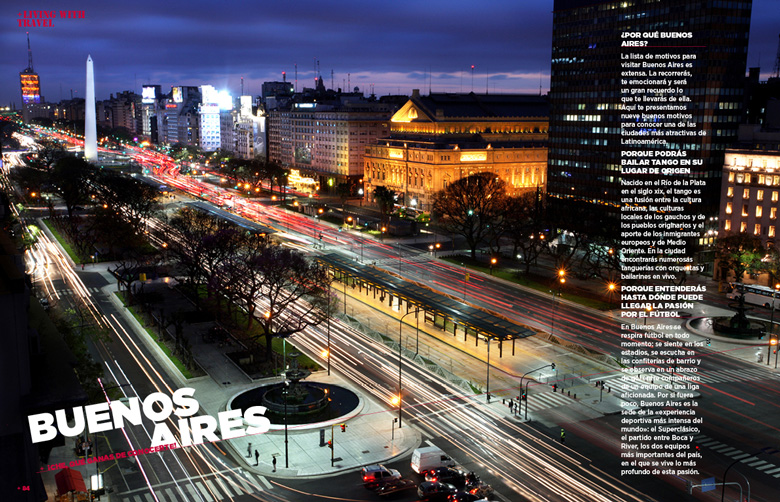 ¿Why Buenos Aires?
The list of reasons to visit Buenos Aires is extensive. You will criss-cross a city that will move you, leaving a sweet souvenir on your memory. Here are nine good reasons to visit one of the most attractive cities of Latin America.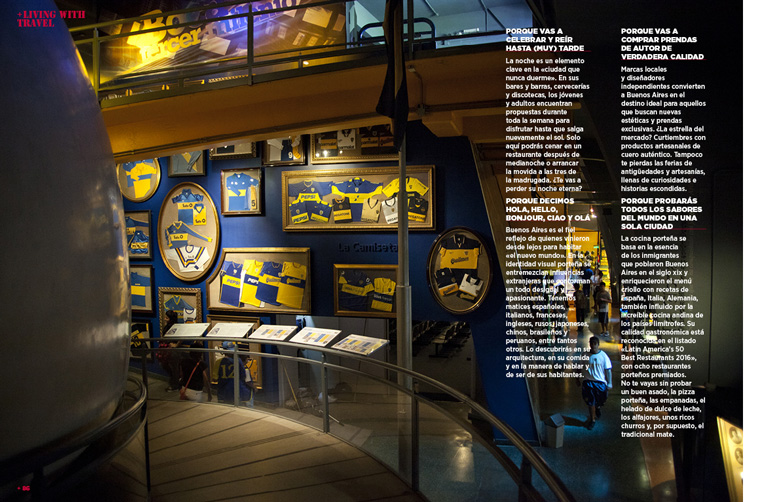 Because you can dance tango in its place of origin
Born in the Rio de la Plata in the nineteenth century, tango is the result of a fusion between African culture, local cultures of gauchos and native peoples and the contribution of the immigrants from Europe and Middle East. In the city you will find numerous live tango orchestras and dancers.
Because you will understand how far the passion for football can go
Buenos Aires lives and breathes football at any given time: you feel it in the stadiums, it's heard in local pastry shops and it's seen in an after-goal hug between teammates in the amateur leagues. As if this were not enough, Buenos Aires is the seat of the "most intense sport experience in the world": the Superclásico, the football match between Boca and River, the two most important teams in the country, in which one lives this passion in-depth.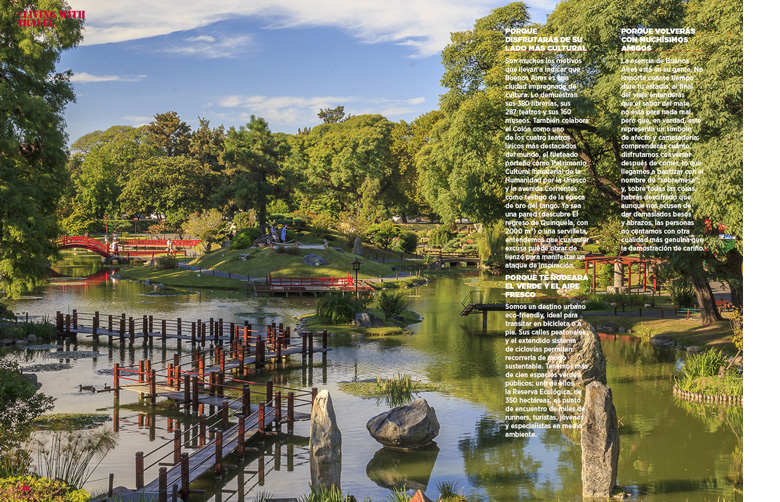 Because you're going to celebrate and laugh till (very) late
Nighttime is a key element in the "city that never sleeps". In its bars and pubs, breweries and clubs, young people and adults find a wide range of options throughout the week in order to enjoy themselves until the sun comes up again. Only here you can dine in a restaurant after midnight or get the party started at three in the morning. Are you going to miss its endless nights?
Because we say hello, hola, bonjour, ciao and olá
Buenos Aires is a faithful reflection of all those who came from afar to dwell in "the new world". In the visual identity of Buenos Aires, the foreign influences are intermingled to make up a whole, exciting and uneven. We have Spanish, Italian, French, English, Russian, Japanese, Chinese, Brazilian and Peruvian nuances, among many others. You will find it in its architecture, in its cuisine, and in the way of life and speaking of its inhabitants.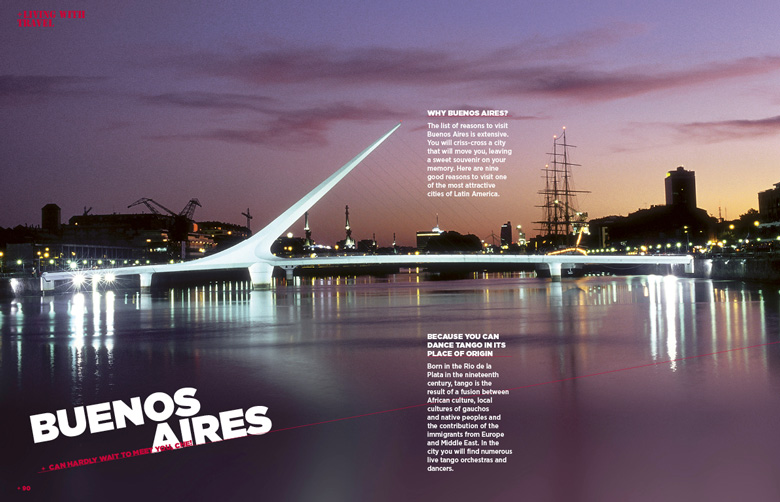 Because you're going to get true quality designer-created clothing
Local brands and independent designers make Buenos Aires the ideal destination for those who seek out new aesthetic ideas and exclusive garments. The market star? Tanneries with handmade products in real leather. Don't miss the antique, vintage and craft fairs, full of curiosities and hidden stories.
Because you will taste flavours from all over the the world in a single city
Buenos Aires cuisine is based on the essence of the immigrants who settled there in the nineteenth century and enriched the Creole menu with recipes from Spain, Italy, and Germany, also influenced by the amazing Andean cuisine of the neighbouring countries. Its gastronomical quality has been recognised by the "Latin America's 50 Best Restaurants 2016" listing, with eight award-winning porteño restaurants. Don't leave without trying a good asado, the porteña pizza, some empanadas, a cup of dulce de leche ice cream, alfajores, some delicious churros and of course the traditional mate.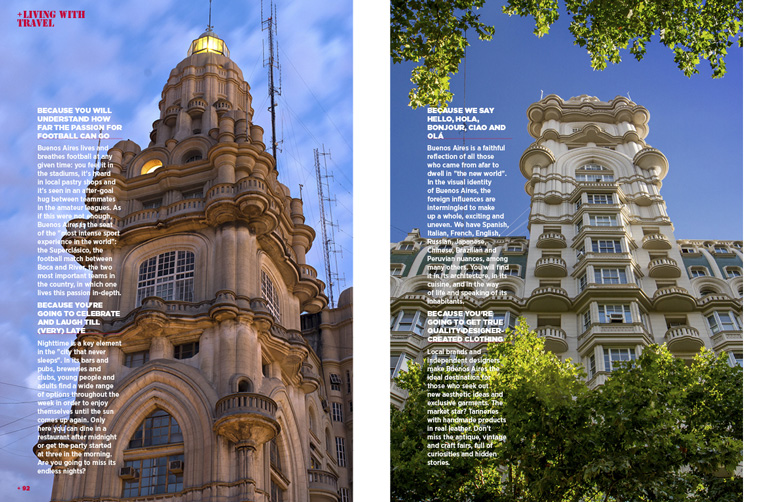 Because you will enjoy its more cultural side
There are many reasons that show Buenos Aires as a city steeped in culture. Its 380 libraries, 287 theatres and its 160 museums prove it. Colón also collaborates as one of the four most outstanding lyric theatres in the world, as well as the Fileteado Porteño as Intangible Cultural Heritage of Humanity by Unesco or Corrientes Avenue as a witness to the golden age of tango. Whether a wall (see El regreso de Quinquela, "The Return of Quinquela", with 2000 m²) or a napkin, we understand that any excuse can work as a canvas to express an attack of inspiration.
Because you will be surrounded by greenery and fresh air
We are an eco-friendly urban destination, perfect to discover by bike or on foot. Pedestrian streets and a wide cycle path system allow you to travel all over sustainably. We have more than 100 green areas; one of them, the Reserva Ecológica de Buenos Aires, an ecological reserve of 350 hectares, is a meeting point for thousands of runners, tourists, young people, and environmental specialists.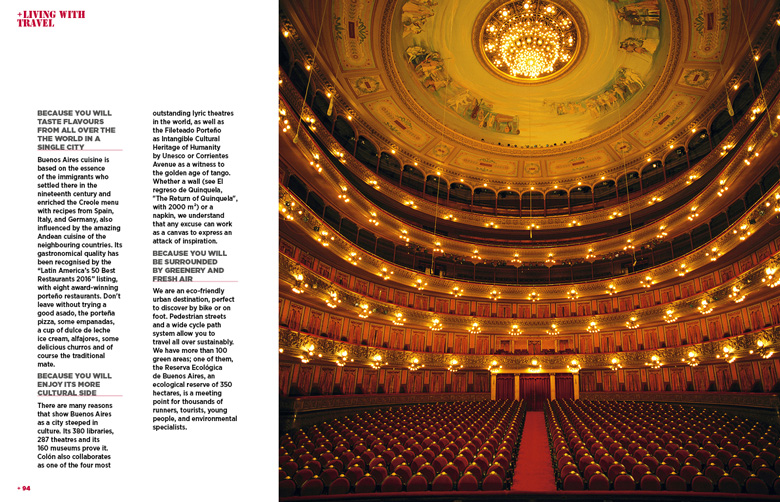 Because you will go home with many friends
The essence of Buenos Aires is its people. No matter how long your will stay, at the end of the trip you will understand that the taste of mate is not that bad but, in truth, it actually represents a symbol of affection and friendship; you will understand how much we enjoy talking after a meal, what we came to baptise with the name of "sobremesa" or table talk; but, above all things, you will have figured out that, even if we are accused of giving too many kisses and hugs, people have no more genuine quality than showing affection.