Six museums devote exhibitions to Foujita. He worked with his artists friends, Modigliani, Kisling, Pascin and Van Dongen in the Roaring Twenties. His exquisite art is a symbiosis between two cultures: Japanese and European.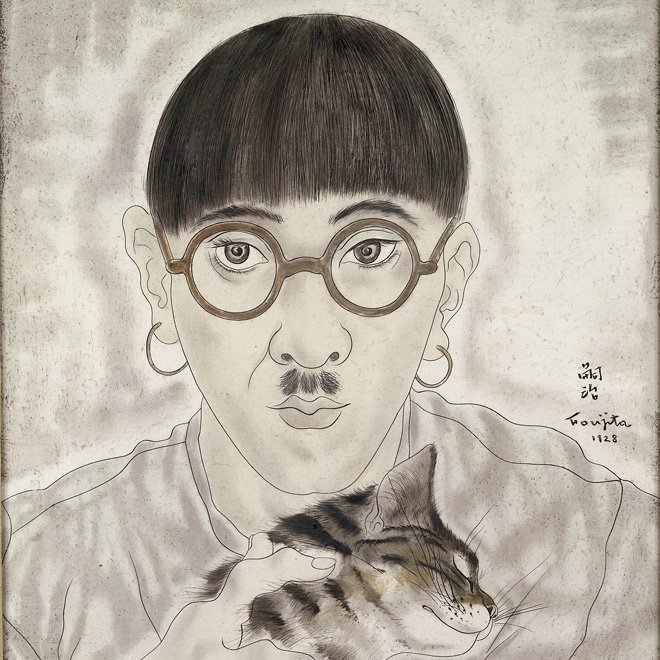 The anniversary of his death, is celebrated with museum shows in Paris, Reims, Tokyo, Osaka and Kyoto. They start with a major exhibition at Musée Maillol in Paris focusing on his most prolific period, between 1913 and 1930, the time he lived in Montparnasse.
Tsuguharu Foujita was one of the most successful artists of the 1920s, is considered as a member of the Ecole de Paris. This term refers to a group of French and "émigré" or foreign artists who lived and worked in Paris in the first half of the 20th century.
The School of Paris was not a single art movement or institution, but refers to Paris as center of artistic activity. Between 1900 and 1940 the city drew artists from all over the world.
It describes a loose community, of mainly non-French artists, mingling in cafes and salons. They were a friendly bohemian crowd, living intense nights, sharing models, lovers, studios and galleries in the Parisian district of Montparnasse.
Before World War I the name applied to artists involved in the artistic ferment of new art movements: Post-Impressionism, Pointillism, Orphism, Fauvism, Cubism… It took place in Montmartre but the war scattered almost everyone and by the 1920s Montparnasse become the new center of the avant-garde.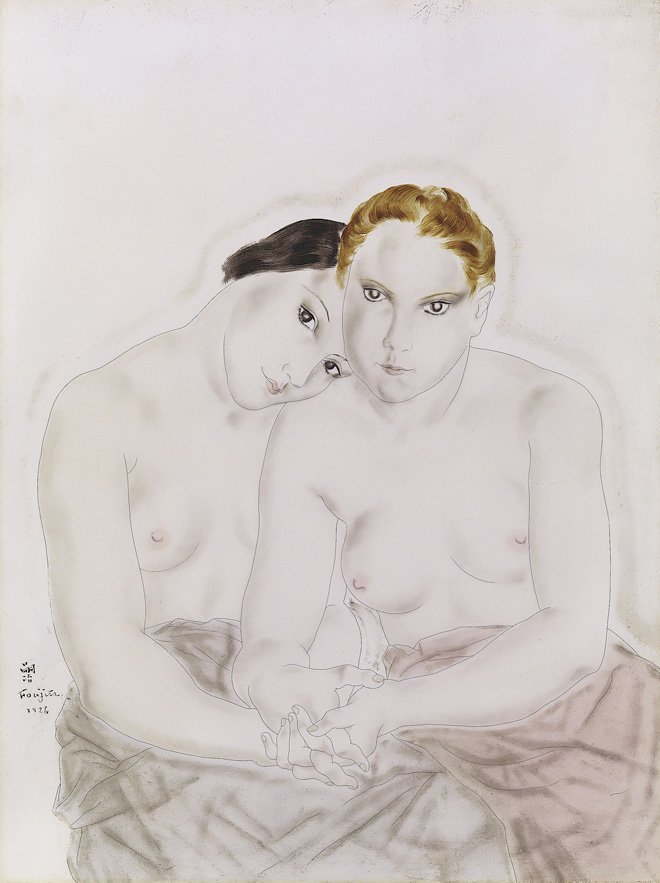 Foujita, the son of a general in the Imperial Japanese Army, was brought up in a family open to western culture. From an early age, he received art and French lessons. After studying Western Art at Tokyo's Fine Arts School, he travelled to Paris.
The moment he arrived, he knew immediately that he would stay. The day after his arrival, he was invited to meet Picasso at his studio. Pablo felt intrigued by his distinctive elegant look and Foujita felt electrified by the Spanish artist's paintings and his collection of naif pictures by Henri Rousseau.
Too old to enrol in the Beaux-Arts School, he became a copyist at the Musée du Louvre. There, he felt transfixed by antiquities and their stylised beauty.
Foujita realised that he needed to adapt his vision, either in opposition to, or in conciliation with western art. He chose hybridisation, a path that no other Japanese artist had dared to take before. His absolutely unique style fascinated both public and critics.
His first solo exhibition near Champs-Élysées, was a triumph. All his 110 watercolours, were sold instantly. Picasso bought as many as he could afford. His gallerist, Chéron, who also represented Modigliani and Soutine, asked him to paint two watercolours a day.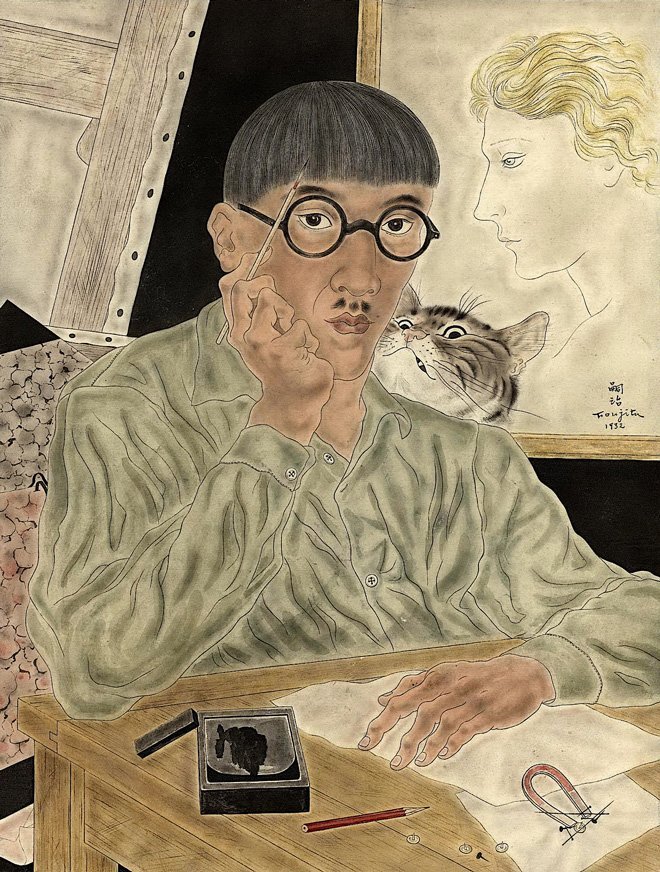 Foujita had two secrets. One was Fernande Barrey, a young prostitute and model and used to pose for Modigliani. He married her 13 days after they meet at Café de la Rotonde. The second was a thin brush, black and white paints, and a white glaze, his secret recipe for years. Made of mixed flaxseed oil, crushed chalk and magnesium silicate, it was unheard of in the west and gave his paintings a hypnotic, milky iridescence that fascinated viewers.
His work stood in marked contrast to paintings by Matisse and Braque, who used large brushes and thick bright colours. Foujita, like his illustrious Japanese predecessor, Hokusai, loved fine drawing with great skill.
Other artists that belong to the School of Paris experimented with various artistic styles including Cubism, Orphism, Surrealism and Dada. Foreign artists of the School of Paris included Spanish Joan Miró, Russians Chagall, Jacques Lipchitz, prince Alexis Arapoff, German Jean Arp, Polish Marek Szwarc… Many of them were Jewish and could not exhibit and art publications stoped writting about them. Foujita was being exhibited and sold worldwide.
Among all these "émigrés", Foujita was the only asiatic and one of the most succesful. He was soon worshipped by critics and art lovers who paid a fortune for his drawings, watercolours and oil paintings. He was the shining art star in Paris, even more successful than Picasso and Matisse.
Foujita loved drawing cats and naked women. Kiki de Montparnasse posed for him and so did his new love, Lucie, barely 20 years old. Her skin was so white that he nicknamed her Youki, "snow" in Japanese. At her birthday, the artist presented to her a convertible car with a small bronze sculpture on top by Auguste Rodin. He enjoyed an extravagant life. Foujita had a perfect exotic look: short bowl haircut and small round glasses. His celebrity status landed him in gossip columns and fashion magazines. He photographed and filmed himself as he worked. A great painter, he was also, unconsciously perhaps, building a brand. Increasingly, the artist became overshadowed by his dandy personality. In self-portraits, he always appears composed and inscrutable… but what did he really think of the avatar he created?
Youki became the mistress of his best friend, the French poet Robert Desnos. Due to his debts of French taxes, Foujita escaped from Paris to South America with another young model called Madeleine.
In the Second World War, he returned to Japan, becoming an official painter for the Imperial Army and protected by General MacArthur and rich American art collectors.
In 1950 he was allowed to return discreetly to Paris, accompanied by Kimiyo, his Japanese fifth wife. The couple settled in Montparnasse and led a quiet life. Foujita obtained French nationality and converted to Catholicism. He choose the name Leonard, as a tribute to his much admired Leonardo Da Vinci. In 1968 Foujita was buried almost like a French king.
Fifty years after his death, more than six museums in France and Japan, highlight the luminous and unique work of the most oriental painter in Montparnasse. He certainly deserves the celebrations of this French-Japanese homage.
Main museums with Foujita exhibitions: