Lyonel Feininger: at the edge of painting
A Modernist painter and musician who thrived at the margins of painting. A figurative cubist, passionate for sharp edges.
Lyonel Feininger was a sprawling and invigorating painter of high seriousness. And yet, his base was humorist art, as he started making caricatures and cartoons.
Lyonel Feininger (1871-1956), born in Manhattan, was the son of a German-American father, a violinist who fought in the American Civil War. Feininger was sent to study violin in Leipzig when he was 16 but instead, he enrolled in art school in Hamburg. He used to draw incessantly since childhood and quickly swerved into art. By the 1890s he was one of Europe's best known caricaturists and illustrators.
He decided against pursuing music professionally. Instead, he turned his drawing talent into a successful and lucrative career as a newspaper cartoonist. But music seems to levitate in all his paintings.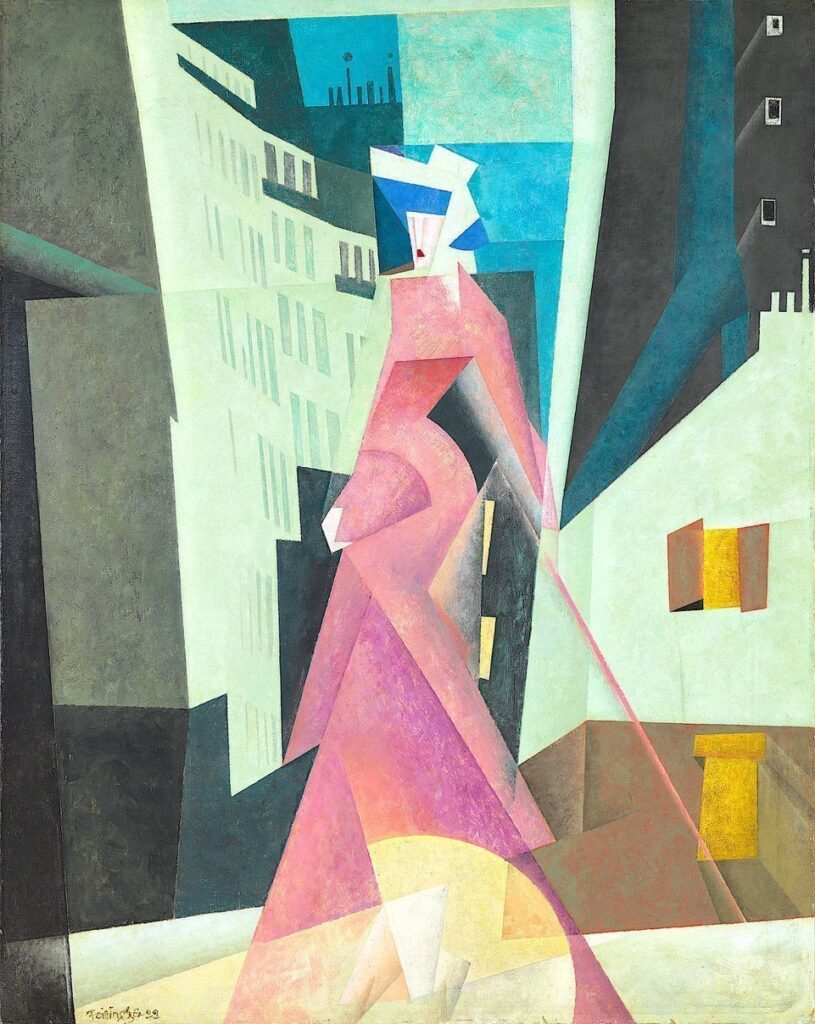 Over the next 40 years, he did crucial visits to Paris and spent many summers communing with nature on the Baltic coast. In Paris, he was an art pupil of the French Robert Delaunay, creator of the Orphist art movement. At the age of 36, he decided to take up oil painting, becoming one of Germany's most respected modern painters.
Since 1909 he was a member of the Berlin Artistic Association, Berliner Sezession. In 1911 he exhibited six canvases in the Salon des Indépendants in Paris.
He also collided with Cubism and showed with the German artist groups Die Brücke and Der Blaue Reiter. Feininger was a close friend of Paul Klee and Wassily Kandinsky. All three artists became teachers the Bauhaus School of Design. He even designed the cover of the school's first manifesto.
Months before the Nazis declared his work as "degenerate art", Feininger returned with his wife, Julia, to the United States. In 1937, with World War II looming, he could finally made his long-sought return to a vastly changed New York. He lived and worked in Manhattan until his death at the age of 84.
His spiritually infused, almost architectonic paintings created a tranquil point in a life that had seen major historical and personal shifts. They still bring a sense of calm and awe.
American born, Lyonel Feininger ended up spending his 50 most creative years in Germany to end up his life in New York, like many artists escaping Europe from World War II. His career and his art, reflect his cosmopolitan background.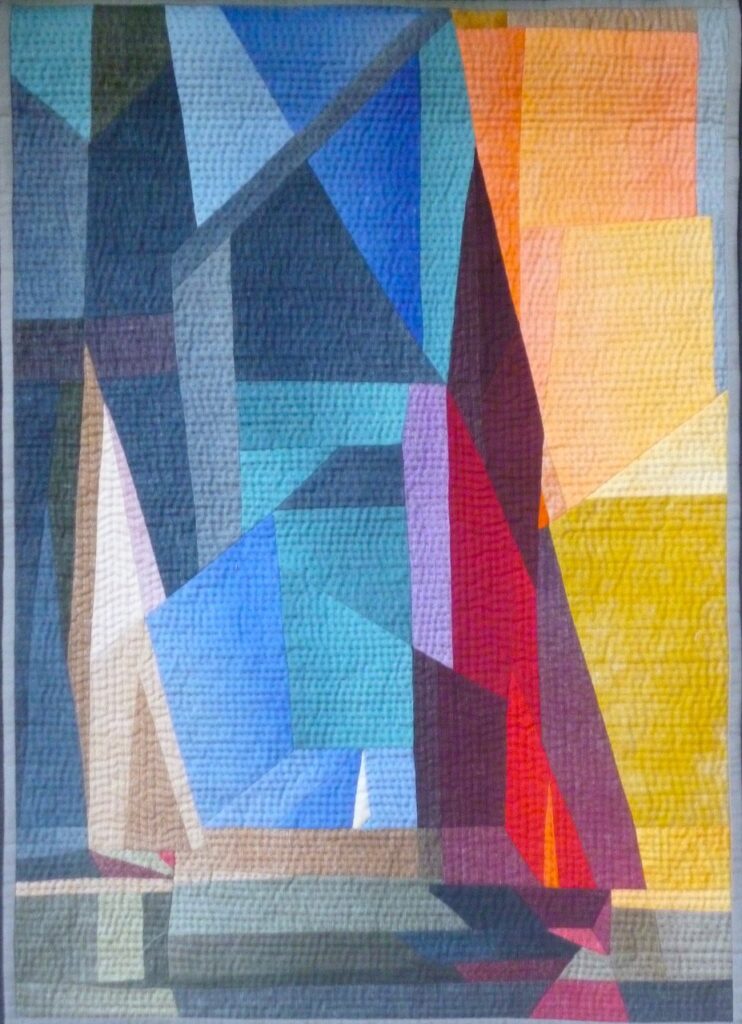 Feininger is best known for his semi Abstract landscapes and strange cityscapes which he started painting in Hamburg and Berlin. They are filled with hafts of blurry light, falling on indistinct forms of church steeples, buildings, sailboats and ocean waves. They suggest a kind of heavenly immanence. Inspired by the isolated, spiritualised landscapes of German Romantic painter Caspar Friedrich.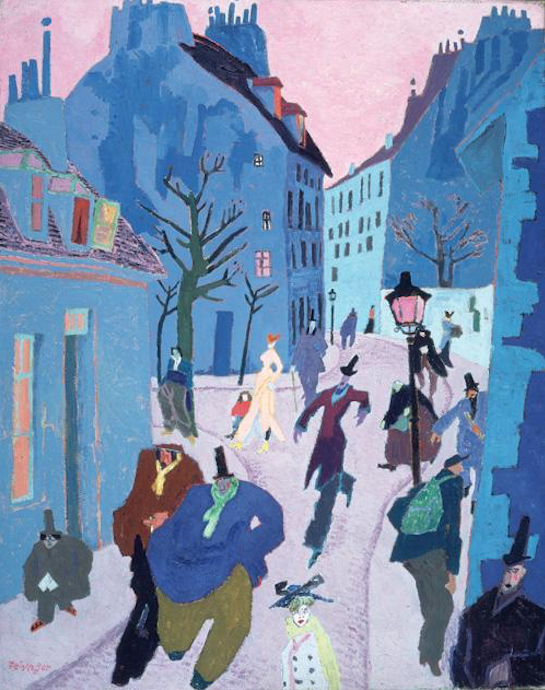 These works are consistent with Feininger's mystical convictions:
"Painting is a path to the intangibility of the divine."
Whether evoking his beloved Baltic Sea or Gothic cathedral spires, Feininger created a signature style consisting of faceted, crystalline surfaces of thin paint. As painter and musician, he is a master in harmonically interconnecting planes of diaphanous colours, as he is influenced by musical structures. His paintings show his reverence to Baroque music genius, Johan Sebastian Bach, in whose honor he composed several fugues in the early 1920s.
In his paintings, Feininger tried to achieve a concentrated monumentality equivalent to Bach's music compositions. Although I dare to say that he is closer in spirit to Mozart and Watteau than to Bach and Friedrich.
Watching his pictures, suggests two things. First, Feininger's sensibility tended naturally toward lightness, urban frivolity and an astute comedic sense. He communicated in elaborate yet fluid orchestrations of colour, form and narrative. Second, despite the amount of his canvases, painting itself may not have been Feininger's forte. As he aged, his approach to this medium became increasingly rote, brittle and portentous.
After his earliest eye-buzzing paintings, Feininger got his visual life and emotional force from works which tend to be more low than high, more worldly than mystical. These relatively under estimated works include comic strips, the culmination of his career as illustrator. Still living in Europe, he worked sending comic stripes to newspaper Chicago Tribune (1906). He created the classic characters "The Kin-der-Kids" and "Wee Willie Winkie's World" which cement his status as the founding father of Sunday funny papers.
Feininger's caricature style carried over to his early paintings. They show the colourful Van Gogh influenced scenes of town life, with distorted characters dressed in stovepipe hats rushing around chaotically urban spaces.
Equally impressive are his smattering woodcut prints and photographs. His most original and revealing pieces are breathtaking toylike hand- carved and painted figures: houses, storefronts, trees, churches, bridges and trains. Feininger made these carvings around 1913 as Christmas presents for his three sons: Andreas (photographer), Laurence (musicologist priest) and T.Lux (artist).
His art work seems to succumb to a slow death from Cubism, or "Prismism" as Feininger named his own style. He certainly was a passionate of edges and prism shapes.
Feininger converted the pastoral joys of Fauvism into hot urban fantasies laced with a wonderful storybook combination of sweetness and menace. These paintings inspire an understanding of early Modernism. They precede the Russian genius Marc Chagall.
They also parallel German Expressionism and are nearly in step with the earliest Abstract fantasies of knights and ladies in dappled landscapes that Kandinsky was painting in Munich. They are packed with charm and action, suggesting that you almost expect the figures to move, like dancing with the music, as protagonists in some form of Disney animation, even before his time.
Fusing aspects of Canaletto, the Italian in love with architecture and French Realist Honore Daumier, Feininger also learned from the stippled patterns and rich colours of the French Impressionists, such as Edouard Vuillard. Combining all these influences, Feininger's work offers a modern, yet timeless tribute to the collective excitement of urban city life.
His work is widely collected by museums worldwide. The Whitney Museum exhibition in New York (2011), "At the Edge of the World", was his best complete retrospective and the first to include the full breadth of his art. This show was followed by another at Montreal Museum of Fine Arts (2012).
Many critics have argued that the artist's work was at its most mature around 1910 when the power of Feininger as illustrator balanced his Abstract side. However, we have to consider the possibility that Feininger used Cubism as a more artistically succinct tool to establish his version of the concept known as the objective correlative.
Feininger seems to have been present at every landmark artistic moment, always perhaps a step or two behind but absorbing and synthesising creating something uniquely his.
He was influenced by Fauvism and German Expressionism though he never displayed the savageness of artists friends like Kirchner. He also searched the new forms of Cubism and especially, Futurism. But he finally ended up making his own sublime update of German Romanticism and American Transcendentalism. A long stint at the Bauhaus led to a purification of his style until he finally became the pioneer of early Modernism.