Mondrian, Abstraction and Neoplasticism
There are many art movements, but they are rarely created by a specific artist. Piet Mondrian is a Dutch painter who has gone down in history, known for his great contribution to the universe of art. He is one of the few artists who invented his own artistic movement: Neoplasticism.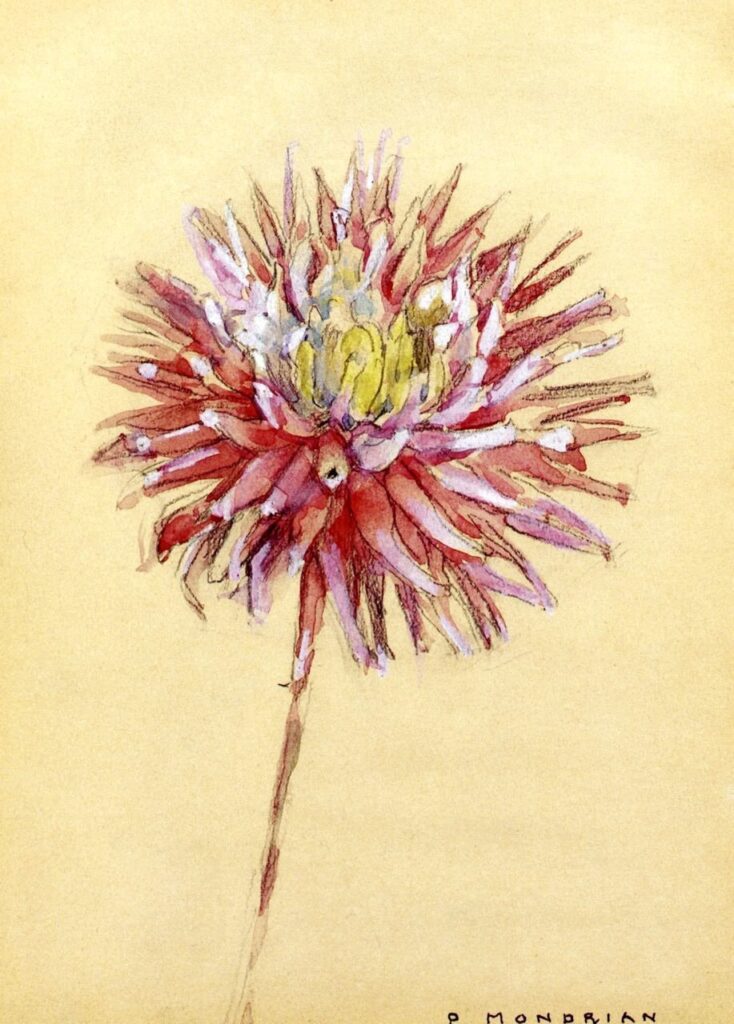 Mondrian nació en Amesfoort (Países Bajos) en 1872 y murió en Nueva York en 1944. Su vida transcurrió entre Holanda, Paris y América, como tantos artistas europeos que huyeron tras la Segunda Guerra mundial. Por educación y trayectoria vital, sus primeras obras se inspiraron en la tradición paisajista holandesa y su interés por los efectos lumínicos. En esto coincide con Van Gogh, su compatriota, cuyas obras de juventud son de temas holandeses y composición clásica.
Mondrian was born in Amesfoort (Netherlands) in 1872 and died in New York in 1944. His life passed between Holland, Paris and America, like so many European artists who fled after the Second World War. Due to education and life history, his early works were inspired by the Dutch landscape tradition and his interest in lighting effects. In this he agrees with Van Gogh, his compatriot, whose youthful works are on Dutch themes and classical composition.
In 1907, his trip to Paris allowed him to discover the work of impressionist and post-impressionist painters. This gave a radical turn to his career. He completely changed his old notions about color, the treatment of which he approached in a much more audacious way thereafter.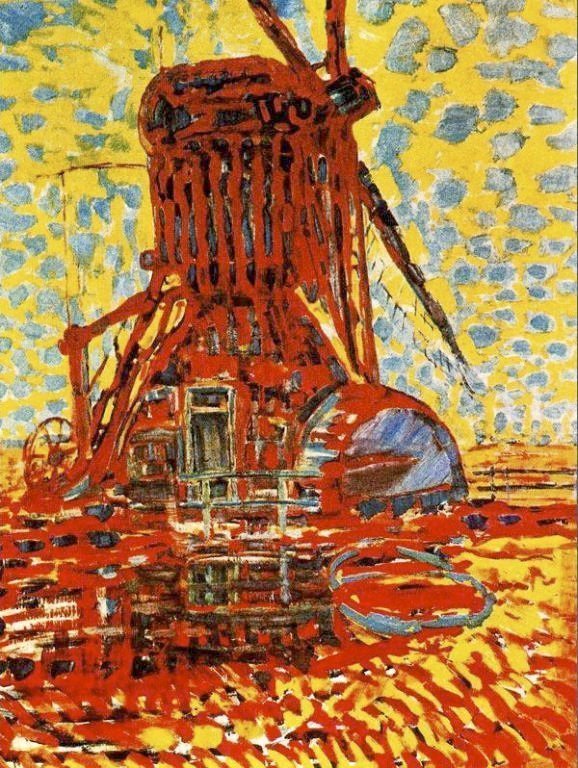 After contemplating the first cubist works by Braque and Picasso in 1912, he decided to move to Paris and adapt the precepts of Cubism, interested in reducing individual forms to a general formula. Although his work respectfully respected Cubist principles, from 1913 he underwent a clear advance towards abstraction that culminated in 1917 with the definitive abandonment of any external reference.
The Second World War forced him to return to the Netherlands, where he met his close friend and "artistic brother", Theo van Doesburg. Together with him and two other artists, Van der Leck and Huszar, Theo founded the magazine "De Stjil" (Style). Here they defended a complete rejection of the surrounding reality as a reference for art work. Instead, they proclaimed the reduction of pictorial language to its most basic elements. This style, baptised by Mondrian as Neoplasticism, sought to achieve real objectivity by freeing the work of art from its dependence on momentary individual perception and the artist's temperament.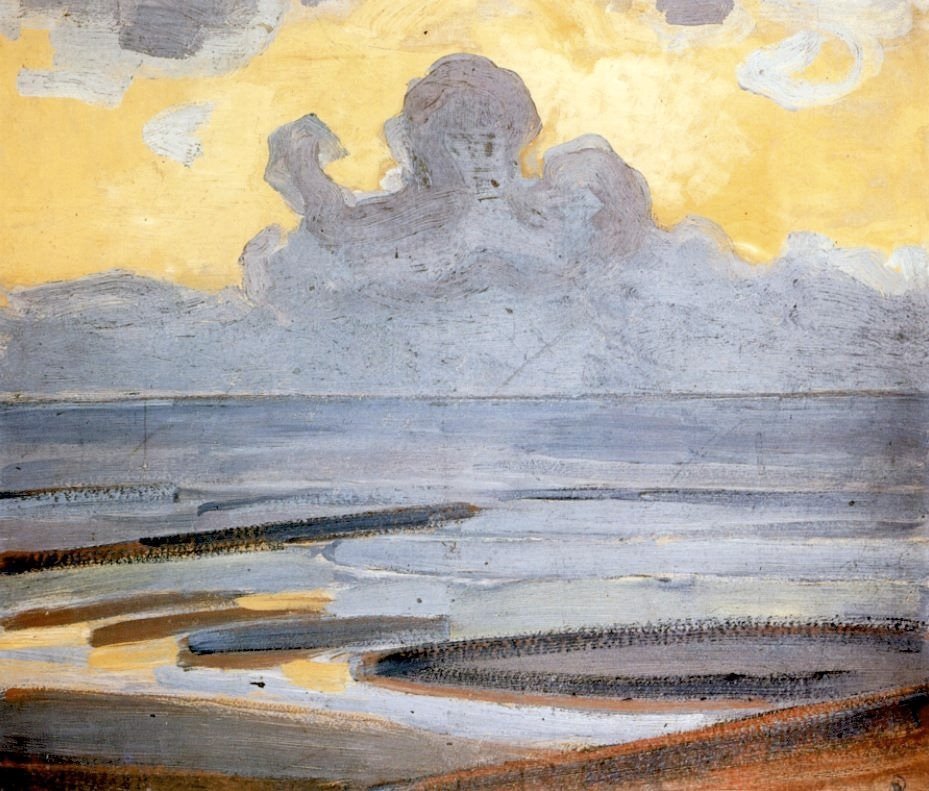 After living for several years in Paris and London, Mondrian moved to New York in 1940, where his work was influenced by the dynamism of urban life and the rhythms of American music, especially jazz. These factors inspired him to pay more attention to the constructive possibilities of colour.
Influenced by Dutch Puritan tradition and the Theosophical Society, with which he was in permanent contact throughout his life, Mondrian gave shape to a project that extended beyond the pictorial to eventually become an ethical enterprise: art as a guide for humanity through purity and clarity.
Piet Mondrian is, along with russian artists Wassily Kandinsky and Kazimir Malévich, one of the three fundamental artists of geometric abstraction. This artistic style is based on the use of simple geometric shapes, combined in subjective compositions on unreal spaces. It is a way of understanding the abstraction that, in Mondrian's case, we know as Neoplasticism.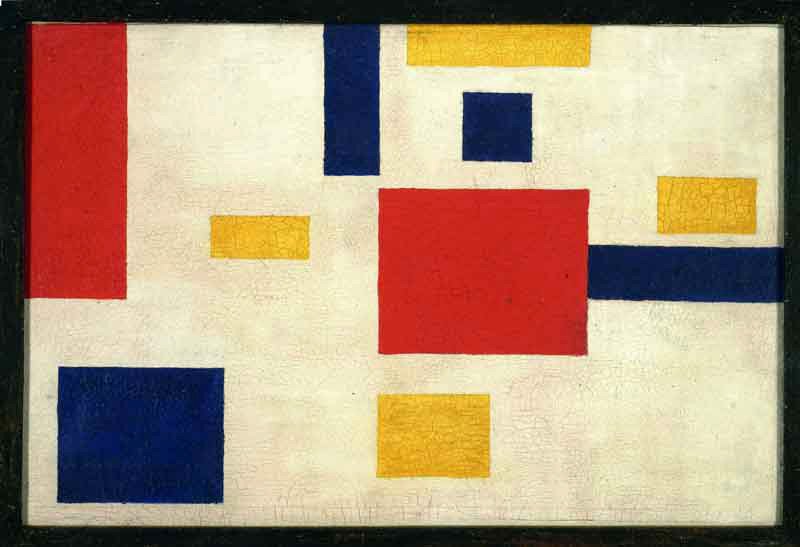 His contemporary Kandinsky spent his entire life searching, in his own words, for the abstract inner sound of the forms and elements of the image. This is also the leiv motif of Mondrian's first abstract paintings.
His best known works are compositions made from vertical and horizontal black lines that enclose rectangles or squares of primary colours. They are the culmination of his artistic career, his latest project, his personal reflection, achieved after a lifetime of research dedicated to art.
But Mondrian's pictorial career does not begin this way. In his first paintings, the mixture of styles and techniques with which he painted, tells us about the intense search to create a personal style. His numerous works are influenced by the main Isms of the avant-garde of the early twentieth century. He spent years and decades of research where we see him influenced by Impressionism, Pointillism, Fauvist coulors and even Cubism.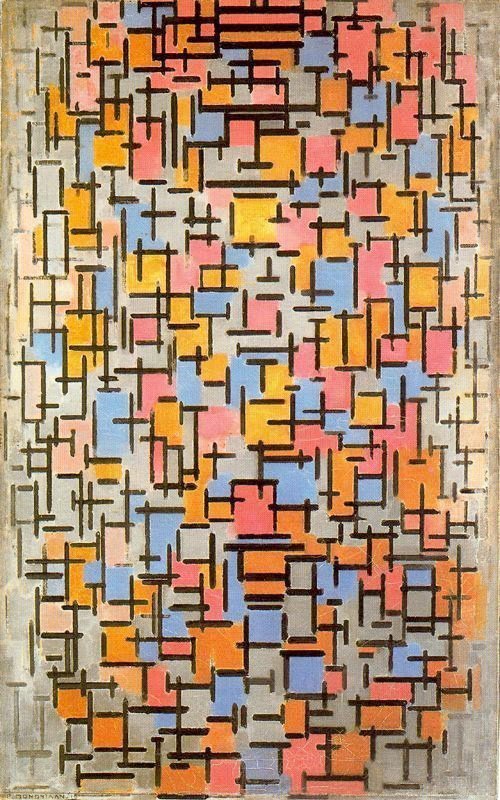 Transition to Neoplasticism
Reality is covered with a veil of appearance. The true artist is capable of going beyond and crossing that veil of appearance to discover the real. All great art geniuses have been fascinated with nature, from the Egyptians to Leonardo Da Vinci.
Long before reaching abstraction, Mondrian observed the world with his artist's eyes, concentrating on painting landscapes. It was a slow and painstaking process. Little or nothing interested him the human figure and even less, the city. He drew and painted flowers with a poetic vision, something that years later the great American floral painter, Georgia O'Keefe, would repeat on a large scale.
But it was not with the flowers that Mondrián made his great "discovery". What really led him to decompose the forms was to observe and represent trees. These three of his works, painted four years apart, show the transformation experienced in his mind. His inspiration, once again, comes from nature: an apple tree. But the organic forms are transformed, passing through a semi abstract creation, until they reach a total abstraction.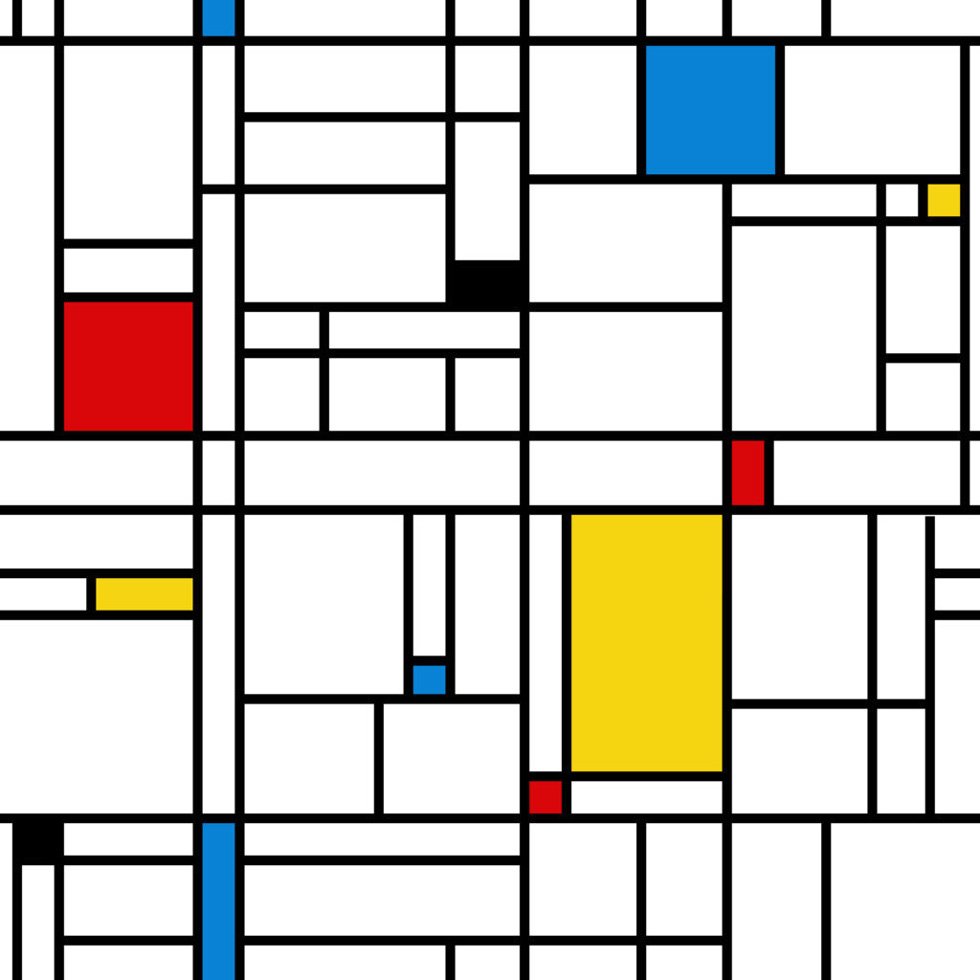 Neoplasticism
MONDRIAN english text
What we see in these works by Mondrian, painted around 1911-12, is a process of simplification, a search for the essence, a reduction of forms. This process ends up culminating, starting in 1917 in Neoplasticism. It is a movement started in Holland by Mondrian himself. He proposes to strip art of all accessory elements. It is an attempt to reach the essence through an objective plastic language and, as a consequence, universal.
Let's do a bit of history and see how this movement is formed. In October 1915 Theo van Doesburg published the first edition of the magazine called De Stijl (Style). In this publication, specialised in art, he included the works of Mondrian and many more artists. Not only painters, but also sculptors like Vantongerloo and Gerrit Rietveld.
Around the magazine, published between 1917 and 1926, a group of artists, architects and designers were linked with a common abstract aesthetic, which defended a clear and geometric order. Everyone created by applying his principles from painting and design to building construction. For example, we can admire it in the modernist architecture of Frank Lloyd Wright.
Painters, sculptors and architects incorporated socialist, philosophical and utopian theories and applied them to the orbit of art. Their aim was to innovate with contemporary trends in the direction of non-figurative art.
The term Neoplasticism is inseparable from the De Stijl movement that was born around the magazine. Its main characteristics are:
A palette of primary colours: those established by the philosopher Goethe in his theory of color: yellow, blue and red, along with the "non-colours" black and white and the entire range of greys.
The compositions had to be static (without diagonals), limiting themselves to verticality and horizontality.
Symmetry is avoided.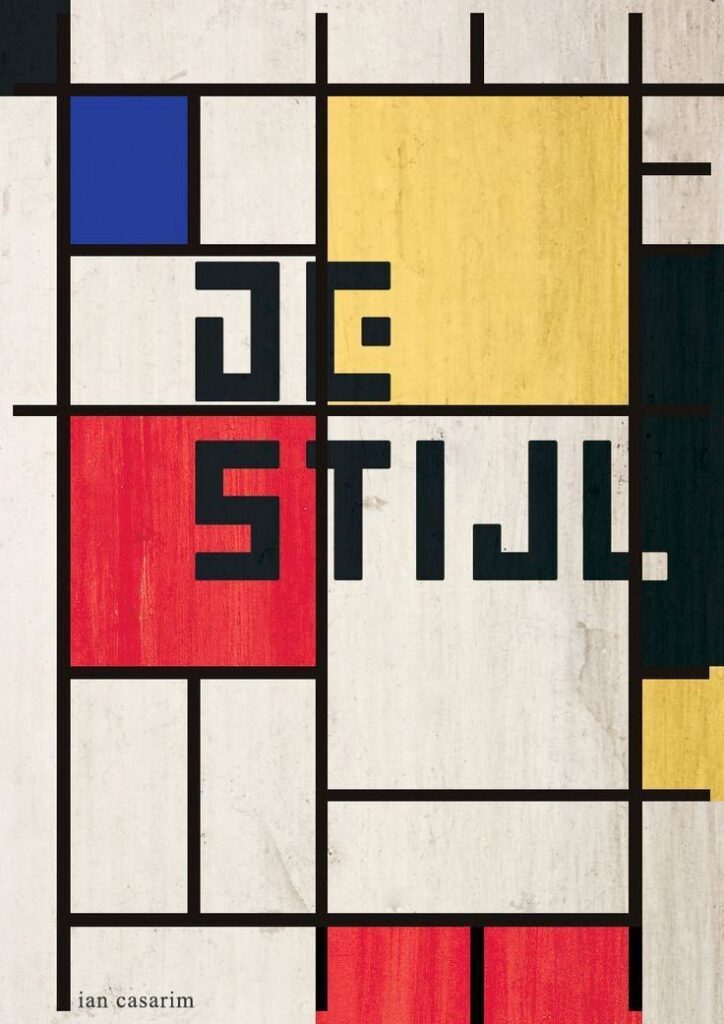 Mondrian's work shows the ideological journey up to this Neoplasticism. In short, it is a way of building by eliminating. It could be said that his motto could be, the famous phrase:
Less is more
In his early works we see how Mondrian searches, investigates, and analyses himself, without losing sight of the image and its representation. Later we observe how the object is losing, to finally declare it unnecessary.
Mondrian tried to eliminate noise from the painting by showing only the lines and flat colours, to express that idea of an absolute universe, coming from Theosopy theories, of which he had become adept.
Mondrian in his paintings proposes to control erroneous nature, to rescue harmony from apparent chaos. It achieves this by evolving from reality towards absolute simplicity. This apparent chaos of Mondrian shows us new landscapes of pure light, dispensing with symmetry and with great chromatic and stylistic force. His instinct leads him to seek beauty without purpose.
You want a new order that our mind establishes so as not to get lost in chaos despite the wavelength maxima of the cones of our eyes, despite science.
The great achievement of Mondrian and his Neoplasticism is that beauty succumbs to the lyrical instinct.
I have recently seen the very interesting exhibition Genealogies of art or the history of art as visual art, at the Picasso Museum in Malaga. The exhibition, organized by the March Foundation in Madrid, analyzes the visual representations of art history carried out by artists, critics, designers, theorists and poets from the first genealogical trees of Middle Ages art to virtual representations in the net.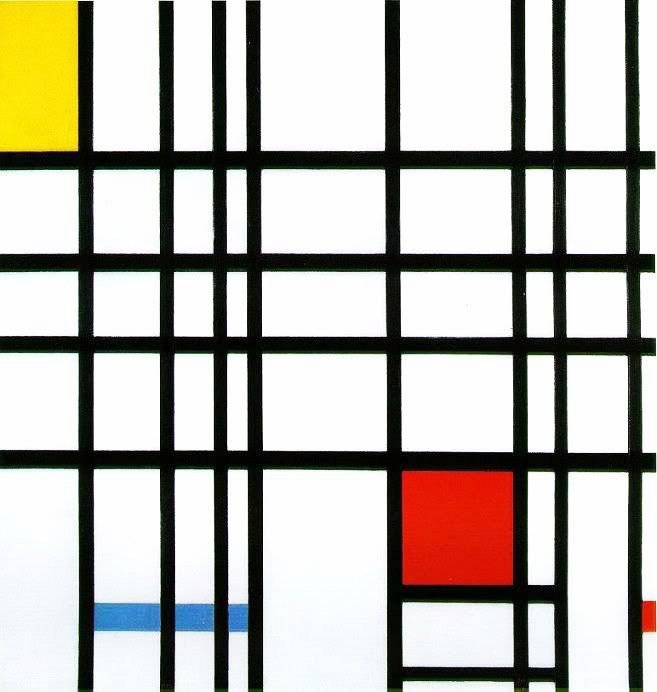 Mondrian, creator of his own ism
This new style totally revolutionized then and until today the directions of the art world.
Mondrian was together with Kandinsky, Klee and Kupka, one of the pioneers of Abstraction at the beginning of the 20th century. But, unlike other artists, Mondrian did more than just innovate with his art. He went further, since he invented his own artistic movement.
I've been writing about isms all my life, which is one of my favorite subjects, second only to my passion for inventing museums. I can confirm that most of these styles or groups of artists are "baptized" years later by art critics.
One of them, the Frenchman Louis Vauxcelles, was the one who coined the names of two key avant-garde movements in the avant-garde Paris at the beginning of the 20th century: Cubism and Fovism. Other names are created by poets like Guillaume Apollinaire who named Orphism and the Dada movement named after Tristan Tzara. Others are even named after journalists who, in a derogatory plan, describe what they consider an artistic fraud, such as Louis Leroy with Impressionism.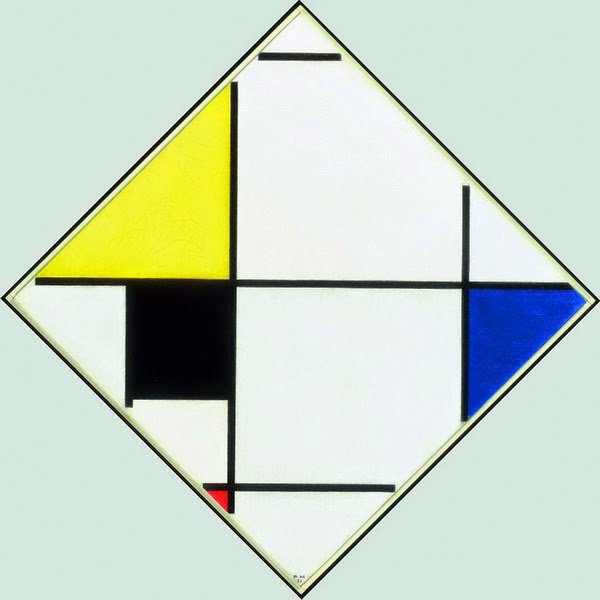 Dutch Neoplasticism or Constructivism
Of the major isms that inhabit the wonderful universe of the art world, they very rarely receive their name from an artist. Mondrian, in addition to being a pioneer painter of Abstraction, called his own style Neoplasticism although critics also called him Dutch Constructivism because of its parallelism with Russian Constructivism.
His theory has its origin in the cubist works of Georges Braque and Picasso and in the philosophy called Theosophy. They claim a process of progressive abstraction by virtue of which the forms are reduced to straight horizontal and vertical lines, using exclusively black, white, grey and the three primary colours: red, yellow and green.
This current is also considered within abstract art, as it offers a much more analytical conception of the works and tries not to imitate elements of real life (such as realism), but to represent the shapes and colours of reality. The movement is closely related to cubism due to the representation of geometric figures.
Although Neoplasticism is widely known for its paintings, it was also developed in other relevant areas of the plastic arts, such as sculpture, architecture and design. Mondrian even created stained glass windows.
Mondrian, along with other artists who joined this trend, was not satisfied with what was represented in realism, symbolism or even cubism, although it is clear that they served as inspiration.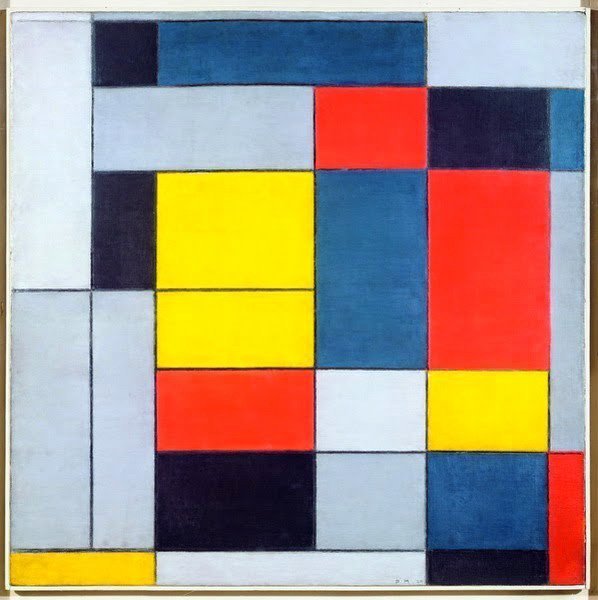 At the time of the birth of this artistic trend, Europe was going through the First World War. Piet Mondrian was visiting his father in Holland, but was forced to stay in his country because of the war. This is where he finished developing the bases of his artistic theories. Mondrian had been working on Neoplasticism since 1913, and it was in 1917 that he finished shaping the project.
This artistic trend was very well received around the artistic world and was filled with praise and congratulations. Mondrian conceived his style in a very intimate and personal way, after a thoughtful evolution over several decades. However, he always insisted on a point that was crucial for him: that Neoplasticism be universal.
Every true artist has always been moved by the beauty of the line, of the color and by their intrinsic relationships, and not by what they can represent.
Neoplasticism represents the liberation of the mental and artistic oppression that had been established in art, offering each creator the option to divest himself of all his knowledge to use expressive means in the purest state: volumes, planes, lines and colours. This style of art represented with simple forms, shows a clean, clear and free reality.