Peter Li, spiritual photography
If praying can elevate our souls closer to heaven, so does certain type of art. We just discover an interesting photographer who shoots what we could call some kind of "Spiritual Photography".
Take a look at the phantastyc architectural shots by Peter Li, an award-winning photographer and artist currently based in London.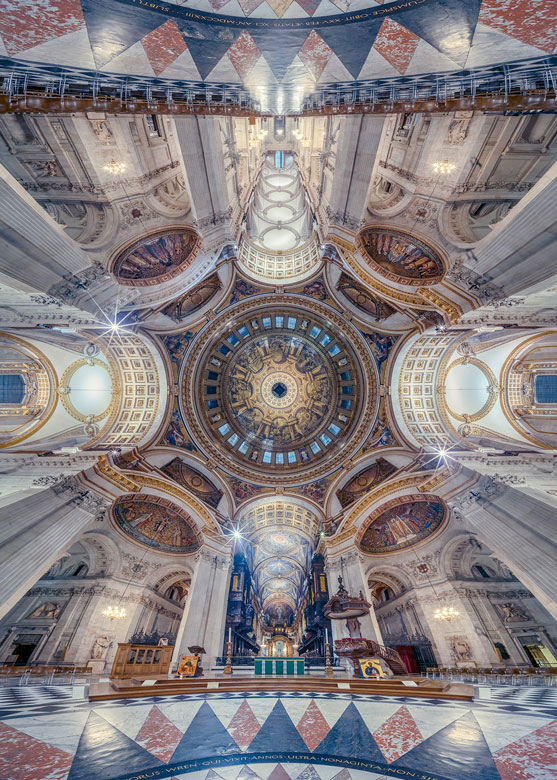 Peter Li loves to capture the stunning symmetry of cathedrals, each with its own details and colours. He has over 21,600 followers on Instagram and counting.
Peter focuses mainly on architecture photography. His architectural artwork received first place in the Architecture category at the Epson International Pano Awards 2018. He was also winer at the Sony World Photography Awards 2018.
Photographer Peter Li uses panoramic photography to introduce a new perspective to the already breathtaking architecture of churches from around the world. He uses a panoramic Sony Alpha a7 III camera.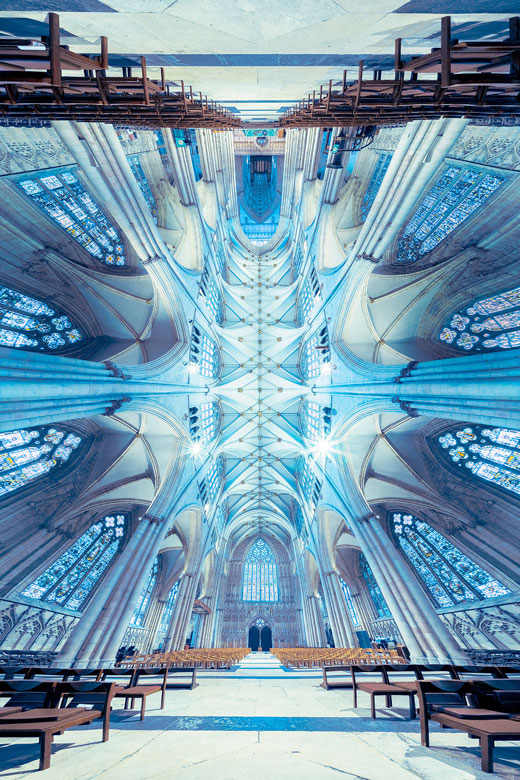 By capturing the entirety of the ceiling and supporting columns, Li allows the viewer to get the chance to feel what it is like to stand at the center of these grand buildings. He also achieves a viewpoint that is impossible to get without digital intervention.
Peter Li is in the process of making his high resolution panoramas available to the public in the form of large, wall-sized prints. Keep up-to-date with these prints, and new images from the photographer, on his website and instagram.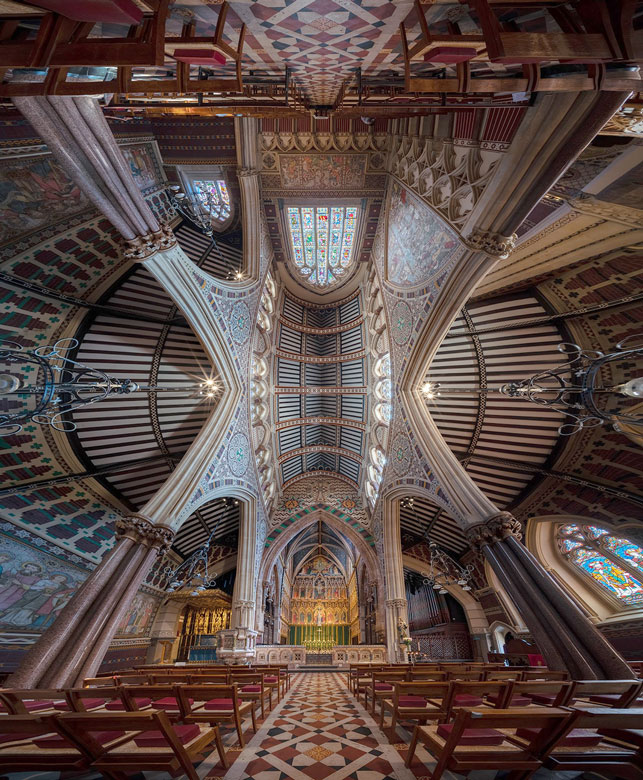 One of the many stand-out aspects of the photographs is the symmetry that is highlighted when a chapel's interior is stretched. This element, Li tells Colossal, is what gives the composition its overall balance.
Lighting factors and the season are also a key parts that make a panorama more compelling to shoot.
Shapes and shadows appear differently in each space depending on where the sun might be overhead, and when in a certain position, this can be quite disruptive to the photograph.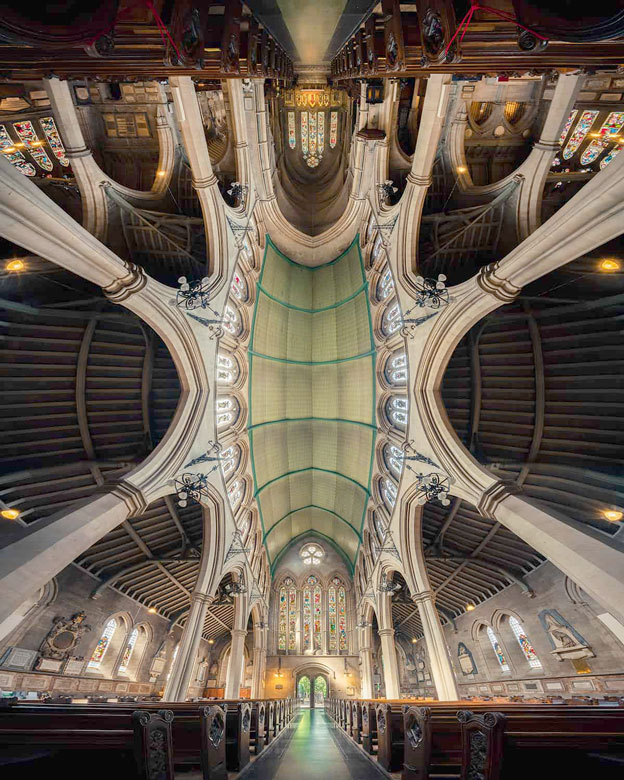 When all elements fall into place however, Lee achieves photographs that are truly transportive. His images not only take us to a different place in the world, but also allow us to be slightly removed from our known reality. "Observing a three-dimensional space in its entirety gives us a view/perspective beyond what the eye can see," he explains.
It breaks us from reality, plays with our perception of shape and form and creates a sense of another world. Through my photography, I hope to impart the otherworldly nature to the viewer, encouraging them to take a momentary step out of their reality.
We see the old and familiar anew in Peter Li's panoramic photographs of church interiors. "I think symmetry is a major factor for these images to work," Peter tells us, "also the high ceilings and repeating arches further emphasise the scale of these interior spaces."
That creeping religiosity you experience whenever you sit in a church is there. Temples give form and access to God, and here in Peter Li's digital world we see a fuller picture. No looking down, of course, that for an other time, and most likely in a post marked 'NSFW'. This is about going up and out into the rib-like struts, seduced by light in the flashes of high, illuminated windows.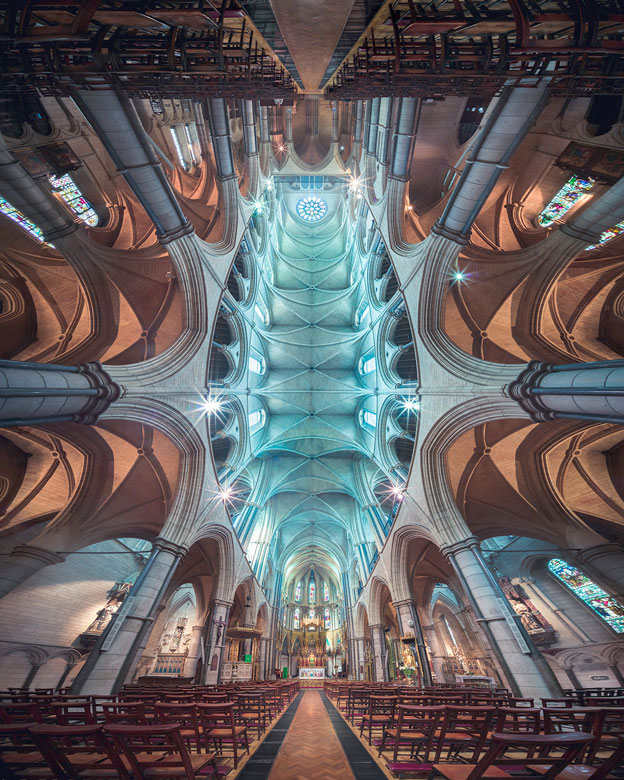 No longer merely old and curative, those giant churches in our towns and cities are not just hangovers from a bygone age when people coerced by guilt, shame, the milieu and showy expiation, for whom God literally was stone- written, went inside to give thanks and pray.
In Li's images the church lives. It might even be said to breathe, but that could be going too far. You can get carried away in a big church. Those architects knew how to put you in your place.
I have always had a soft spot for classic architecture. The craftsmanship and décor are rarely found in modern architecture. 'Omniscience' is a project to explore interior spaces of extraordinary beauty. Historical buildings are reminiscent of our history – they are intrinsically timeless and, in many ways, otherworldly. People often visit these places to clear their mind.