This pictorial movement was an artistic revolution in Victorian England.
Their very young members, all around the age of 20, innovated by painting pictures of great sensuality with themes based on the Middle Ages and romantic literature.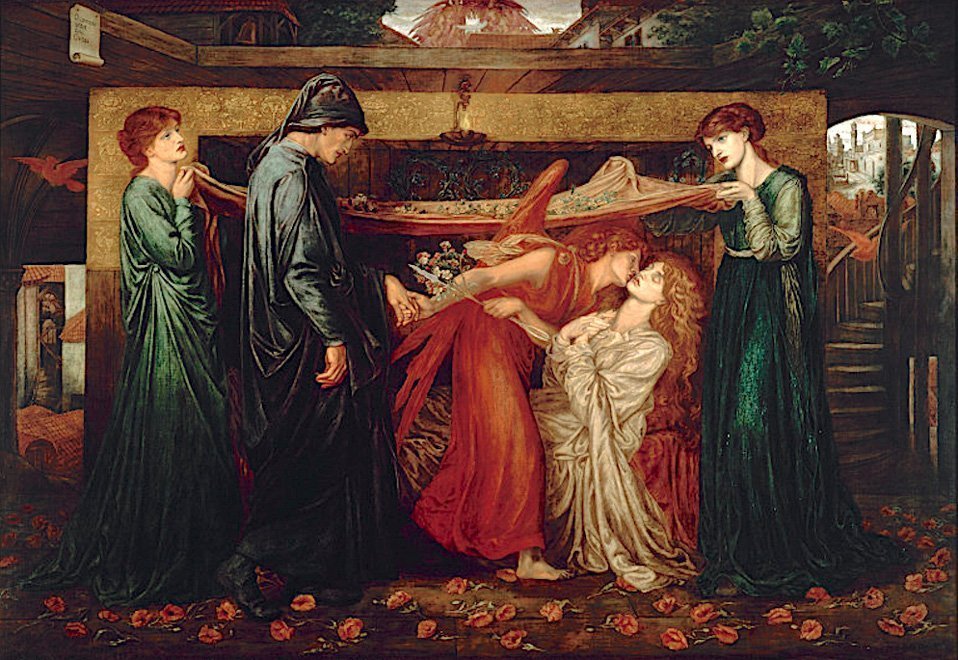 The main pre Raphaelites were Dante Gabriel Rossetti, William Holman Hunt and Everett Millais.
Against the academic affectation, they were attracted by Medieval Art and especially by Renaissance Italian primitives, whom they considered model of artistic purity.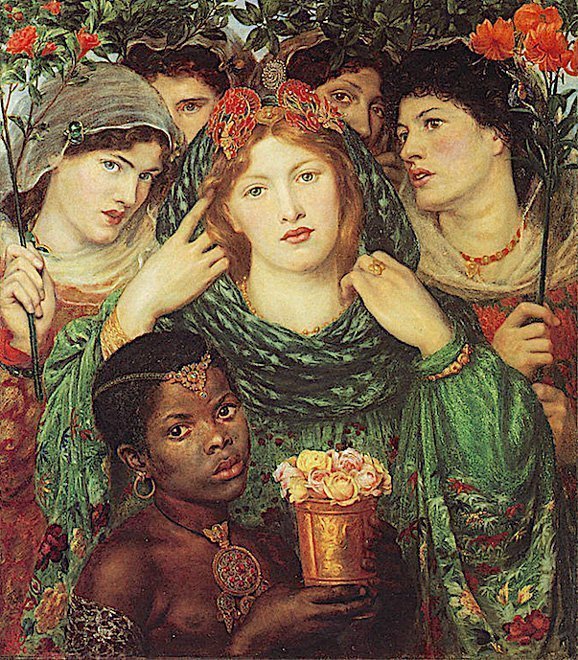 Endowed with great naturalism and meticulous technical perfection, their paintings are inhabited by delicate maidens, knights in armour and erotic mermaids.
Their allegorical topics, based on history and literature, broke with the prevailing realism.
They were characterised by a pictorial language of extraordinary ornamental and chromatic richness.
They introduced costumes and rather theatrical sets to narrate epic scenes set in environments full of mystery.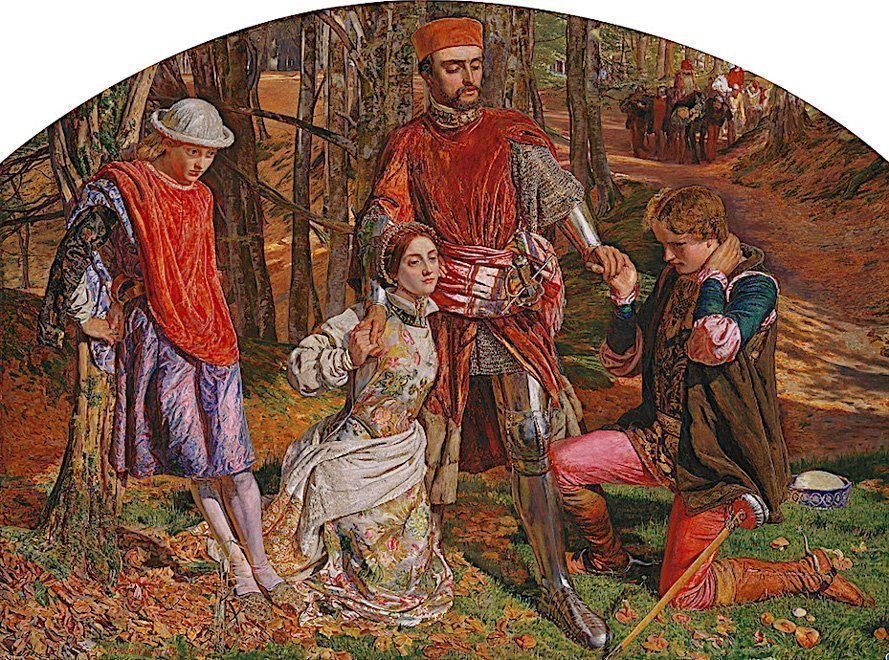 Years later, the essence of their artistic legacy would be an enormous influence for another movement of enigmatic spirituality: the French Symbolism with artists such asOdilon Redon, Gustave Moreau and Puvis de Chavannes.
Their influence also reached the Swiss, Arnold Bocklim, the great painter of sirens, who probably knew the enigmatic "Mermaid" by John William Waterhouse.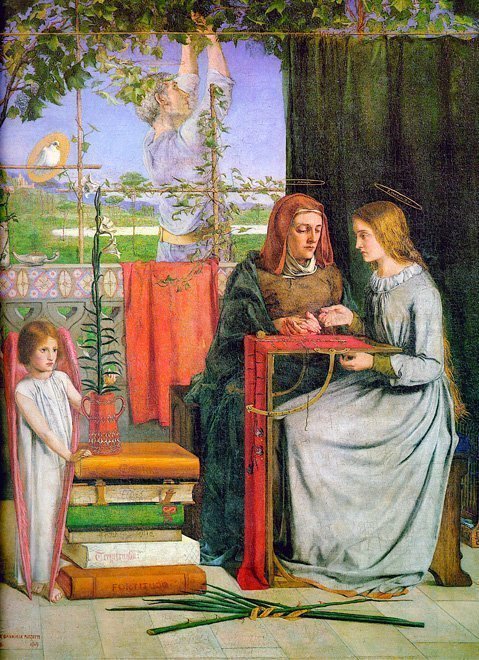 Both movements introduced mythological and literary themes, depicting imaginary characters, as if inspired from dreams.
These creations of strange fantasy worlds will be reinvented by twentieth century Surrealists, who will deeply delve into an immersion in dream worlds.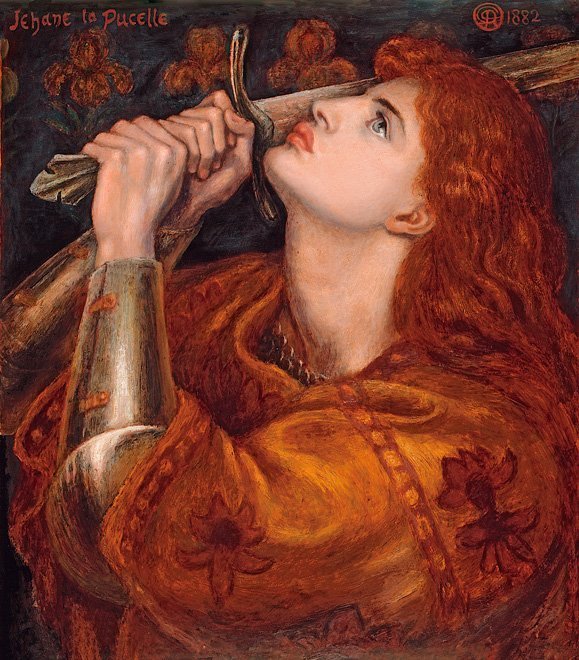 They were against industrialisation, believed in challenging Victorian moralism and that modern life could be renewed by artistic freedom, poetry and spiritualism. The preraphaelits established their principles:
To express their own genuine ideas with new topics.
To study nature carefully, painting outdoors with meticulous details.
To reject traditional academic art, going back to the luminous colours before Rafael.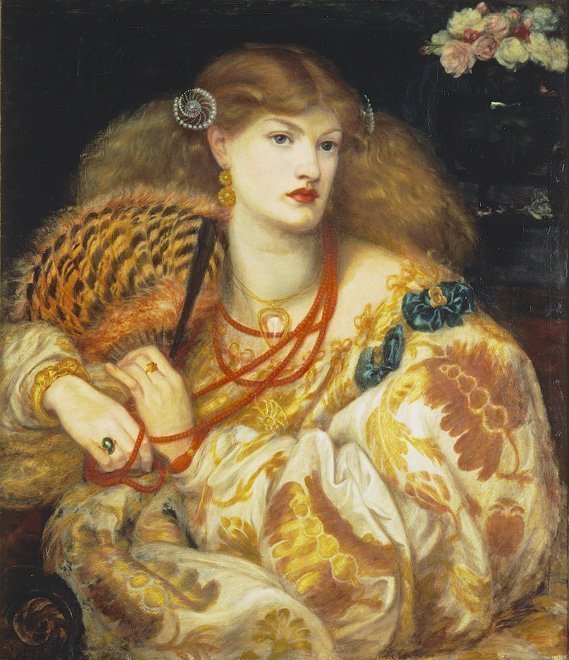 During a visit to London Royal Academy exhibition of 1848, the very young artist and poet Dante Gabriel Rossetti was deeply impressed by a painting by William Holman Hunt.
Its medieval subject, from the poetry of John Keats, was a rarity at the time.
Rossetti searched for Hunt and they immediately became friends with John Everett Millais. The trio formed a group determined to reform the artistic establishment of Victorian England. The name "Pre Raphaelite Brotherhood" (PRB) hints at Middle Ages arts & craft guilds.
The young artists appreciated the simplicity of line and brilliant colours found in the early Italian painters before Raphael, as well as in XV century Flemish Art.
These were not qualities favoured at the Royal Academy, which stressed strong light and dark shading of the Old Masters.
The PRB painters went out to nature, paying extreme attention to detail and the development of wet white ground technique that produced the most brilliant colours.
The artists became the first to complete their canvases outdoors in an effort to capture the minute detail of every leaf and blade of grass as the French Impressionists will do years later.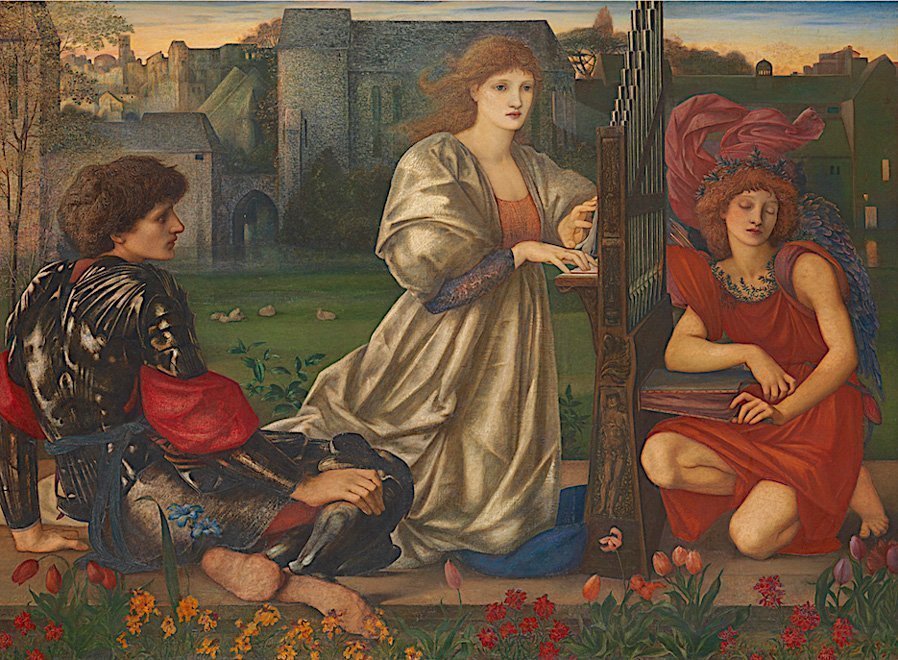 In numerology, seven is the number of God, mysticism and wisdom. So they decided that this was the appropriate number for a rebellious group.
The leader was Dante Gabriel Rossetti, British of Italian origin. He had charisma, abundance of pictorial and literary ideas and was full of artistic notions.
The selection of additional members has long mystified art historians. James Collinson, a painter, was engaged with Rossetti's sister. Thomas Woolner, was a sculptor rather than a painter. William Michael Rossetti and Frederic George Stephens, became art critics, but were not real artists. However, Walter Howell Deverell and Charles Collins embraced their ideals although they were never members.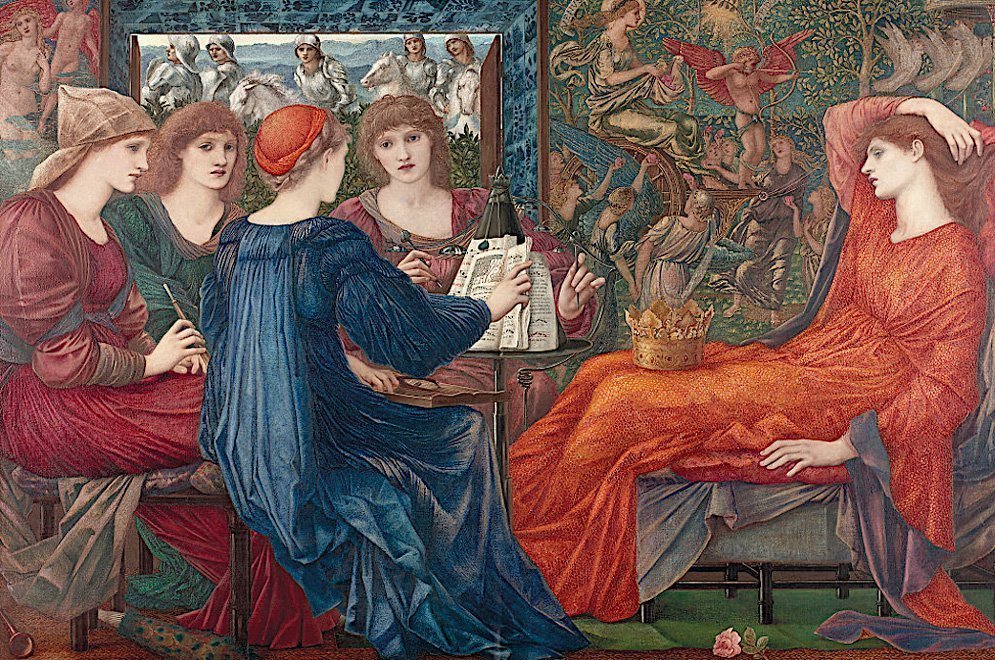 The Pre Raphaelites decided to make their public debut by sending a group of anonimous paintings, all bearing the initials "PRB", to the Royal Academy exhibition in 1849. They immediately made an artistic scandal.
The accurately designed medieval costumes and bright colours produced criticism. Critics wrote
"Pictures mimicked mediaeval illuminations of a chronicle or a romance".
No mention was made of the mysterious "PRB" inscription but many people knew about the supposedly secret society.
The group had published their ideas in a literary magazine, "The Germ".
After their humiliating reception at the Royal Academy, Collinson resigned and Rossetti decided never again to exhibit in public.
Fortunately, the critic John Ruskin came to their rescue, admiring their technique and original relationship to early Italian art. Ruskin's praise articles helped catapult the young artists to a new level.
The Brotherhood, however, dissolved slowly. Hunt decided to visit the Holy Land to paint religious pictures. Woolner emigrated to Australia. Millais was elected President of the Royal Academy, joining the art establishment they had fought hard to change. Rossetti became a mentor to a group of younger artists like Edward Burne-Jones and William Morris, founder of the Arts & Crafts movement.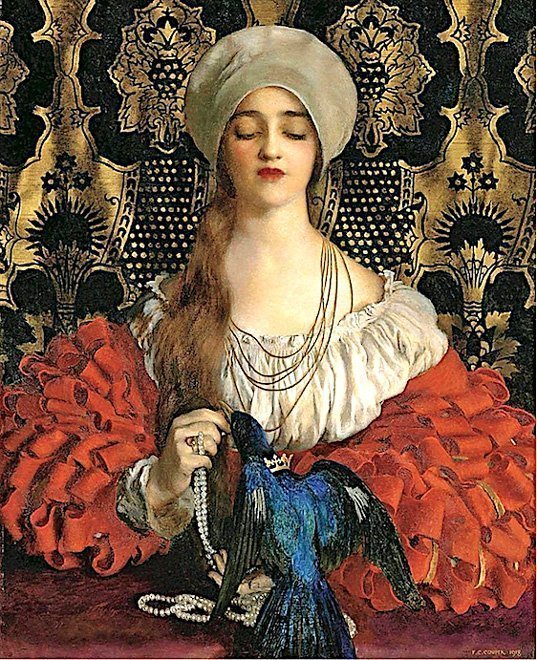 Despite the fact that the Brotherhood lasted only a few short years (1848-1890), its lasting impact was immense.
Two later art movements which are clearly influenced by their aesthetics, are Symbolism and Surrealism.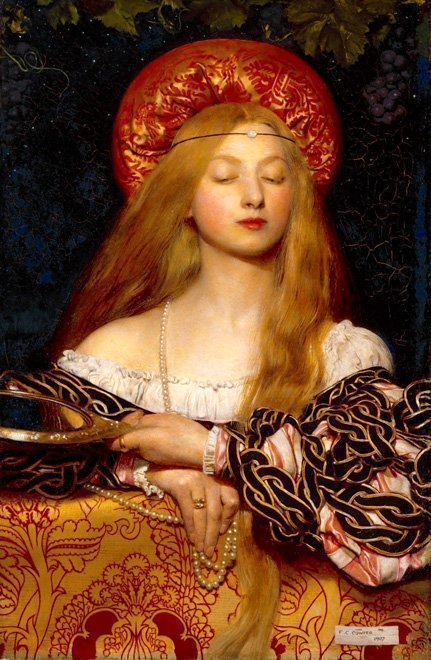 Rossetti's paintings of lustful beautiful women also helped inaugurate modern aesthetics with a new taste for "art for art's sake".
The extreme attention to detail, the brilliant colours and the literary subjects sets their works totally apart.
Although it began with painting, this movement had a significant impact on modern arts, influencing literature, design and illustration.
Some artists directly connected to the group were major figures in Symbolism, the Arts & Crafts movement, early fine art Photography and Surrealism.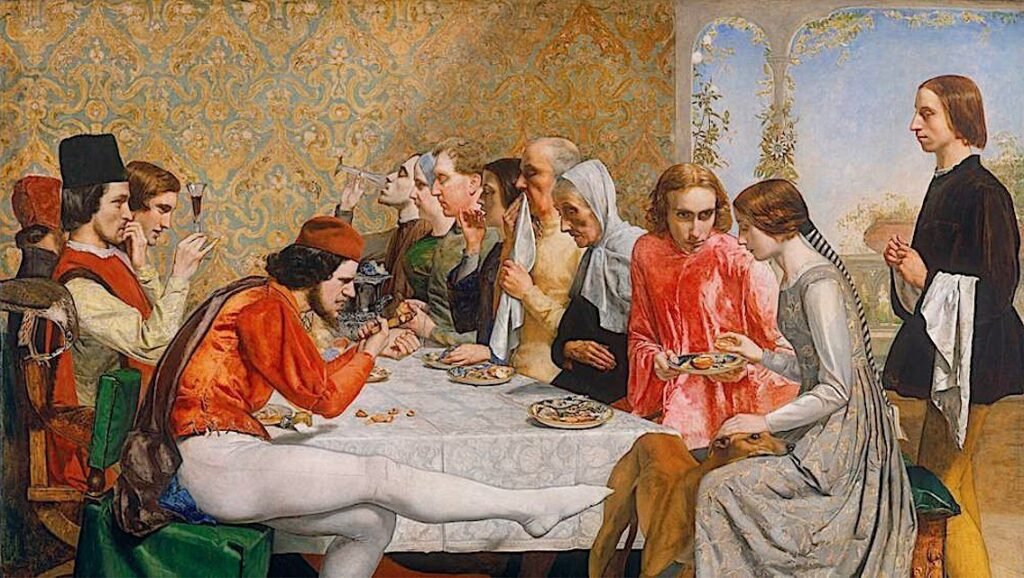 In their own time, the Pre Raphaelite Brotherhood accomplished something revolutionary.
They were one of the first groups to paint outdoors, valuing their truth to nature.
Their concept of banding together as a rebellion against the art establishment helped to pave the way for later groups such as French Impressionism.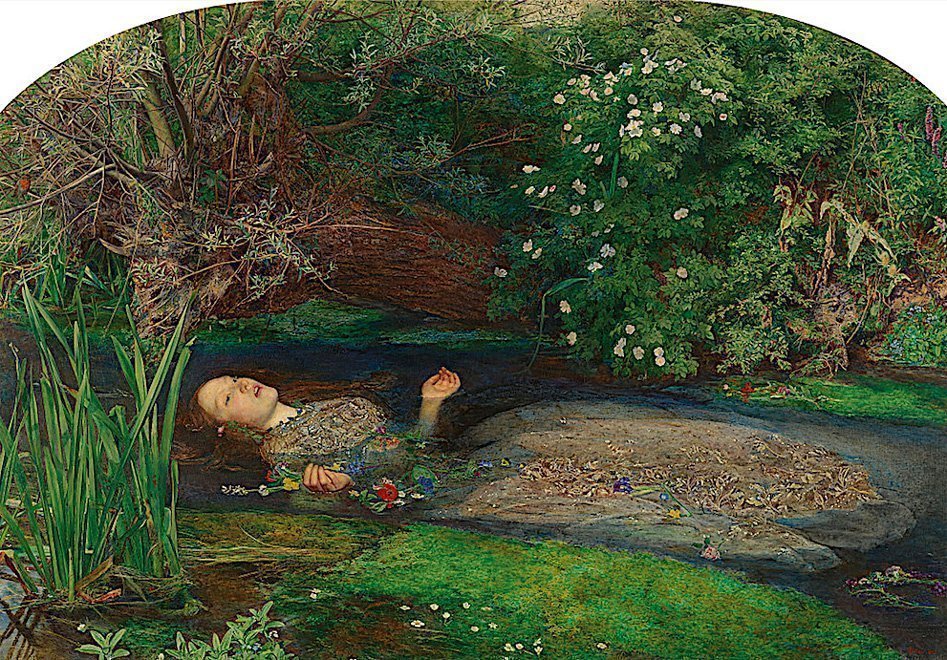 Main museums with Pre Raphaelite art: