Hella Jongerius, exhibition at the Gropius Bau in Berlin
Industrial designer and artist, Hella Jongerius has showed her new work in the Woven Exhibition which is a user activated installation that unravels as the show goes on.
The show is taking place at the Gropius Bau exhibition hall, and is inspired by Jongerius's philosophy that includes design, sustainability and spiritualism.
Once a school and museum of decorative arts, Jongerius worked with her Jongeriuslab design studio to help produce the on-site work in the days and months leading up to the exhibition in the Gropius Bau.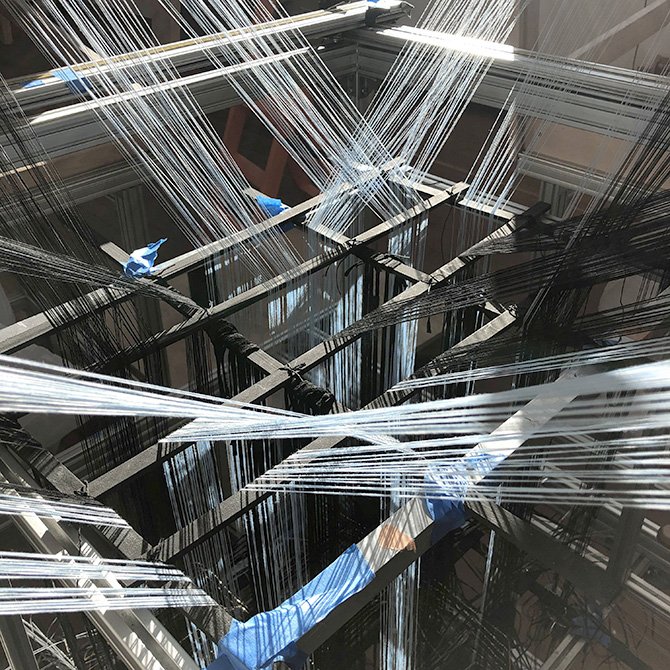 She weaves the connection between industry and craft as well as traditional knowledge and technology. The show will start in April and end in September.
In this particular exhibition, the technique of weaving is playing a starring role as it is considered one of the oldest cultural technologies of humankind, as well as a metaphor for the root of any digital code.
The exhibitions hopes to use interactive elements to help the audience navigate through the process oriented techniques, which will help cast a critical eye of examination on issues that surround sustainability and production from the past, present and future as well as see how we relate to objects and how these can heal us.
As aforementioned, the show is intertwined with the history of what the Gropios Bau as a museum before it became an art space.
Hella Jongerius: Woven Cosmos at the Gropius Bau takes place from 29 April to 5 September 2021 at Martin-Gropius-Bau, Niederkirchnerstraße 7, 10963 Berlin, Germany. Curated by Stephanie Rosenthal with Clara Meister in cooperation with Studio Hella Jongerius.