Azzaro and his evocation of the pure sixties glam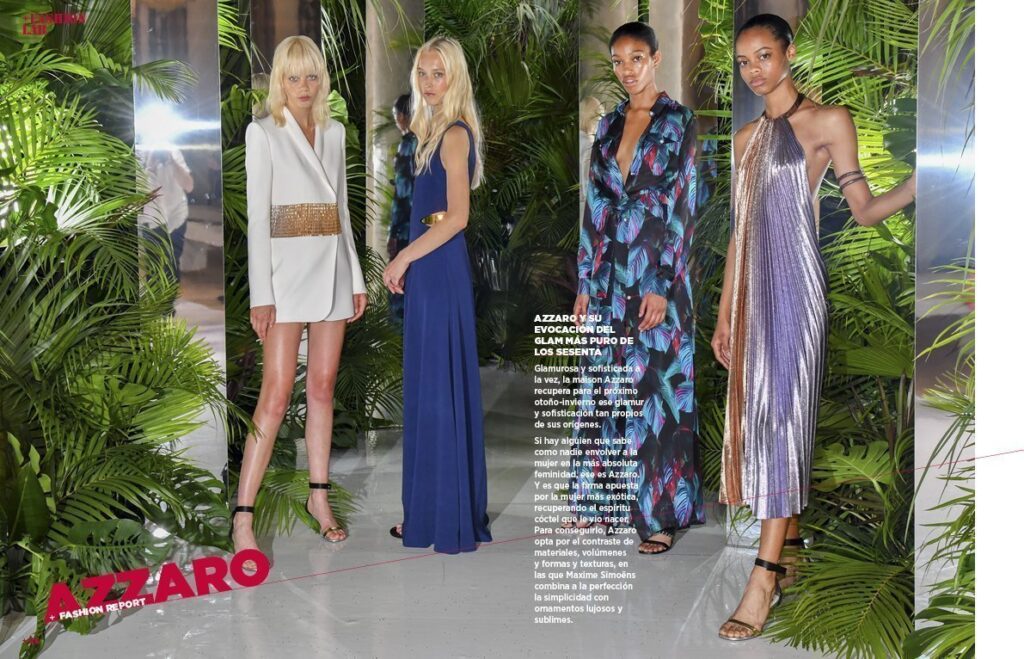 Glamorous and sophisticated at the same time, the Azzaro maison revives for next autumn-winter that glamour and sophistication so characteristic of its origins.
If there is anyone who knows how to wrap women in extreme femininity, it's Azzaro. This firm opts for the most exotic women, reviving the cocktail spirit that helped them take his first steps. To meet this goal, Azzaro prefers the contrast of materials, volumes, shapes, and textures, in which Maxime Simoëns perfectly combines simplicity with luxurious and sublime ornaments.
For next season, Azzaro paints women who fall for sensual, chic embroideries, glam pleats, sensual transparencies and lurex without forgetting his more cosmopolitan and urban side thanks to transparent chiffon evening dresses, suits in silk satin and daring prints made out of embroidered fringes and strategically-placed sequins, ready to dazzle. Multicoloured tropical creations that shape the most chic silhouettes through rhinestones and glitter, making these outfits a must for day-to-day scenarios.
Azzaro thus opts for a woman's body wrapped in sixties touches thanks to dresses with a suggestive hang, mini blazers and wide belts that sculpt feminine curves with V-necklines as the most sensual note.
Combinations with certain echoes of the sixties made up by maxi jackets and baggy trousers, alternating in the wardrobe with more casual looks in which bomber jackets become unarguable protagonists of the most natural and glamorous soirees.