Lanzarote and its endless soirees become the perfect inspiration for women who search to breathe and find their inner selves.
Find inner harmony, breathe freely and find new reasons for inspiration. These are the powerful reasons that led Julien Fournié to enjoy idyllic vacations on the island of Lanzarote. Are they the same that push women to choose the elegant designs imagined by the French creator?
Little did the island of Lanzarote imagine that one of its most distinguished guests during the last summer holidays would choose it as his perfect muse. Julien Fournié thus gives shape to a collection full of exclusive creations in which every single design is called on to wrap female curves with an overflowing and excessive sensuality.
For next spring-summer, Julien Fournié sculpts elegant women who find in the tonalities characteristic of the warm Canary Islands the most sensual palette to become the centre of attention.
The haute couture designer does not hesitate to choose the colour of lava, the toasted sand and the green of the indigenous vegetation to turn each combination into an exclusive piece full of distinction.
And in the midst of this palette full of excessive sobriety, blues, greens, purples, and greys stand as perfect alternatives called on to dazzle on every trendy terrace during the coming months.
In addition, Fournié risks opting for a clear aesthetic of 50's glam through garments fitting to the woman's bust, making it a longed-for object of desire.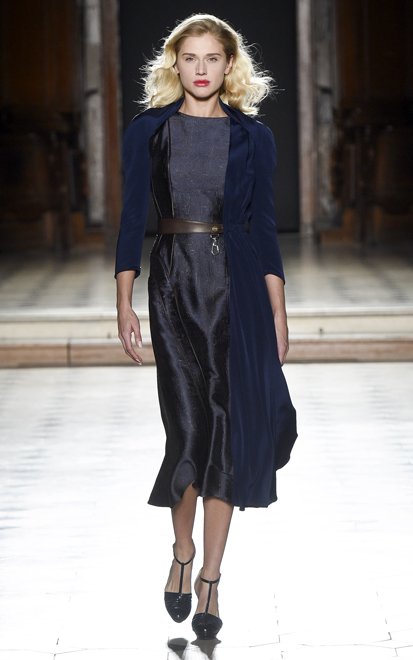 Accompanied by this stirring exuberance, elegant and classic calf-length skirts can become the true protagonists of the warm summery soirees.
Next to them, dresses carve perfect figures through elegant asymmetric cuts; sleeves hint at the beauty of smooth arms and shoulders that are barely visible; belts affect the movement of sensual hips that evoke summer dreams; draped garments, gauze, and tulle — a myriad of elements loaded with sophistication on which Julien Fournié relies without hesitation to turn women into undisputed goddesses of their day to day.
Julien Fournié seeks to dress brave, determined women who fear little or nothing about their future. These women are capable of blending into the environment to such an extent that they decide to wrap themselves in the purest tones. Their aim is to become a piece on the stage where they have lived and of which they are an integral part. It is a world to which they belong and in which they want to play a part. This scene needs — and it would not be possible to understand otherwise — that feminine profile that Master Fournié knows so well.
And amidst this maelstrom of sobriety, occasional graphic prints are made from perfectly measured geometric details in a delicate green and pink in order to return the purest femininity to women. Especially since, to Julien Fournié, they must escape from excessive and exorbitant ornaments and walk away from glitter and sequins that only end up subtracting from that natural radiance and brightness that the Frenchman naturally sees in women without need for artifice.
To him, if there is anyone who knows how to opt for excellence of savoir faire, it is women — exceptional beings that seek to custom design a suit capable of providing them with weapons that make them invincible when it comes to deciding on their own destiny.