When sensuality flows in abundance, Stéphane Rolland's women become the undisputed muses of the most elegant soirees.
If there is anyone who knows how to wrap women in the most sophisticated and elegant sensuality, it is Stéphane Rolland. In order to achieve this, the French fashion designer wants curves from the feminine universe to be wrapped with the most delicate and suggestive cuts, revealing the beauty they hide.
In a soft and delicate manner, Rolland dresses a day-dreamer, who yearns for a world full of distinction and sometimes, why not, filled with mystery as well.
Stéphane Rolland hopes that, for next spring-summer 2019 season, women will choose their designs in order to become the undisputed stars of the most suggestive and magical evenings. Daring women who find their best tool in the finest outfits, dotted with suggestive transparencies, so that all eyes will be on them. And those eyes will examine every corner, every pore of their skin. He will make their toes curl in contact at the touch of delicate pieces with perfect cuts, as might be expected from a tireless fashion master like Stéphane Rolland.
Perfect shapes are drawn by Stéphane Rolland, while carefully created combinations seek to triumph with a clear tribute to the most seventies cuts, as well as his colour palette, whose neutral and nude tonalities become the undisputed stars of the most exclusive parties. Parties where black, tobacco brown, grey, white, and yellow are also present, and in contrast to the sensation of calm that these tonalities give, we also have a vivacious yellow and orange, appearing as indisputable winks to those warm afternoons of a summer made to enjoy, smile and, in short, live.
Stéphane Rolland has always opted for an elegant woman. He has presented a collection in which he shows once again his ability in pattern designing and volumes, giving rise to a clear example of architecture sculpted in the noblest and richest materials. Organza, satin, tulle, leather, knit, and fox fur combine in such an incredible way that the result seems at times unreal — as if it were from another world.
Sophisticated designs, full of volume, lots of volume, find in baggy trousers, dresses filled with the noblest stones, transparent tops and midi skirts with endless openings the best of excuses to turn the street into an authentic spectacle of delicacy and elegance. And amidst this maelstrom of shapes and combinations, women's bodies are dotted with flowers, inlaid stones and embroideries to accommodate an elegance born to seduce and triumph. Garments smoothly slide over the skin of a young and risky woman who plays subtly revealing her most hidden and private secrets.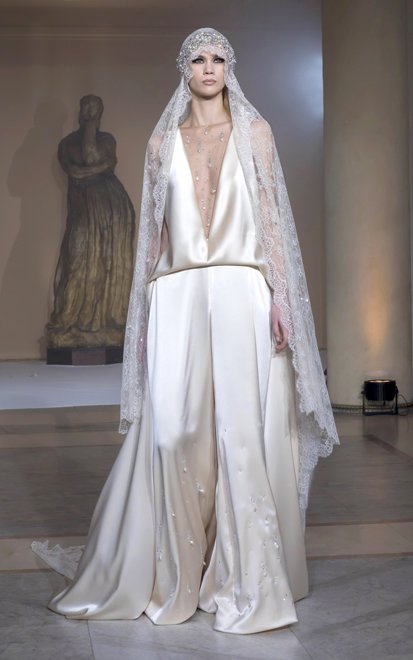 Stéphane Rolland seeks to create movement. He yearns for women to wrap themselves in the most subtle forms, in the most delicate textures with which they can become true muses of the disproportionate elegance of the 21st century. Afternoons of the warmest spring and the most fun summer will find in Rolland's designs the best alternative to be seduced and fall in love with sexy women who hide in their fragility the most absolute form of strength and wealth.