Zuhair Murad and the Empire of the Tsars.
Zuhair Murad invites women to take a trip to the most imperial Russia, where he aims to turn them into true luxury tsarinas.
Thinking of Haute Couture and sophistication means thinking of Zuhair Murad. The Lebanese designer invite us to travel to the more cosmopolitan and luxurious Russia guided by a collection that could be compared to the artwork that is housed in big and small palaces of the highest St. Petersburg nobility.
Sparkles and ostentation in which Murad finds the best way to travel to a remote time full of luxuries. Femininity in all its splendour through beautifully embroidered dresses, floral motifs and large ornaments, giving form to creations turned into authentic works of art.
Suits taken from the Russian army itself garnished with brilliants, crystals, brocades and sequins that are ennobled creations with silks, tulles, chiffons and velvets and that will eventually rise like a powerful symbol of an overflowing and exacerbated femininity. A refined collection envisioned by Zuhair Murad that looks to transform women into authentic empresses of luxury and sophistication, finding in elements specific to Haute Couture the key tools to succeed in any battle. Fierce, sophisticated warriors that wrap their curves in black, red, gold, midnight blue, and pearly shades with which they defy the most insolent looks.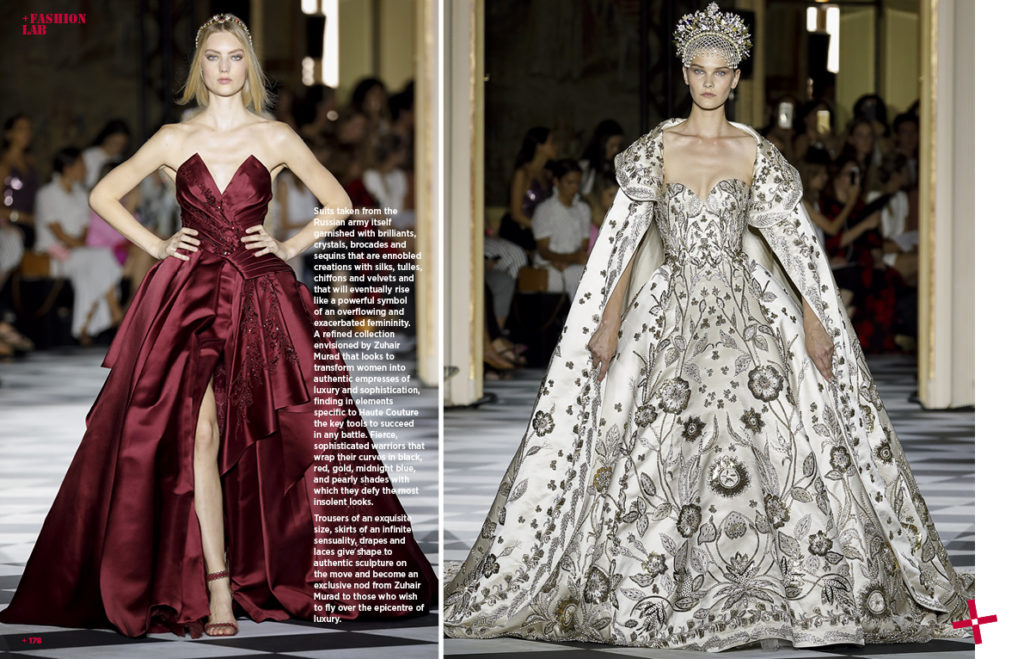 Trousers of an exquisite size, skirts of an infinite sensuality, drapes and laces give shape to authentic sculpture on the move and become an exclusive nod from Zuhair Murad to those who wish to fly over the epicentre of luxury.